Riviera's "Crazy Girls" Will Move to Planet Hollywood's Sin City Theatre
When Riviera closes, it's longtime topless revue, "Crazy Girls," will take a short break, then move to the Sin City Theatre at Planet Hollywood.
The future has been uncertain for "Crazy Girls," perhaps known more for its bronze "No Ifs, Ands Or…" statue than any entertainment value. Other than boobs. Which we're firmly not against.
Reps of the Sin City Theatre confirmed the show's move after it was originally reported by the Las Vegas Sun.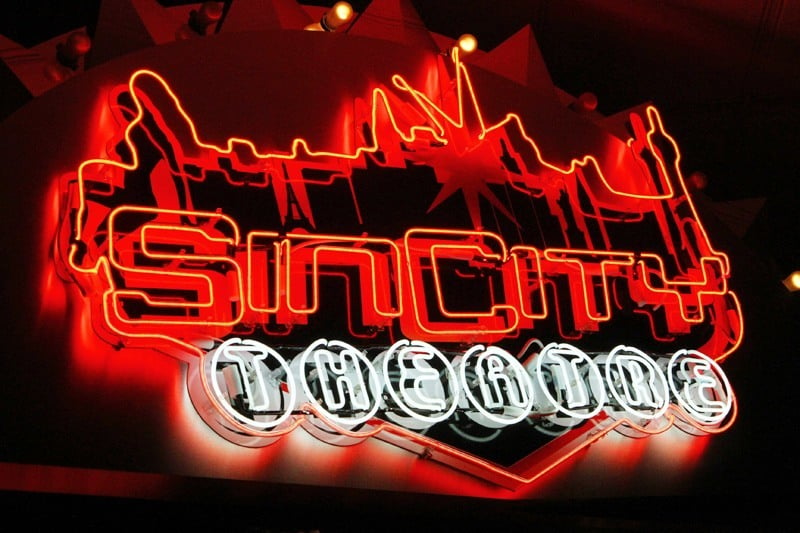 While it was originally reported the Sin City Theatre would be renamed the Crazy Girls Theatre, the folks at Sin City Theatre state the name of the theater will remain the same. Yes, complete with that awkward, anti-American spelling of "theatre."
"Crazy Girls" will take up residence along with the theater's other shows, including a magic show, "Murray Live," a U2 tribute show, "Compedium: U2" and "Sin City Comedy & Burlesque," a mixture of stand-up comedy and the aforementioned boobs. Which we're also not against, for the record.
See more about the shows at Sin City Theatre.
The fate of the famous "Crazy Girls" statue now seems to be assured. A dispute between Riviera ownership and the show's producer, Norbert Aleman, has been resolved, and it appears Aleman will be moving the statue with the show to Planet Hollywood.
Aleman has confirmed the statue will be removed from in front of Riviera at 9:00 a.m. on May 4.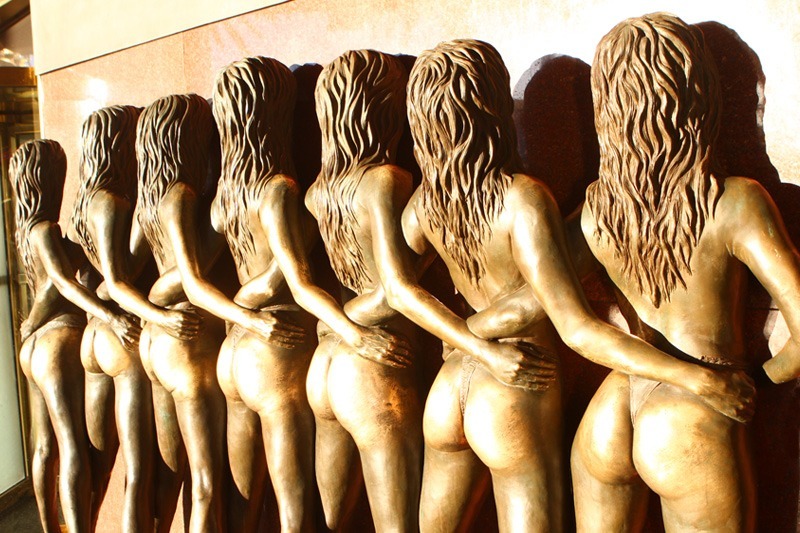 There's been no comment or official announcement from Planet Hollywood or the hotel's owner, Caesars Entertainment, about all this yet.
We suspect, though, there will be a good deal of hoopla around the installation and unveiling of the statue in its new location (our bet's on a photo op with scantily-clad performers re-creating the famous statue). The likely location? Outside Planet Hollywood, along the busy pedestrian walkway, the closer to Cabo Wabo Cantina the better for visibility. (P.S. Don't go to Cabo Wabo Cantina, by the way.)
The relocated statue is sure to provide great publicity for the show as Vegas visitors grab photos of themselves rubbing the pulchritudinous posteriors (already polished to a high sheen by Riviera guests) for good luck on their way into the casino.
After 28 years, the final performance of "Crazy Girls" at Riviera is set for Friday, May 1, 2015. The Riv closes for good May 4, 2015 to make way for a convention center expansion, we yawned.
It's expected "Crazy Girls" will re-open at Planet Hollywood on May 13, 2015. There have been rumors the Sin City Theatre show will have "new numbers come in and some new acts, some new apparatuses." This blog tends to be a fan of apparatuses.
The new version of "Crazy Girls" will have 42.857% more performers (from seven to 10) when it moves to Planet Hollywood, according to the producer.
We're pleasantly surprised to hear "Crazy Girls" has found a new home, despite our sense "Crazy Girls" might not easily find another venue. (At least we weren't foolish enough to make that prediction publicly, like in a recent KNPR interview about the Riviera.)
We'll be sure to keep you abreast of any further "Crazy Girls" news!