The Opening of SLS Las Vegas is Closer Than You Think, and It's Already Feeling Awesome
SLS Las Vegas, opening soon on the site of the former Sahara, was kind enough to invite us on a tour of the under-construction hotel-casino, and we love what they've done to the place.
Let's take a look at some highlights of this new hotel-casino, opening Labor Day weekend.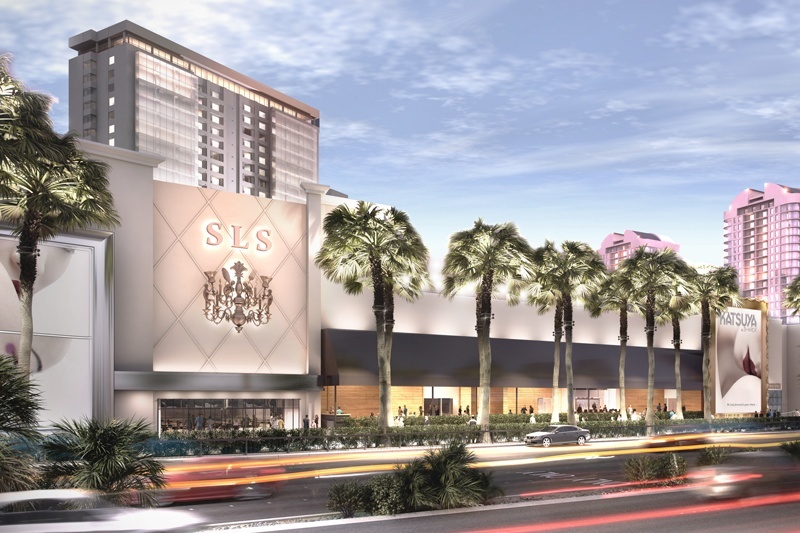 Getting into this shiny new hotel will be integral to one's enjoyment of it, and there will be four entrances. The main entrance (below) will be off of Las Vegas Boulevard, three others will be off Paradise Road, including a VIP entrance which will whisk guests into the Lux Tower, the Sahara's Alexandria Tower.

Quick question before we move on.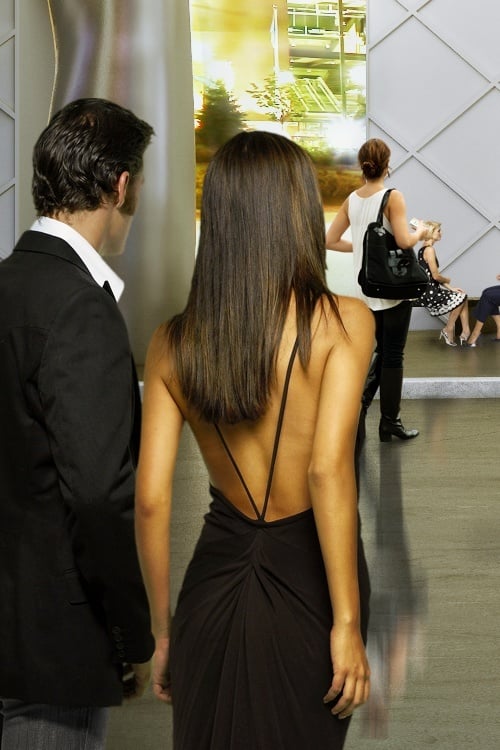 The VIP check-in area already has a fancy fireplace installed. We'd love to show it to you, but we weren't allowed to take photos inside. Instead, you get full frontal.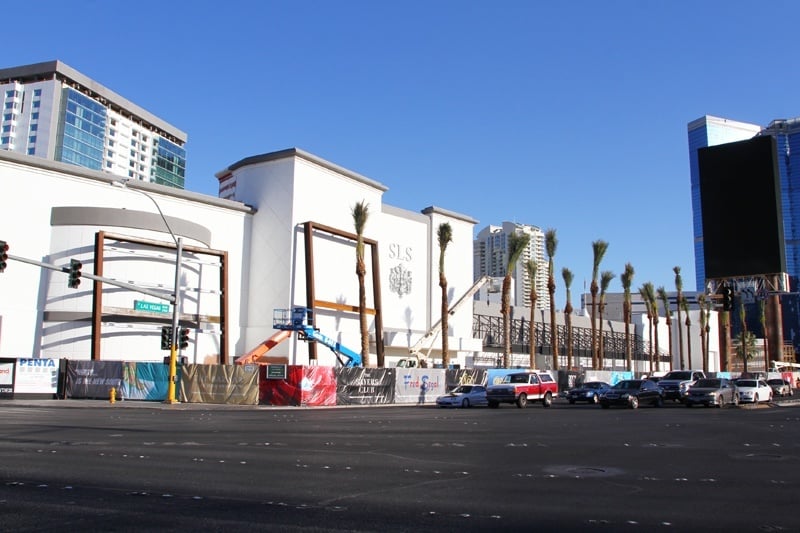 SLS will have three towers, the aforementioned Lux, and two others named World (SLS's largest, formerly the Tangiers Tower, built in 1991) and Story (the Sahara's original tower, Tunis, built in the 1950s).
SLS Las Vegas will have 1,600 guest rooms and suites.
At this juncture, we should probably mention our tour guide was Rob Oseland, SLS Las Vegas President & Chief Operating Officer, formerly COO of Encore. He personally gave us a tour, in the midst of what must be a crazy schedule, not so much because we're cool, but because he appears to be. Oseland was previously Executive Vice President at Wynn, and before that he was the Wynn's C.O.O. Needless to say, this guy has Vegas hotel-casino experience coming out of a multitude of orifi.
Oseland addresses the issue of those 1,600 rooms and SLS's challenging location (at the north end of the Las Vegas Strip) head-on, "We need a good cross-section of locals and tourists. At the core, it's about filling 1,600 rooms. That's where it starts. Hopefully, our product will differentiate itself enough to create great word-of-mouth and a groundswell. Because there's not much more billboard space to get the message across."

SLS Las Vegas is what's described as an "adaptive reuse" of the Sahara, meaning the previous hotel towers weren't imploded. The buildings were stripped down to their skeleton and built back up again with lots of new flair, including entirely new rooms in each of the three towers.
The rooms at SLS will be a case of creative use of restrictive spaces. Build-out of the rooms is well under way, with wallpaper and carpeting already installed. (There's about 70 days left before construction is expected to be completed.)
SLS Las Vegas has already started taking reservations, for dates August 25, 2014 and later.
The design of the room varies by which tower they're in, prettiest first.
Here's the Lux Tower room.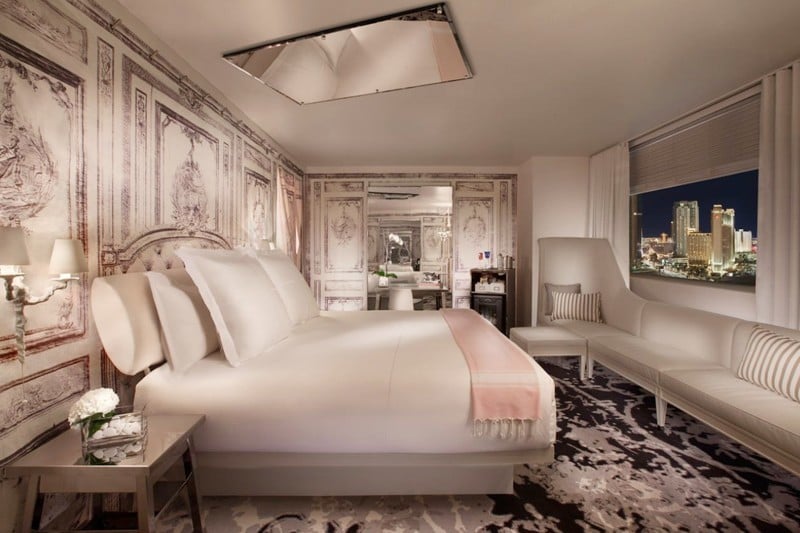 Here's the World Tower room.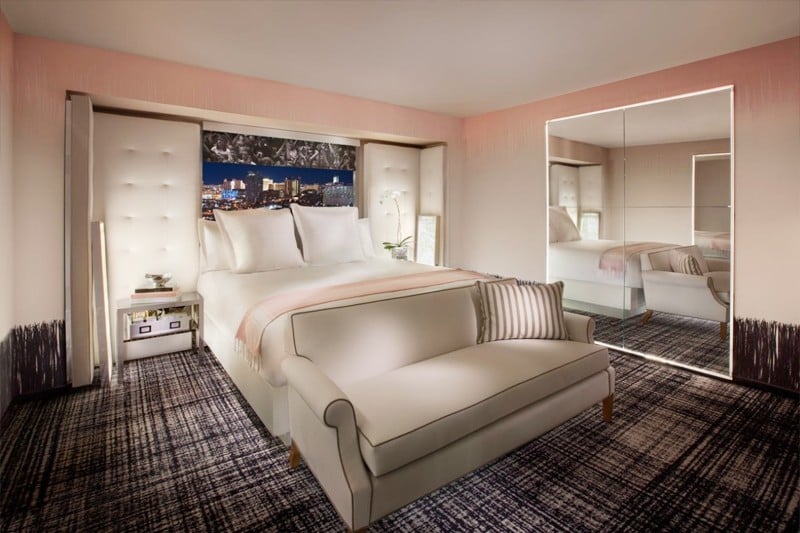 The Story tower rooms are a different, well, story. They have a studio apartment feel, with a wildly clever way of concealing the shower and toilet behind sliding mirrors. It's going to feel like you're showering in your bedroom, but the price of these rooms is going to be relatively low, so don't get all judgy until you've stayed in one.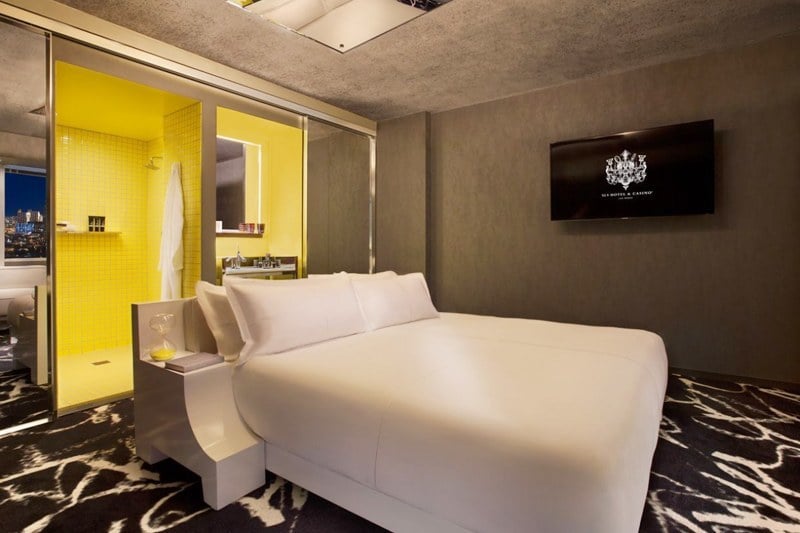 Changes to the exterior of the hotel have been dramatic, of course, including removing all the Sahara's Moroccan touches. If you look closely at the photo below, you can see the last of the Sahara's paint slipping into the sands of history. Or something.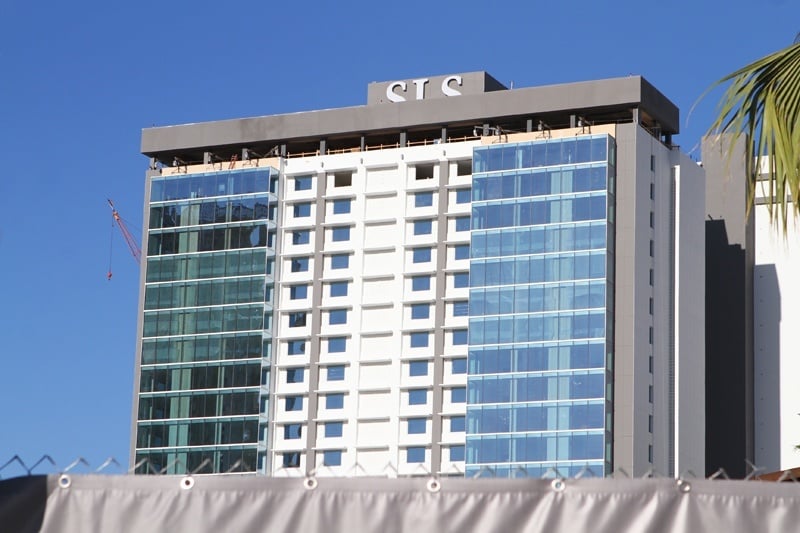 That tower has distinguished itself from the Sahara in dramatic fashion with glass all the way up. This glass encloses what were once balconies. Aside from a more modern look, this also provided SLS a way to "re-capture" the balconies to increase room size. (Bringing the balconies back into the room adds an additional 60 square feet.)
Let's get inside the hotel and casino, already.
SLS Las Vegas has gathered together an all-star line-up of restaurants.
There's Bazaar Meat by José Andrés (a steakhouse), Katsuya (sushi), Cleo (Mediterranean), Ku Noodle (there will probably be noodles), Umami Burger (possibly burgers), 800 Degrees Neapolitan Pizzeria (with noodles and burgers, unless they decide to go with pizza instead), the 24-hour Griddle Cafe and the SLS Buffet.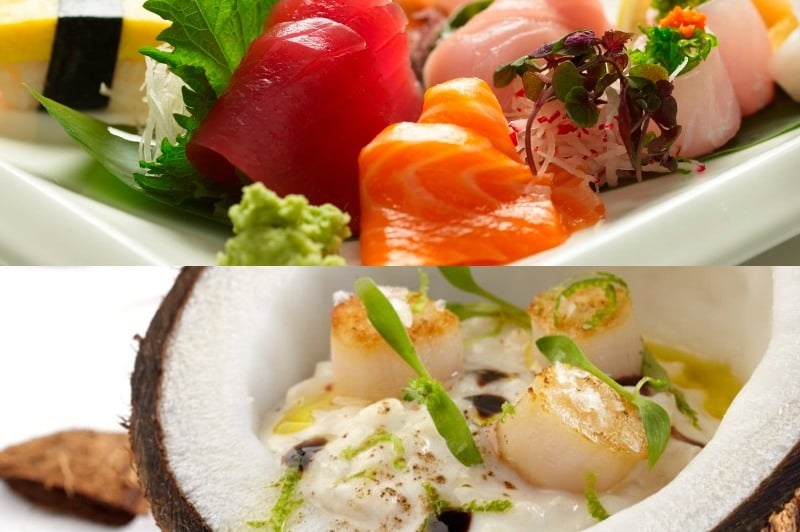 This group of restaurants is unique not only because they've all proven to be successful in other cities, but they're also all owned by SBE, the hospitality and real estate development company run by Sam Nazarian, which also owns the Sahara itself. All this means these venues have a better-than-average chance of being both good and profitable.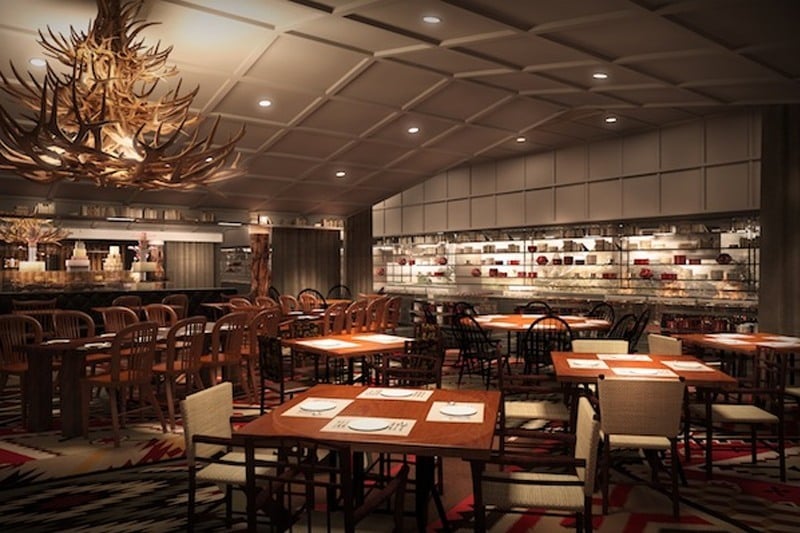 "Name recognition is important," says Oseland. "There's a lot to be said for brand association. The products have already been proven, from design to menu to service and price point. We aren't just assuming we're going to add something to the market that's going to work. It's a proven system."
The hotel's restaurants run the gamut in terms of price points, a key factor in drawing and keeping the all-important local audience.
SLS will be appealing to value-seeking players by offering a variety of price points at its restaurants. Spots like Ku Noodle (a play on canoodle?) and 800 Degrees Pizza ($8-12 for a pizza) are grab-and-go, with prices significantly lower than you'd see farther down the Strip.
Having a variety of price points was a lesson learned by Rob Oseland during his time at Wynn and Encore. "You can come here several times a month and not get sticker shock. At Wynn and Encore, we didn't have enough price points that were low enough, so people were actually leaving the building because of it."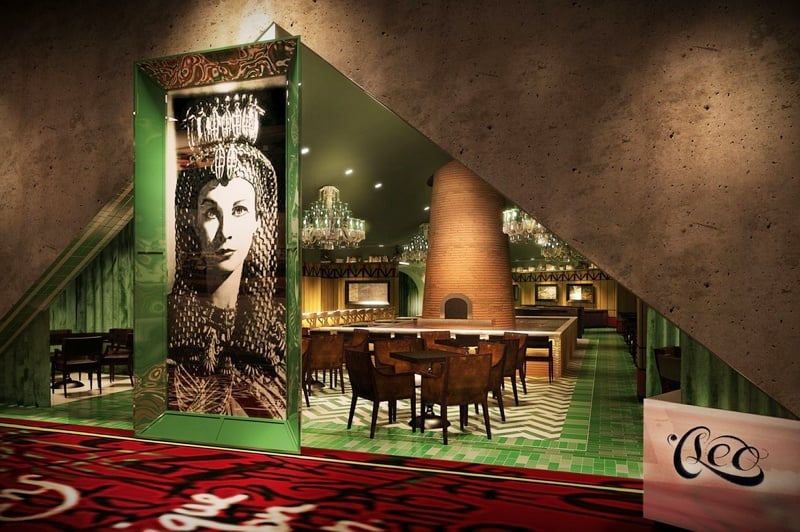 At the top of the SLS food chain will be the Bazaar Meat steakhouse. Oseland says, "It's the noise of STK [at Cosmopolitan], a bustling steakhouse, with Marquee Nightclub [also at Cosmo], if you combined it with Deuce Lounge [at Aria]. We're setting up an evening with a steak concept, and holding it together with a collection of lounges that play off of the disruption of a nightclub."
Bazaar is a collaboration with chef José Andrés, the man behind Jaleo and China Poblano at Cosmopolitan, not to mention Bazaar by José Andrés in the SLS Hotel Beverly Hills.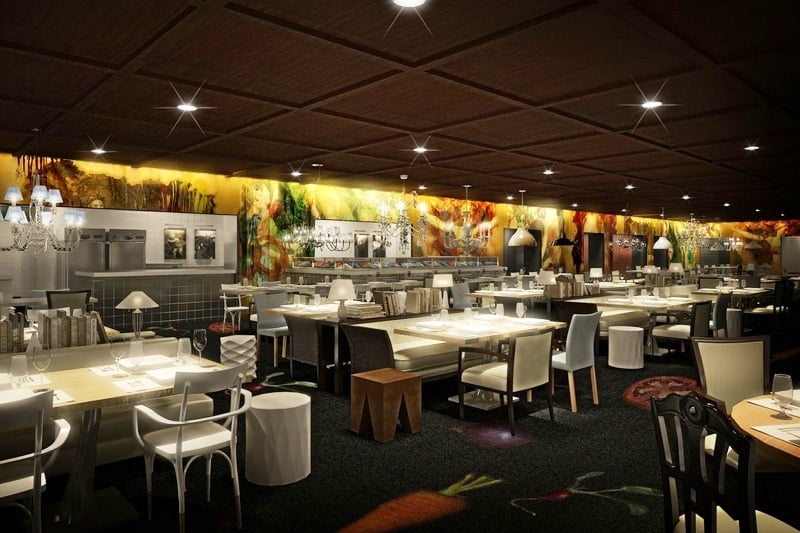 "José [Andrés] is so brilliant and so passionate, he is so outside the box. You have to just let him evolve his program. He went through the whole ideation of this menu, and it was fun to be a part of watching him think about how he wanted to create this experience." Bazaar, which occupies the space of the Sahara's NASCAR Cafe, will have its own bar, Bar Centro, as well as its own mini-casino, the Bazaar Casino.
If you're still clinging to memories of the Sahara, it's interesting to note a private dining room in Bazaar was once the mechanic's room of the Sahara's roller coaster, Speed: The Ride, currently collecting dust in an empty lot near the doomed SkyVue observation wheel at the south end of The Strip.
Bazaar will have its own bar, too, Bar Centro. Because bars!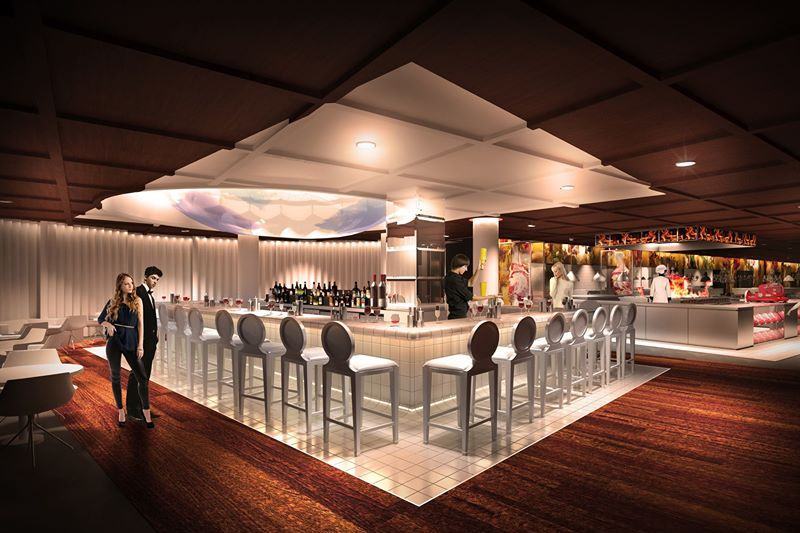 Let's wander off into other parts of the hotel, shall we?

The registration desk of SLS is in the same location as Sahara's was. Come in from the self-park garage, and turn left. Oseland says, "We pushed it back to be more generous with the space."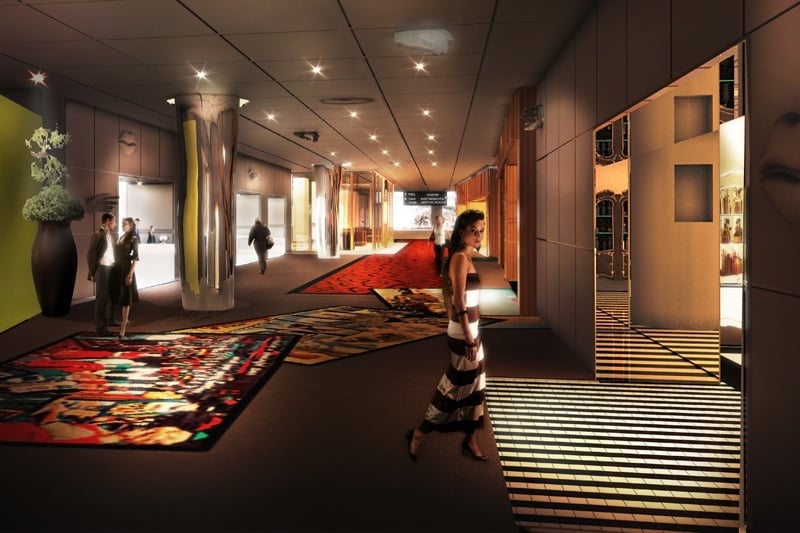 There's a sundry store, called Etc., just off this hallway. We are not sure if Viagra is considered a sundry, but this is where we would look for them. If we ever needed such a thing, which we definitely wouldn't. Unless it was for a friend. A loser friend. Who we probably wouldn't even associated with. Especially in a slick new hotel like SLS. Moving on.
Elevators for all the towers are close to registration, so schlepping of luggage is kept to a minimum.
Before you even get to the casino, across from registration, there's a lobby bar called Monkey Bar. We don't care what it's called, as long as there's a "bar" in the name.
Passing registration, you enter the casino.
"We're keeping an exposed ceiling. When we peeled back the 15-foot ceilings, we found we had heights of 24 feet. We created more of an industrial look," says Oseland.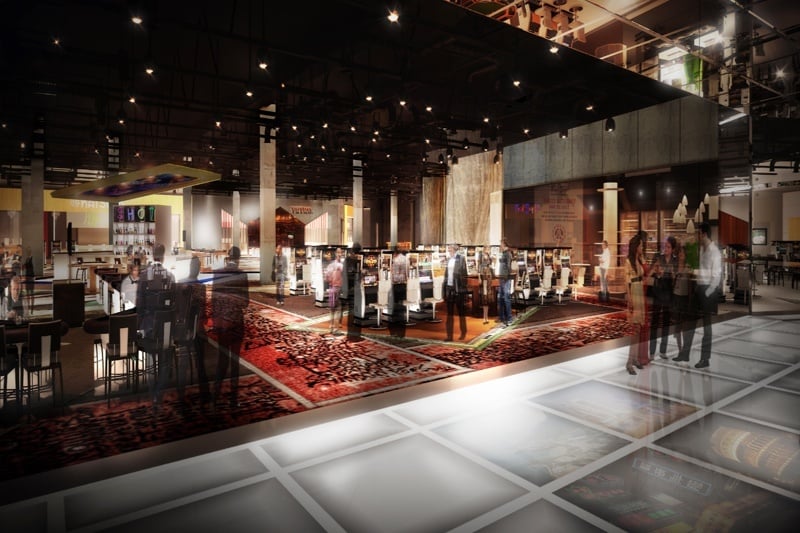 The casino is just under 60,000-square-feet. It has 800 slots and 80 table games. Thirty percent is dedicated to video poker, a favorite of locals. SLS promises lots of table games with $5 minimums, too.
The casino serves as sort of a hub, with restaurants all around it, the spokes. The key word to describe the casino is "intimate," or just the way this blog likes it. For every mile we have to walk to get to a craps table, we deduct 10% in terms of enjoyment. Hear that MGM Grand and Caesars Palace?
Yes, the casino carpet is, in large part, already installed. It has the feel of an abstract painting in places. In others, hands hold cards, intertwined with numbers (and on a roulette wheel). It's anything but the traditional, garish, casino carpet. The colors are a mix of browns, green, reddish-orange. (No security breach photos for us inside, this time, as we'd like to be invited back.)
Several of the aforementioned restaurants are easily accessible just off the casino floor, such as 800 Degrees Pizza, Katsuya and Umami Burger.
Adjoining Umami Burger is a sports book (run by William Hill, which operates sports books across Vegas), an adjoining Beer Garden, thankfully spelled that way, and not "Bier."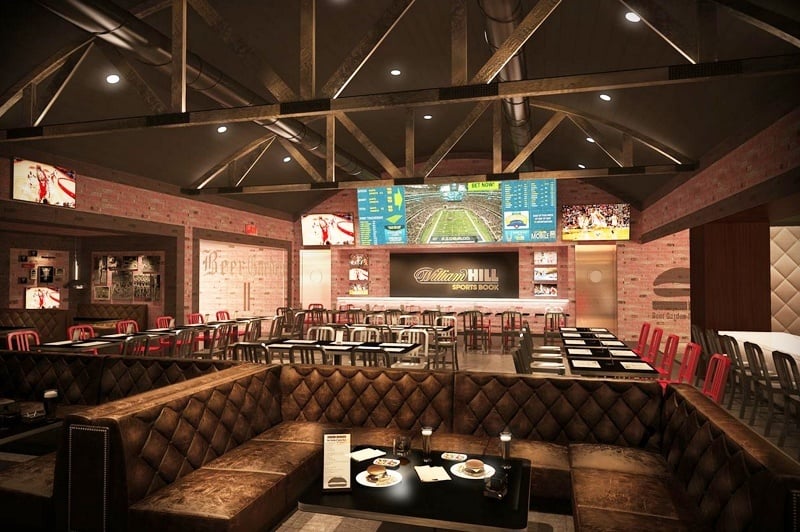 Oseland remarks, "There's interplay between the sports component, a casual burger restaurant and the beer garden concept."
As weather permits, the walls will open up into a climate-controlled outdoor patio. You can see the Beer Garden in the photo below, which we nearly killed ourself taking because there's currently no sidewalk outside SLS.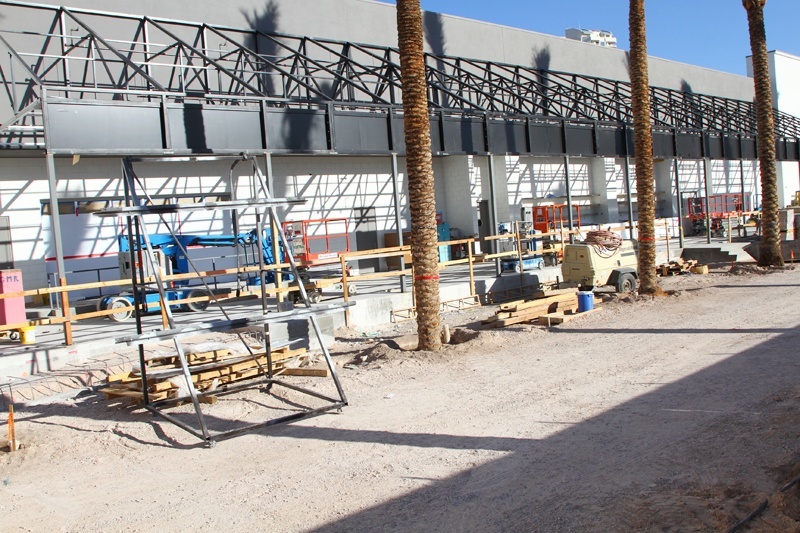 Next to the whole burger, beer and sports venues is the Sayer's Club, which Oseland describes this way, "It's a small, underground entertainment lounge. It has the big roll-up doors that allows Sayer's Club to also interact with the Beer Garden. The collection of these spaces we hope to program to work together."
Keep going north and you'll bump into Bazaar, and then Life, the hotel's main nightclub, which inhabits the former Sahara Showroom space. Where magician Rick Thomas used to do his thing.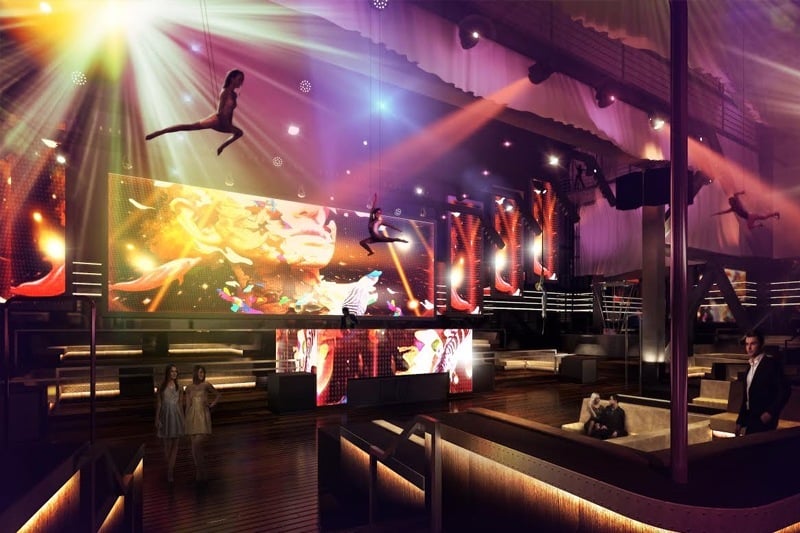 Rob Oseland notes, "Life sits in an entertainment orientation. It's our big box nightclub and entertainment venue." An interesting design feature is you can easily circumnavigate the room without ever cutting through the dance floor. Same with Sayer's Club.
He continues, "Life could accommodate a full band, a center stage DJ or none of the above. We could fly sets in and do fun things with the ceiling. But it's being set up as a traditional nightclub."

All this, and we haven't even gotten to the pool scene yet!
"The pool was in the exact right location, with west sun exposure all day," explains Oseland. "We floated an island bar, separated by two pools. We also have a partnership with a company called Korean Technology that's come in and will be creating seven multi-media experiences for us. One of them will happen on the side of the garage just next to the pool. The whole wall becomes a giant screen which will have super high resolution, 3-D content."
Well, that sounds entirely incredible, and we can't wait to see whatever the hell he's talking about.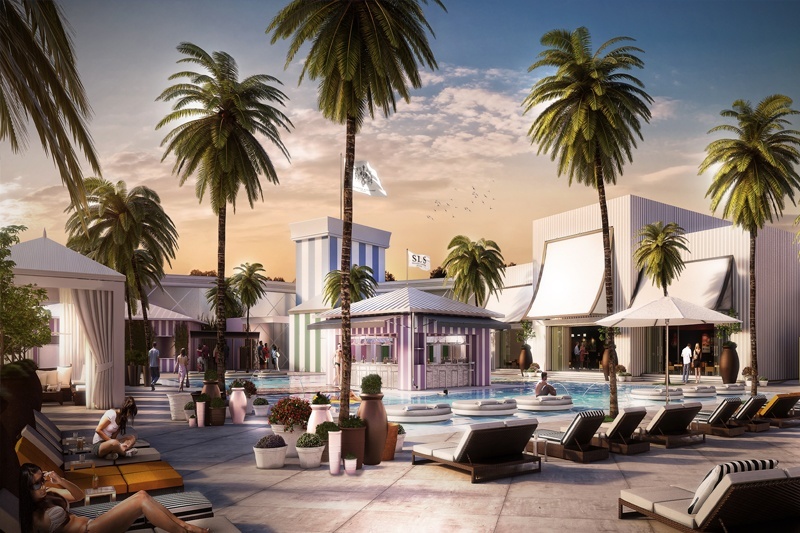 Yes, yes, we realize we're leaving out a lot. Our ankles were swelling up at this point!
We should probably mention the 10,000-square-feet of retail space at SLS Las Vegas. Many of those feet will be devoted to Fred Segal stores, seven of them to be exact. Well, they'll be under the Fred Segal umbrella, but they'll be separate entities devoted to: men's, women's, jewelry, home, shoes, denim bar and intimates (think Go Sexy at Flamingo Las Vegas, but without Osmonds nearby).
Overall, we were pretty much dumbstruck by how much is happening at SLS Las Vegas, seemingly all at once.
Every aspect of the hotel and casino seem to have been meticulously planned and thought through, taking into account all the advances in hotel and casino design in recent years.
We expect SLS Las Vegas is going to surprise everyone with its ability to appeal to both locals and visitors, from daytime slot machine players to nightclub-goers and foodies.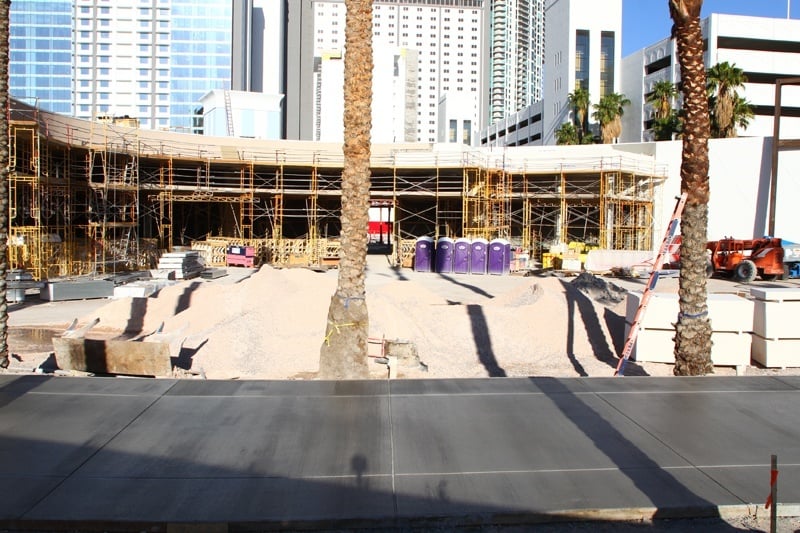 This new Las Vegas hotel seems a more-than-worthy successor to the iconic Sahara, with surprises around every corner. And we love surprises. Especially when they involve gambling and reasonably-priced food and copious amounts of liquor. SLS looks like it's going to be exactly our kind of place.