Ocean Prime Restaurant to Open on The Strip, $20 Million Price Tag
Due to the lack of steakhouses on the Las Vegas Strip, another is in the works for 2023. Kidding! There are plenty, but Vegas seems to have an infinite capacity for fresh meat.
Ocean Prime will open at a cost of nearly $20 million at the site of the dismantled Harmon Tower, a new retail area code-named Project 63. It's at the corner of Las Vegas Blvd. and Harmon Ave., between the Cosmo and Aria.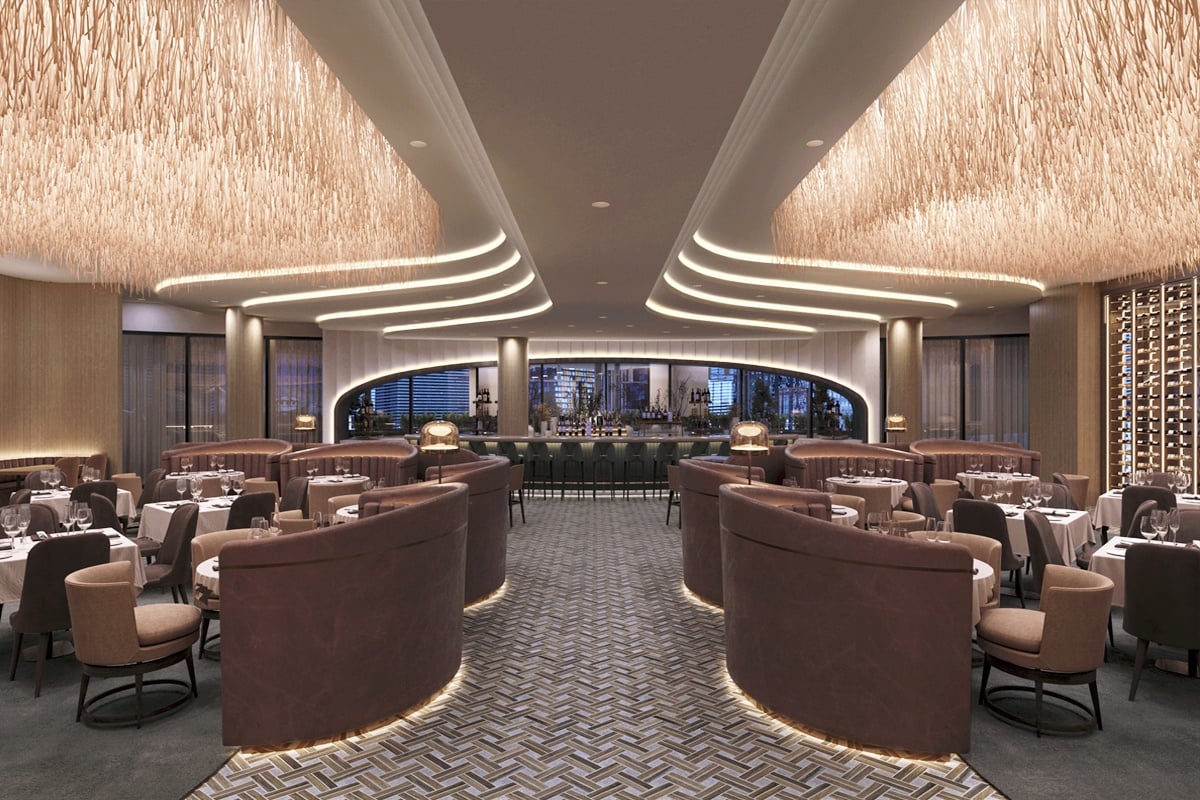 Ocean Prime comes from Cameron Mitchell Restaurants, whomever that might be. This is the 18th Ocean Prime location, but will clearly be the best because Las Vegas.
Ocean Prime will have 14,500-square-feet of space, including a 2,500-square-foot rooftop terrace, pretty much guaranteed to have some of the best restaurant views on The Strip. Of Planet Hollywood, anyway. Oh, and the upcoming Tilman Fertitta resort, so there's that.
The restaurant will seat more than 400 people, and will have two bars and three private dining rooms.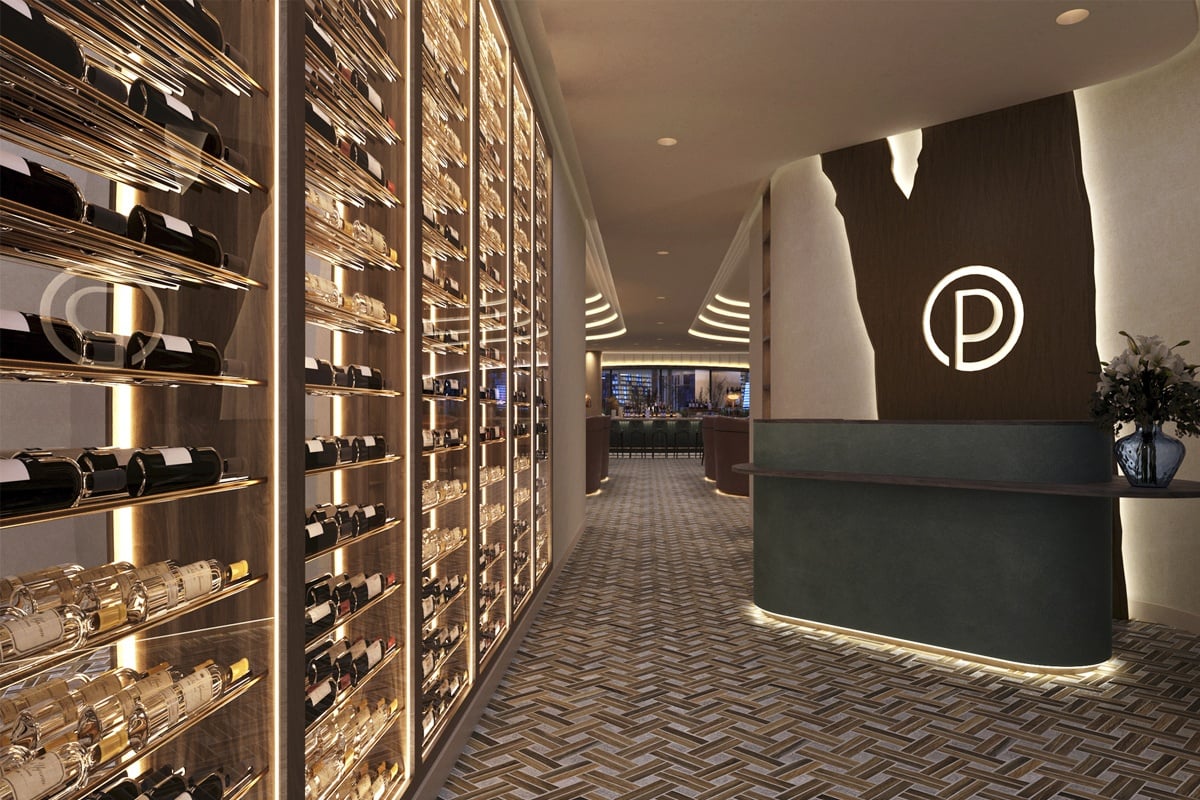 The Ocean Prime news release includes a description of Project 63 (or just 63), so we don't have to write one, "63, a multi-level retail and hospitality complex, is being developed by Las Vegas-based Brett Torino, owner of Torino Companies, and New York developer Flag Luxury Group's Dayssi and Paul Kanavos. 63
will debut in Fall of 2022 with the second phase opening in early 2023."
It's mostly four stories of retail stores and a bigass video screen, attached to the Shops at Crystals, home of still more retail stores, the majority of which normal people can't afford.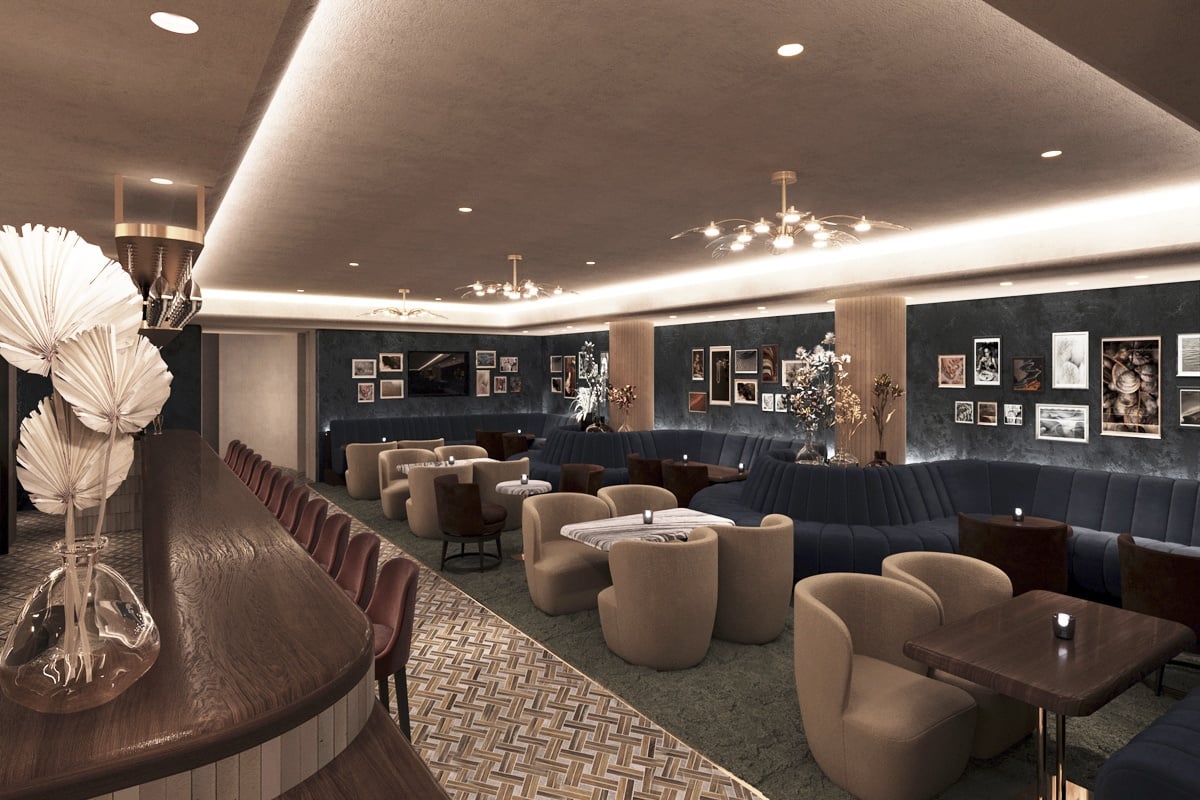 Ocean Prime looks very fancy. Ocean Prime Las Vegas is being designed by Karen Herold, Principal of Studio K. Studio K also did Bugsy & Meyers at Flamingo, of which we are a fan. They also did MB Steak at Hard Rock casino, prior to it becoming One Steakhouse at Virgin.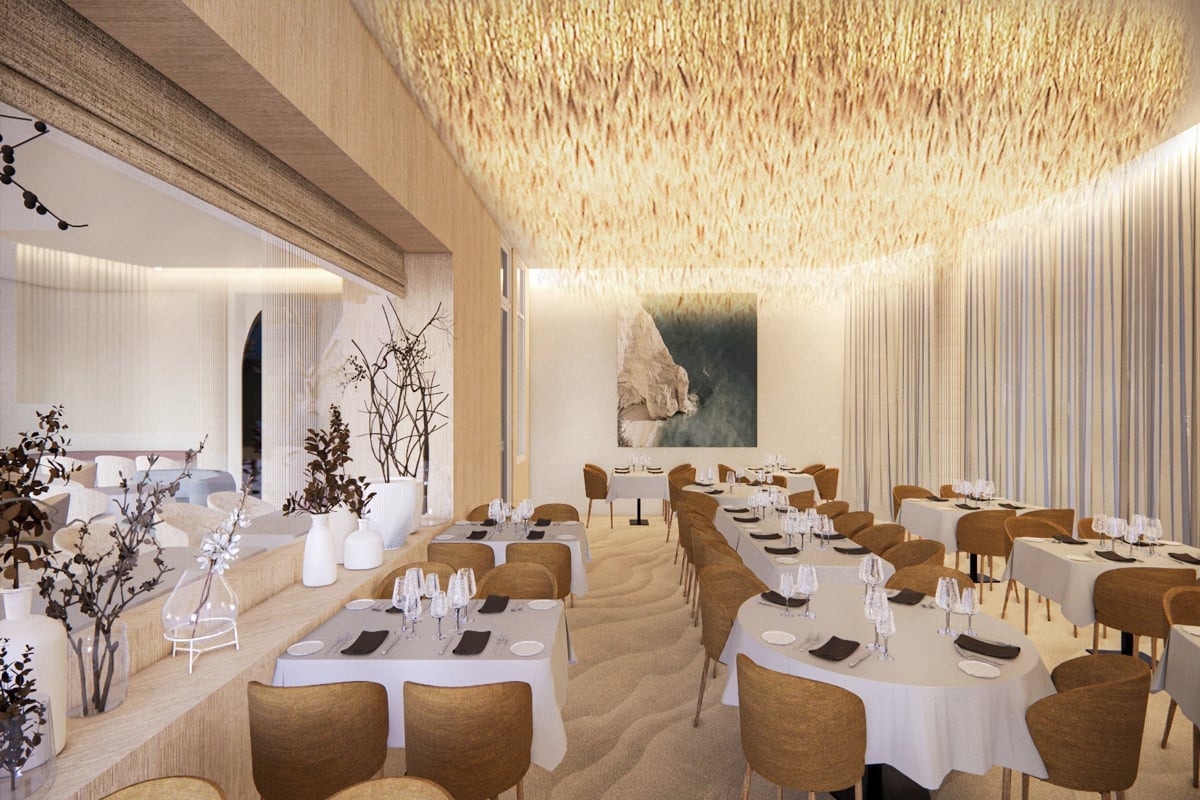 Shockingly, the Ocean Prime menu will feature seafood and steaks. And hand-crafted cocktails. It's the law.
Oh, let's let the news release say it: "Ocean Prime's balanced menu of seafood and steaks, hand-crafted original cocktails, special features and decadent desserts are made with the highest standards of execution, freshest ingredients and delivered with attentive and thoughtful service. From its Insta-worthy Berries + Bubbles cocktail, Wine Spectator Awarded wine list, Smoking Shellfish Tower, Sea Scallops with Parmesan Risotto to Prime Steaks and the Ten Layer Carrot Cake and Warm Butter Cake, there is a dish and beverage to please any palate."
Fun fact: When CIA conducts interrogations in its top secret "black sites," prisoners are forced to read news releases from Las Vegas P.R. firms to get them to confess.
Don't believe it? Try this: "The restaurant design is inspired by the meeting of land and sea, from the lounge with soft waves elements, hues of the ocean and lighter tones to the main dining room with earthy hues intermixed with deep dark blue shades of water."
After reading that, we would like to confess several crimes we didn't even commit.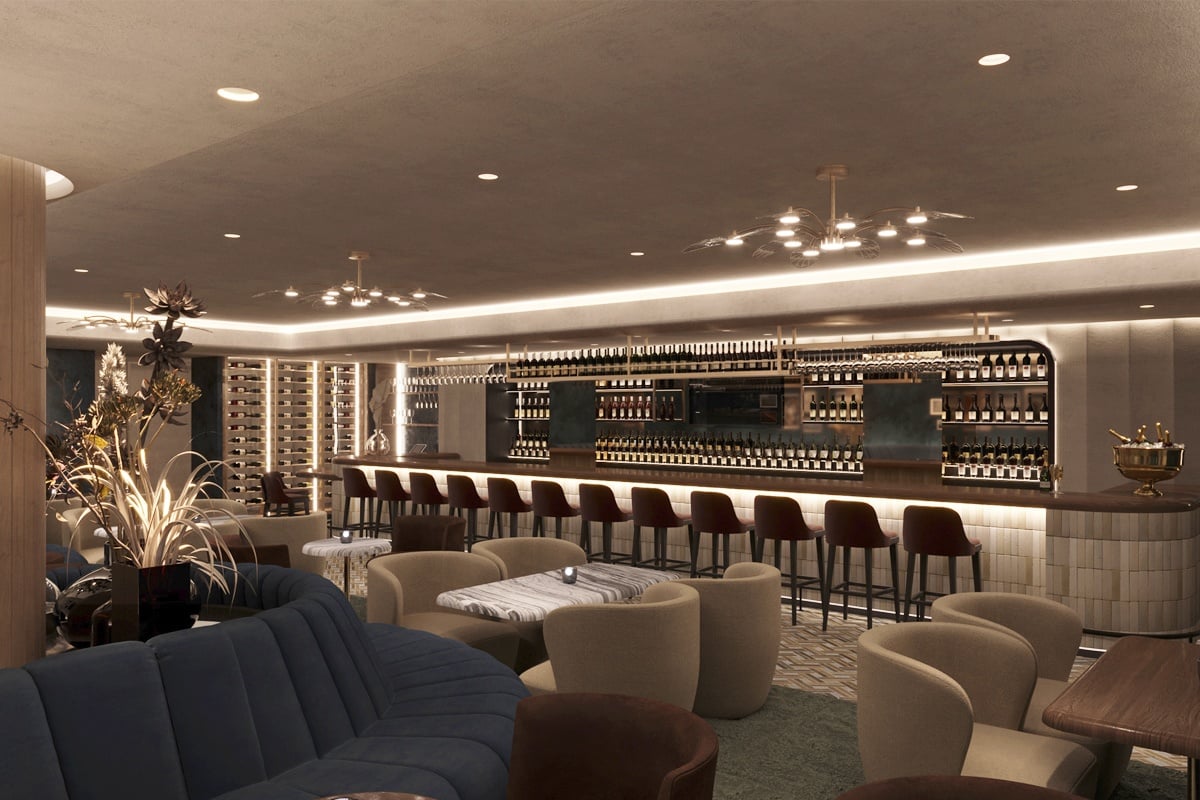 Anyway, Ocean Prime looks great, and it's a relief to know there will be something in Project 63 other than a CVS (unconfirmed).
The real moneymaker at Project 63 will be the aforementioned bigass video screen. The developers are hoping to cash in on the huge advertising windfall that Harmon Corner (just across the street) has been enjoying for several years.
The biggest challenge ahead for Ocean Prime will be distinguishing itself in a marketplace crowded with fantastic steakhouses. Great first step: Turn the volume down. If it does, it will already have a competitive advantage over STK at Cosmopolitan, the loudest place in America that's not a NASCAR racetrack.
If you thought we were going to write about this new restaurant without sharing a rendering of the women's restroom, you are sadly mistaken.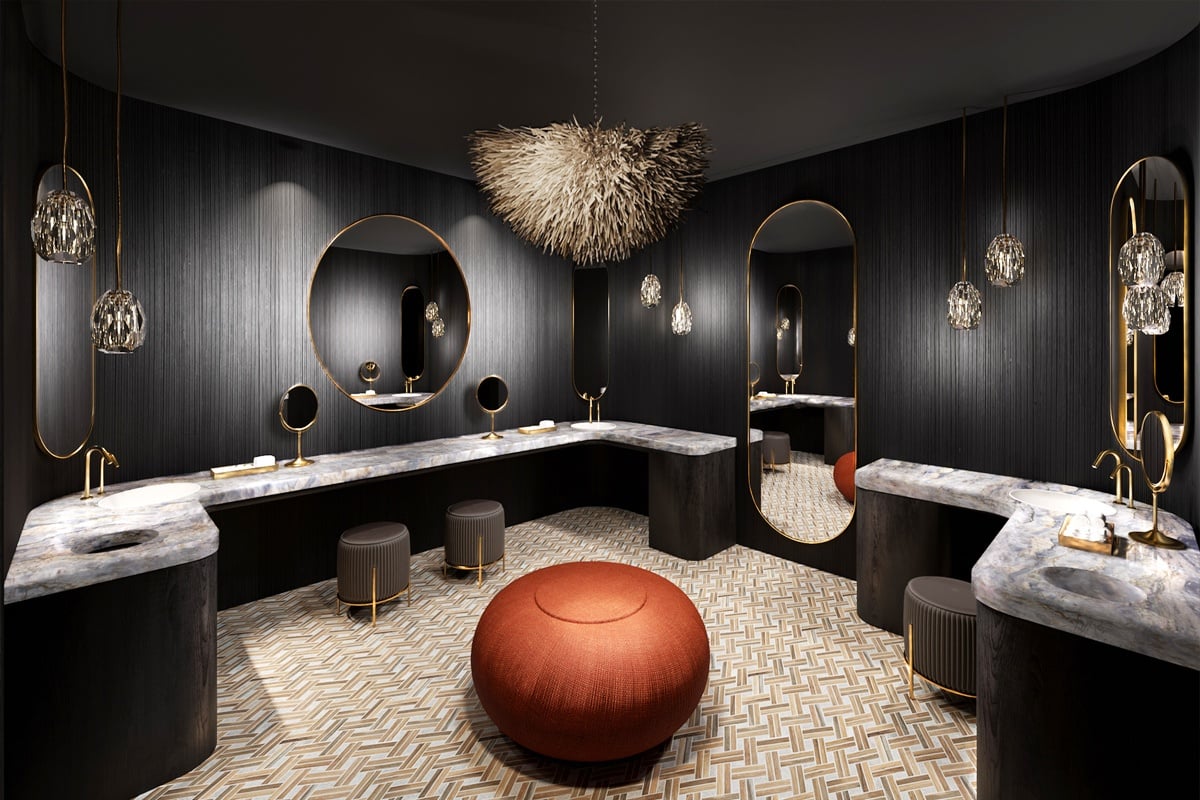 We look forward to checking out Ocean Prime when it opens in spring of 2023, despite the fact it's not inside a casino resort.
Nobody's perfect.