News and Cleavage from the Golden Gate and Downtown
There's never a dull moment in downtown Las Vegas!
The Golden Gate has dropped the construction wall around its new outdoors bar.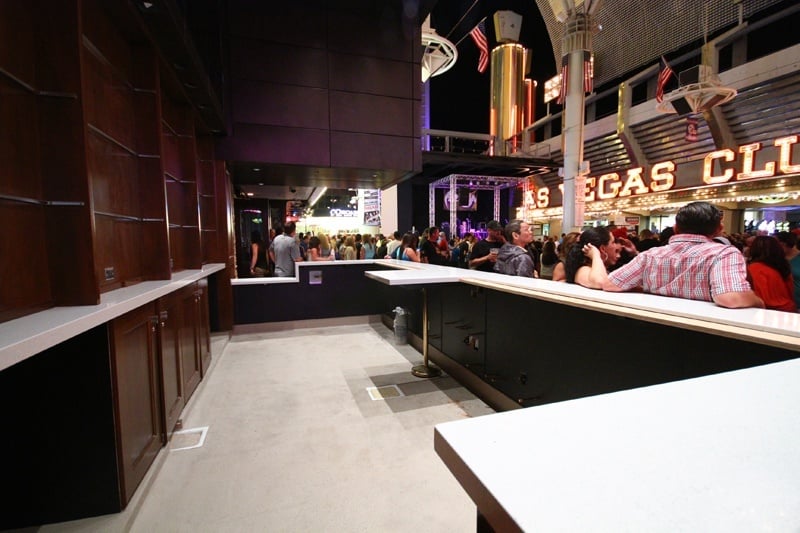 The new bar is still in the permit process, but once it opens, that'll be three (count 'em, three) outside bars at the Golden Gate alone. We love you, Las Vegas.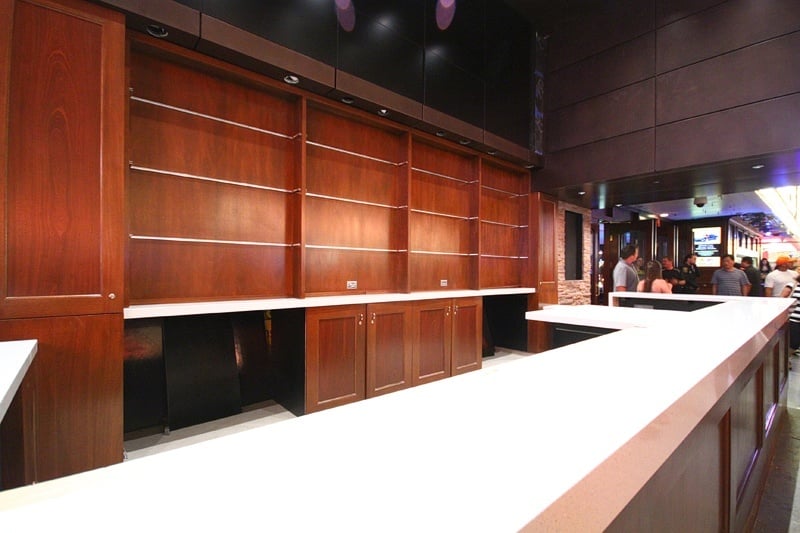 Things move fast in Las Vegas! Mere days ago, we captured this shot of the bar under construction.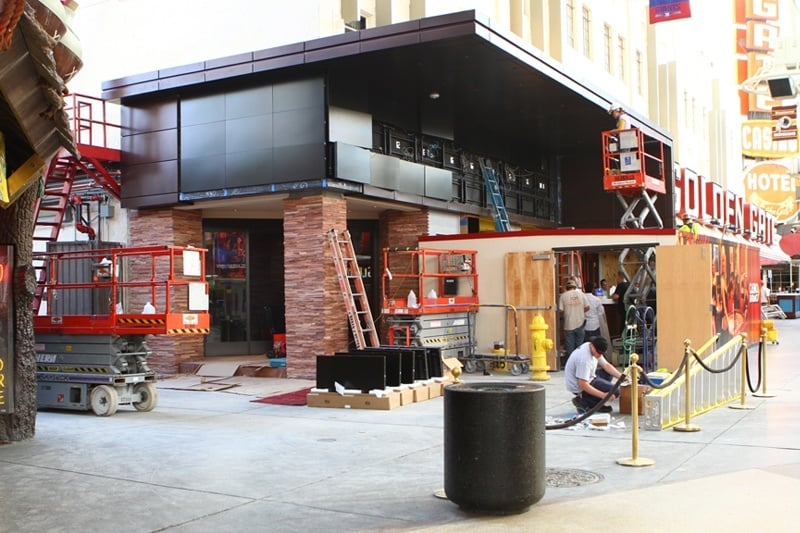 Atop the bar, there are 39 video monitors, which should give the Fremont Street Experience light show a run for its money.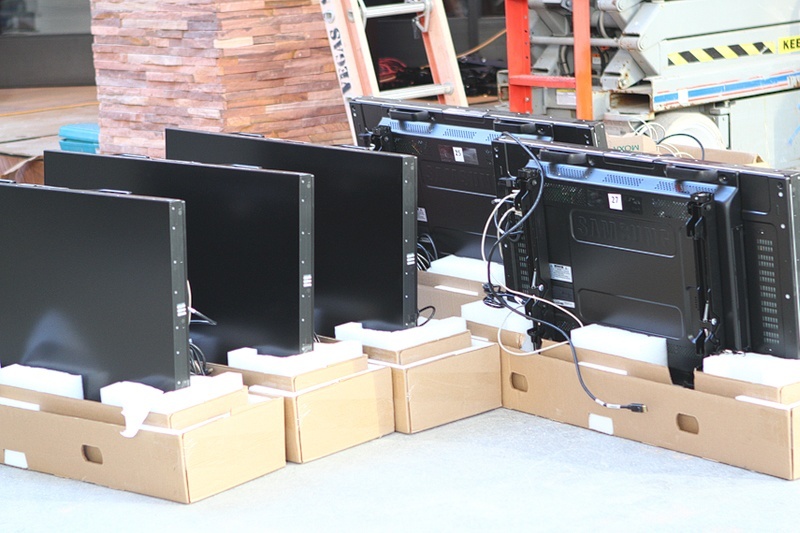 If all goes as planned, the new bar should begin dispensing liquid awesome in the next couple of weeks.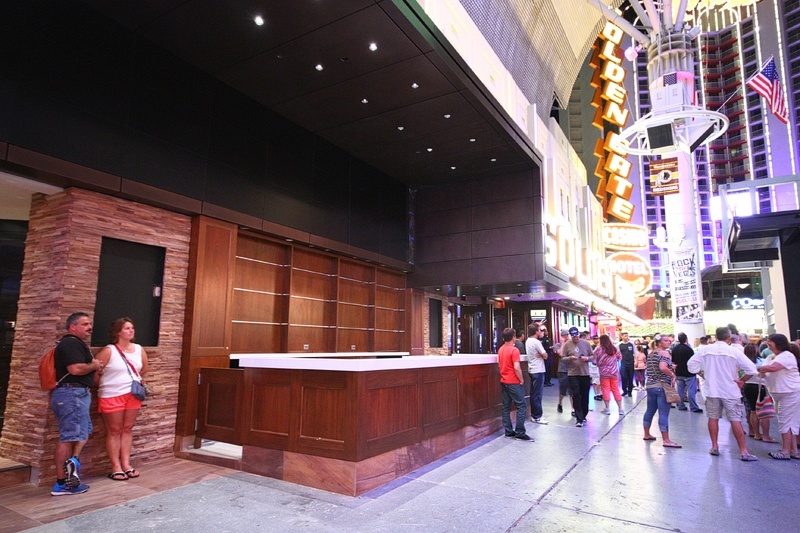 Meanwhile, nearby, the Golden Gate's new entrance has re-opened, after ingeniously solving its one-step problem.
As previously reported, the step was apparently difficult to navigate for certain distracted (wasted) patrons, so two hand rails have been installed. These rails catch the eye as customers go in and out of the Golden Gate, thus avoiding the possibility of face plants.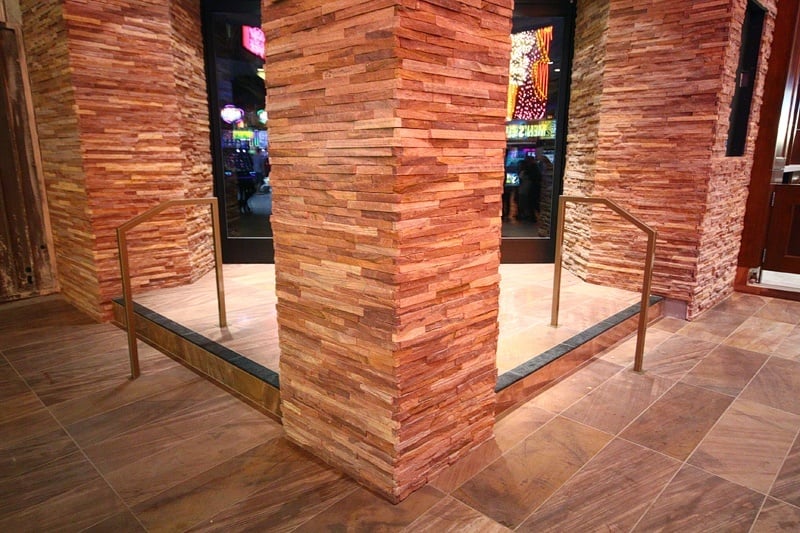 At this juncture, it's probably time for a gratuitous photo of a Golden Gate gogo dealer.
This is Brennan, and we badgered her into posing with a commemorative chip with her face on it. Some of the dancer/dealers on the Golden Gate's chips have moved on since the chips were released, but it's still fun to discover your dealer is also on your chip!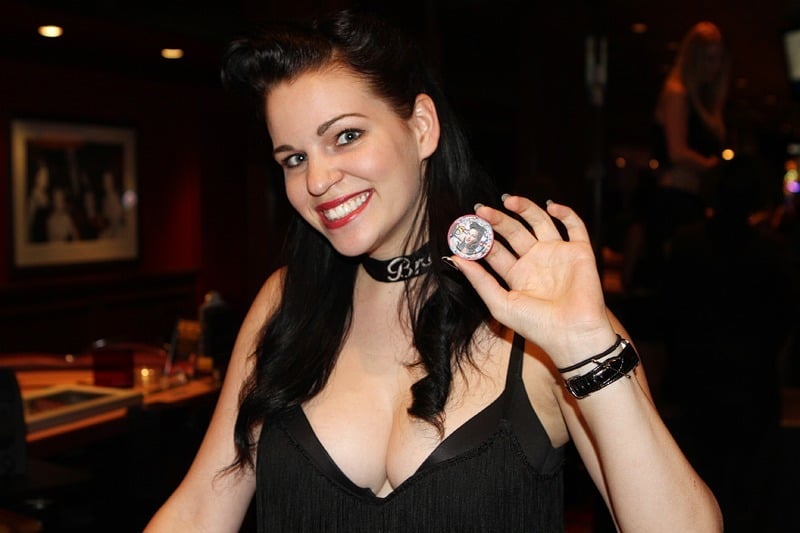 In other Golden Gate bar news, see below.
And please bear in mind that some things which would be considered "gratuitous" in other cities are, in fact, "vital" in Las Vegas. And that's the story we're sticking to.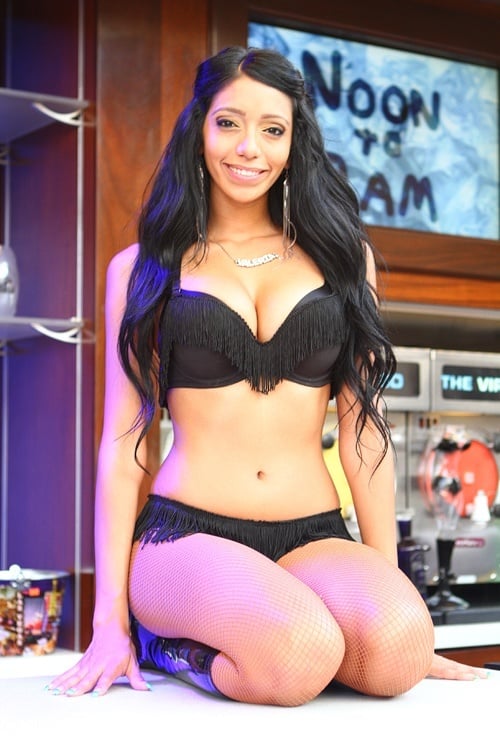 Down the Fremont Street Experience a bit, on the Third Street stage, a new band called Sam Riddle has been added to the entertainment line-up.
Sam Riddle plays contemporary country music and will perform free, of course, Sunday nights, 7:00 p.m. to 10:00 p.m.

An interesting aspect of Sam Riddle being booked on the Fremont Street Experience is it mixes things up not only in adding variety to the musical genres being presented, but it may also help shift the make-up of the crowds. There have been some isolated incidents of young, urban thugs causing problems downtown recently, but we expect young, urban thugs are going to want nothing to do with contemporary country music, so two birds, as they say.
A block over, serious progress is being made at Downtown Grand. The privately-owned street at Triple George and Mob Bar is still closed, but has been repaved and should be open again soon.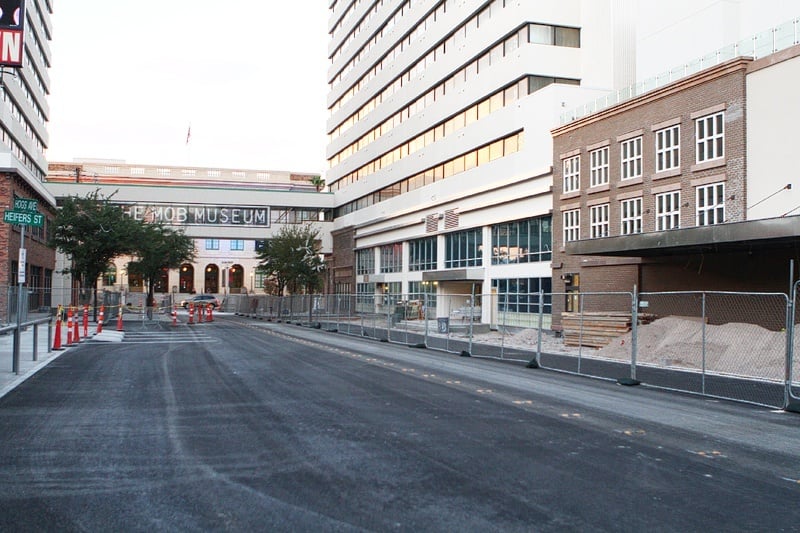 We're pleased to report slot machines are already being installed in the project's new casino area, and you can even see chandeliers have been put up. This ain't your grandpa's Lady Luck!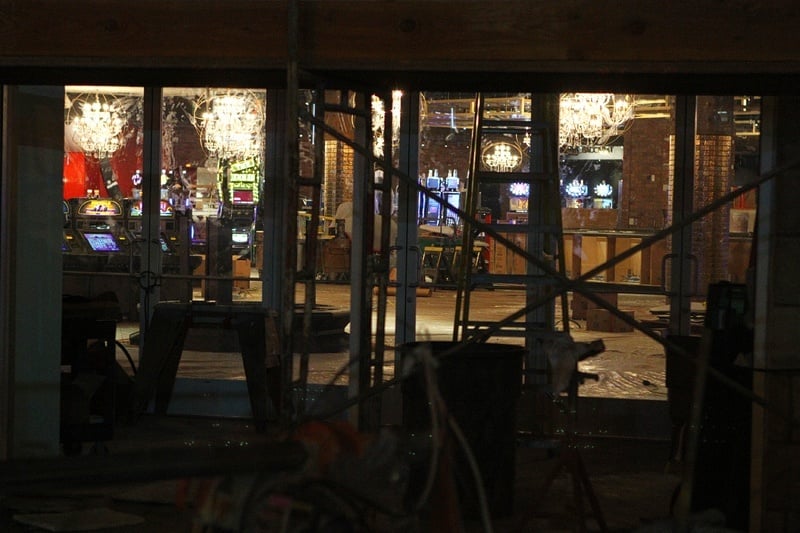 With each new day, more of Downtown Grand's old-timey facade is being revealed.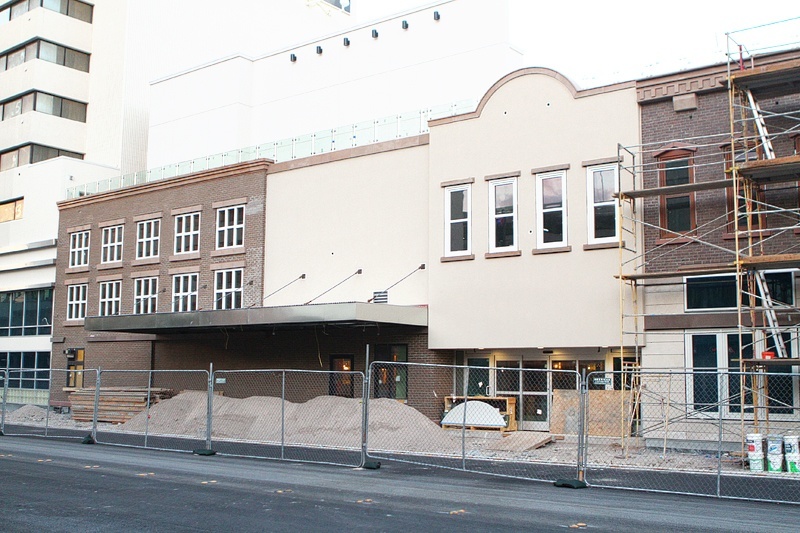 Downtown Grand will have two hotel towers, joined by a walkway. There will be a metric ass-ton of new restaurants, including a bistro (Stewart+Ogden), a deli (The Spread) and a food court experience (The Commissary). We're also looking forward to Ninth Island, a shaved ice and daiquiri bar from Hawaii.
This Las Vegas blog loves it some downtown, and we can't wait to see what's in store next.