Luxor Shows Off Pyramid Tower Room Renovations
Luxor thinks a new batch of renovated rooms will be a draw for customers. They may have a point.
We're pretty sure you need to circle back to read that first paragraph again. We'll wait.
Because Luxor is in the shape of a pyramid.
We don't have all day, so here's a photo of one of Luxor's overhauled Pyramid Tower rooms, the Pyramid King.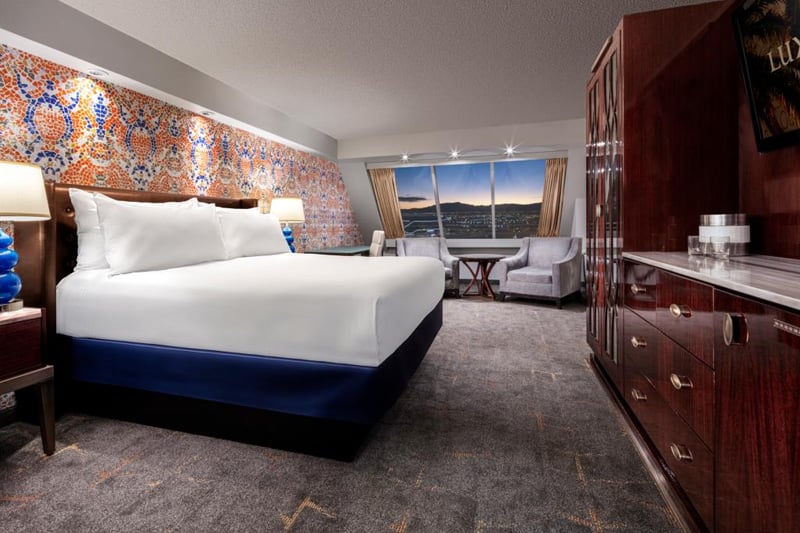 The Pyramid tower is the 30-story pointy one. Luxor also has twin 22-story towers. They're referred to as "ziggurat towers," but because we have no idea what that means, we're just going to breeze right by it.
The remodeled Pyramid Tower rooms will be available for stays starting in mid-April.
Here's another room.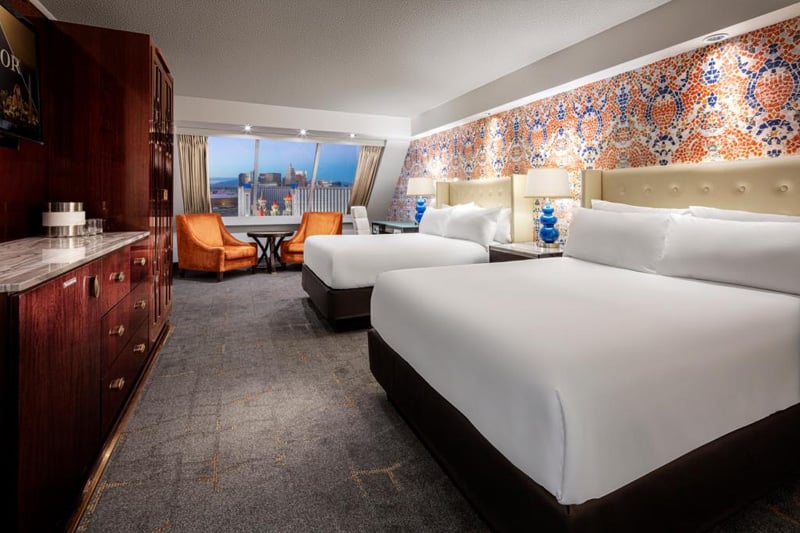 Here's a fun fact: No hotel room window in the history of Las Vegas has ever had the view from that window.
There are lots of reasons for that, including the fact many views just suck.
Mostly, though, it's because the contrast between the light level in the room (artificial) and outside (sunlight) is so great, either the room ends up being too dark or outside is washed out. Even with HDR (high dynamic range) software, photographers and graphic designers swap out what's in the window with a better resolution image to enhance the appeal of the room.
Look, this whole story is about a couple of hotel rooms, so we needed to pad it a little to keep the photos from slapping together.
Oh, look, a renovated bathroom!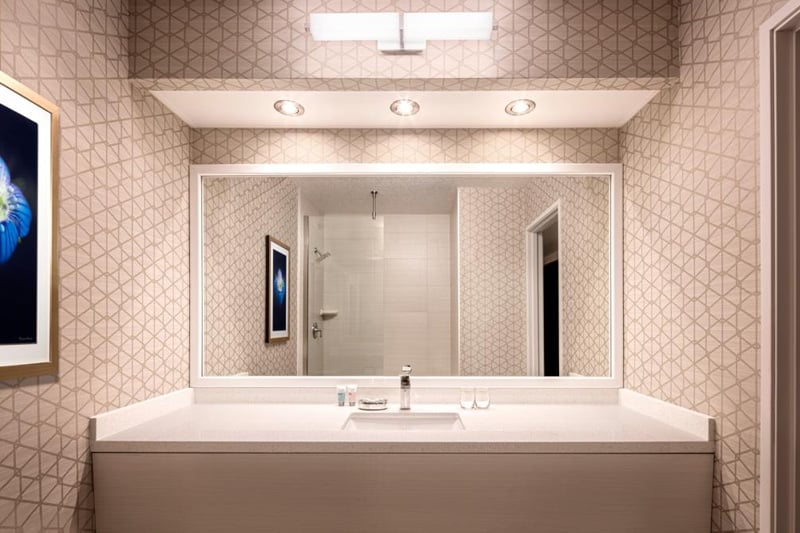 The news release about the renovated rooms says, "Luxor's new Pyramid King and Pyramid Two Queen guest rooms are inspired by Moroccan and North African cultures with bold splashes of orange and blue, with brilliant gold accents."
Wild coincidence: The name of our band in high school was The Bold Splashes.
You can see all the room types on Luxor's official Web site. If you decide to book, don't bother calling. We were on hold 20 minutes, no luck speaking to anyone. The hotels haven't really staffed back up based upon increasing demand. Give it a minute.
Luxor's room remodel is ongoing, and will continue through the summer. Eventually, all 1,715 standard king and queen rooms will get a facelift.
Luxor is still about as iconic as it gets in Las Vegas, despite the fact much of the Egyptian theming has been removed inside.
The Luxor beam is only half as bright as when the hotel opened (part cost-cutting, but also it was causing too many crow's feet due to all the squinting), but got some fancy LED light strips along the pyramid's edges not too long ago.
It's great to see MGM Resorts investing in a refresh of its Pyramid Tower rooms, and we are big fans of the color scheme.
Insert pyramid scheme joke here. Hey, we can't do everything for you.
Update (3/23/21): Wow, this got awkward. Thanks to our alert readers who pointed out Luxor's room renovations feature hand-me-down furniture from Bellagio.