Iconic Caesars Palace People-Mover is Down for the Count
In the early days of Las Vegas, hotels didn't think too much about accessibility from The Strip. That's why hotels were often built back so far from where most of the people are.
As time went by, though, it became clear pedestrian traffic was key factor in a casino's success, so Caesars Palace and others began figuring out ways to bring in more customers from The Strip. (Caesars estimates more than 20 million people a year stroll past The Quad and Flamingo, just across the street, each year.)
In the 1980s, Caesars built a now-iconic moving walkway, bringing customers directly into the casino from Las Vegas Boulevard. As with many escalators and moving walkways in Vegas, it only moved one way, toward the casino.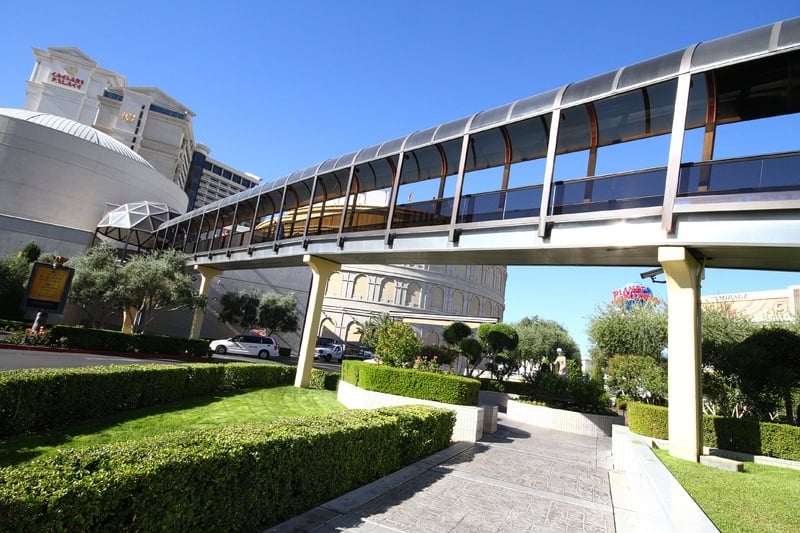 The moving walkway at Caesars Palace hasn't actually moved in recent memory, so we asked when it might be repaired.
We've confirmed there are no plans to repair the walkway, so for the foreseeable future, it's not a "people-mover." It's just a bridge. A one-way bridge, at that.
What other methods do casinos use to pull customers in and keep them in? No clocks. No windows. Eye-catching slot machines. The sounds of winning (even machines that don't pay out coins still make the sound of coins dropping when players cash out). Liquor. Not to mention maze-like floor plans intended to discourage a quick exit.
Hey, it's just Vegas being Vegas. Ultimately, you're the boss of you and your budget.