Fontainebleau Las Vegas News Conference High on Wind, Light on News
Fontainebleau Las Vegas (once named "The Drew" for a minute) has been the butt of jokes for years.
Now, Fontainebleau (pronounced "fountain-blue") officials say the project is moving forward in earnest. Which we've heard before, but not at a news conference with a stage and chairs and shiny shovels.

The biggest announcement at the news conference wasn't actually announced at the news conference.
According to Fontainebleau's new Twitter account, Fontainebleau opens in the fourth quarter of 2023. Sound up! Oh, wait, there isn't any. You're so spoiled, just watch.
Forever Fontainebleau. #fontainebleaulasvegas opening fourth quarter 2023. https://t.co/sohruh6oZM pic.twitter.com/lBIJJPB6fS

— Fontainebleau Las Vegas (@fblasvegas) November 9, 2021
The Fontainebleau project was abandoned in 2009 due to the economic downturn, but was recently purchased by the original developer, Fontainebleau Development, and Koch Real Estate Investments.
Translation: Deep pockets means Fontainebleau is actually happening. Finally.
We caught some construction activity at the Fontainebleau site, and have chronicled other activity leading us to believe the new owners of Fontainebleau are not just shoveling stuff.
There were several speakers at the news conference (referred to as a "commencement ceremony"), but literally nobody provided any new information about the project.
With Fontainebleau, we're sort of used to disappointment.
The speakers included Steve Hill, CEO and President of the Las Vegas Convention and Visitors Authority; Nevada Goveror Steve Sisolak; Clark County Commissioner Richard "Tick" Segerblom; and Jeffrey Soffer, Chairman and Chief Executive Officer of Fontainebleau Development.

A highlight of the news conference was when a guy put a wind guard on the microphone.

Big thanks to our friends at 8 News Now for streaming the news conference so we didn't have to attend despite our not being invited.
We did learn the Fontainebleau project will create 3,200 construction jobs and there will be 6,000 permanent employees when the casino resort opens.
Yes, there will be a casino. Why else would we care about this project? Unless we were planning a flooring or lighting fixture convention, of course. Fontainebleau pretty much sits on top of the Las Vegas Convention Center.
It's a bigass hotel bringing a slew of hotel product into a market where the future is uncertain at best. Tourism was flat prior to the pandemic, and current demand levels are expected to be temporary. Ask Resorts World how that end of the Strip is going.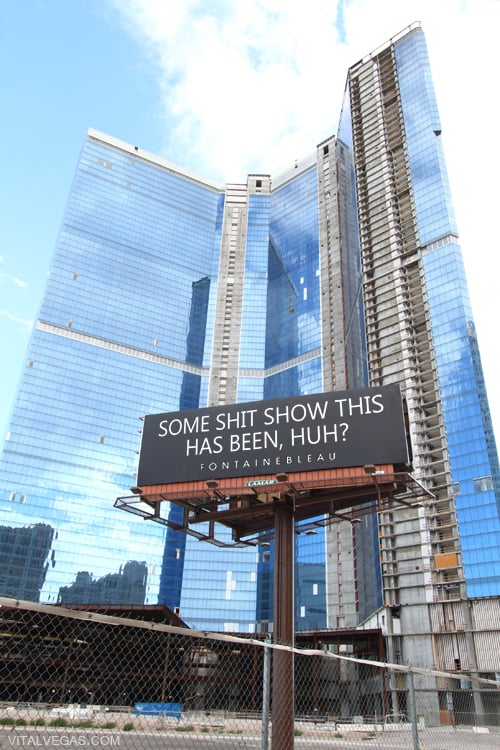 But naysaying is for another time. Today was a day of talking and commencing things and pretending to use shovels.
Really, that was the entire news conference.
What a great time it would've been to explain how the building is doing given it's been exposed to the elements since 2009. We hear it's in great shape. Somebody should talk about that.

Somebody should also talk about the vision, the interior design, the amenities and whether parking will be free.
Maybe talk about how the previous owner sort of skulked away after he couldn't get financing.
Meh, no time for all that nonsense people actually care about. Let's congratulate each other for how great this resort is going to be. Again.

You can learn 10 times more from our Twitter account, which is a sad statement about the state of resort P.R. in Las Vegas, honestly.
On the bright side, Fontainebleau is moving forward!
We anticipate lots of exciting news from Fontainebleau, but for whatever reason, today was not that day.
The wrap is down. Dudes in hard hats are moving things around. The dust is rising. We get a new Las Vegas resort in 2023. What could possibly go wrong?