Three Signs Former Fontainebleau Is Making Progress
There's new life at the long-abandoned Fontainebleau (and The Drew) site.
The hotel has a new name, JW Marriott Las Vegas Blvd., and we've got some juicy evidence this new resort is actually going to happen.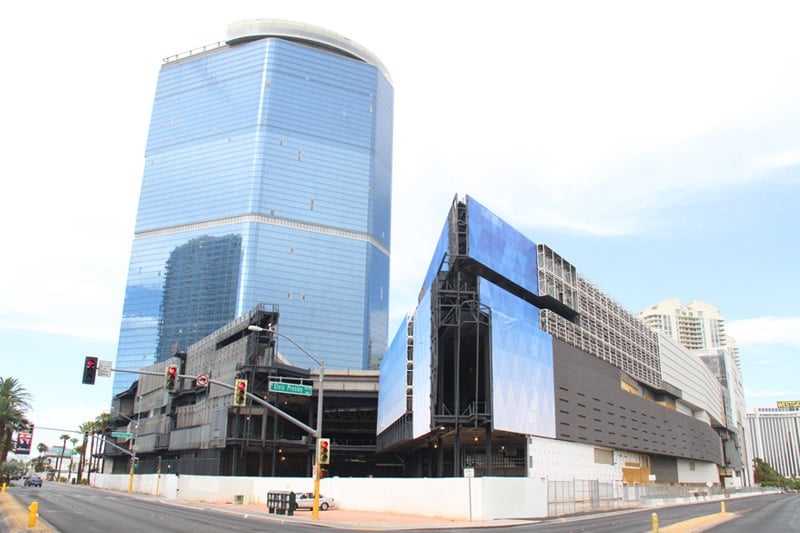 This project has been stalled since 2009 (Fontainebleau was 70 percent finished when
construction was halted), but was recently purchased by Koch Real Estate Investments
(translation: seriously deep pockets) and the Fontainebleau Development Company.
The former owner, Steve Witkoff, who planned to call the hotel The Drew, was never able to pull
together the needed financing.
As we were the first to report, JW Marriott LVB is scheduled to open in Oct. 2023.
While skeptism remains high, we've seen some solid signs in recent weeks JW Marriott Las Vegas Blvd. is looking more and more like a thing.
1. General Contractor Named
While it hasn't been officially announced, we've been told W.A. Richardson Builders, general
contractor for Resorts World, has been awarded the JW Marriott Las Vegas Blvd. construction manager job. This marks a big step in JW Marriott LVB moving forward. Richardson has some serious construction cred in Las Vegas, including being general contractor for Mandalay Bay, Monte Carlo, The Linq, Cromwell and others.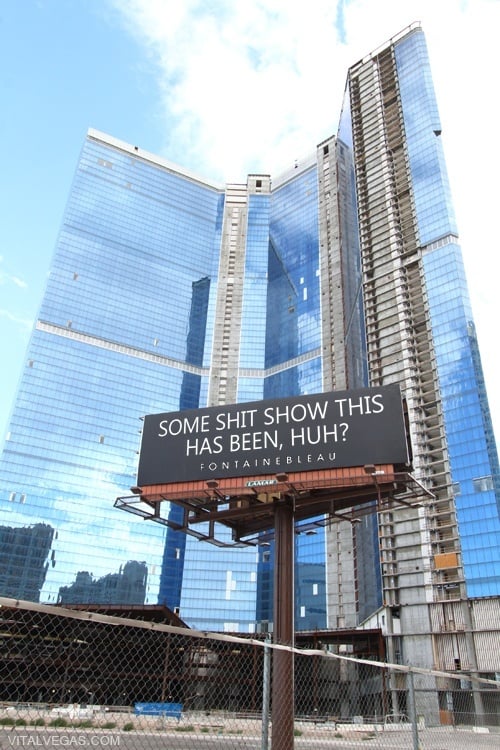 2. Fugly Wrap Removed
While it doesn't exactly qualify as a beehive of activity, the million-dollar wrap at the former Fontainebleau (installed when the building was owned by Carl Icahn) has been removed. This means the wrap is being replaced, or it's not needed during construction. Clark County officials instructed the owners to clean the place up, so it's possible another wrap will be installed until construction ramps up fully. Still, it's not nothing, and in the case of the doomed Fontainebleau, we'll take "not nothing" any day of the week.

3. Power Line Being Installed
An eagle-eyed reader spotted a "Fountain Blue" sign near the JW Marriott LVB site (by Turnberry Towers at Karen Ave. and Joe Brown Drive), so we chatted with the company displayed on the sign. We confirmed it's a constractor installing an NV Energy power line for JW Marriott LVB. This is big news, infrastructurewise, and it's a strong indication the project is moving forward.

In addition to these delicious tidbits, there has also been a flurry of new and renewed building permits for the JW Marriott LVB project, clinching our belief we're going to see the place become a reality, against all odds.
The hope for JW Marriott LVB is conventions will be back to full strength by its 2023 opening, and the hotel's location will position it perfectly to take advantage of increased investment in drawing more and larger conventions to Las Vegas.
The Las Vegas Convention Center, just a lanyard's throw away from the new JW Marriott LVB, recently completed a $989 million expansion, including a new underground shuttle system from Elon Musk.
JW Marriott Las Vegas Blvd. will have more than 3,700 rooms and 500,000-square-feet of meeting space.
The abandoned Fontainebleau project has been an eyesore for years, and a thorn in the side of
local officials, so it's refreshing to see tangible evidence the JW Marriott Las Vegas Blvd. project is moving forward and could finally come to fruition.