El Cortez Classes Up the Joint With New Bar and Lounge
As we wrote about months ago, El Cortez has its eye on a crowd it's not known for catering to: Millennials.
Hoping to capture some of the youthful energy of downtown's Fremont East District—bars like Commonwealth, The Griffin, Therapy and Park on Fremont keep it hopping, especially on weekends—El Cortez has unveiled its renovated casino bar.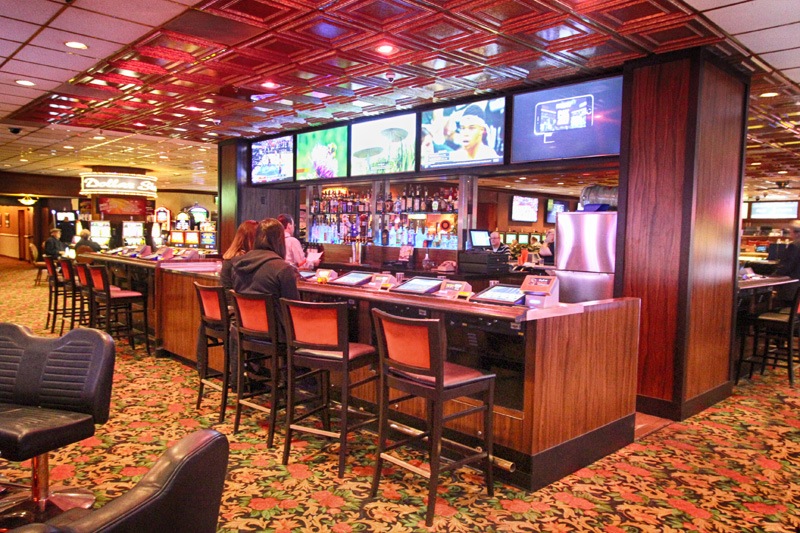 When we first heard about the bar, the intention was to call it Imbibe. However, no new name has been officially announced. Now, we're hearing it could be called Ike's Bar, after the name of the company that owns El Cortez, Ike Gaming, Inc. (I.K.E. comes from the initials of Irving Kenneth Epstein, owner of the hotel-casino.)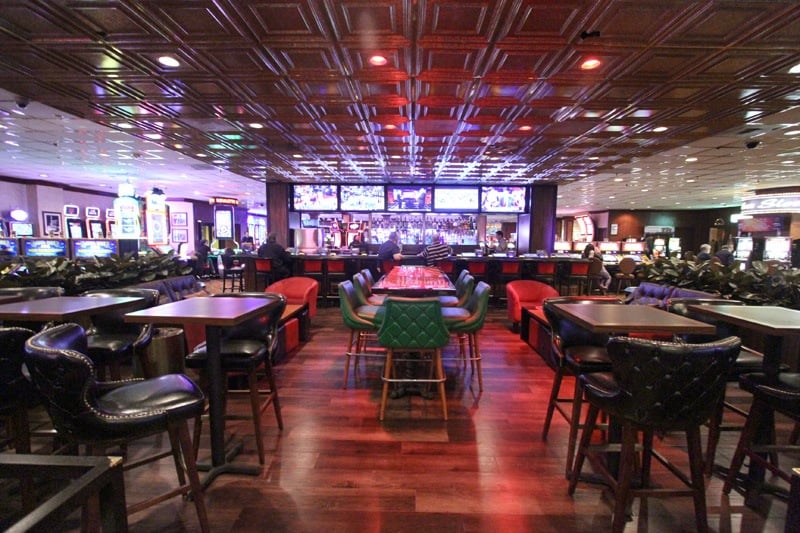 The new bar, with its dark wood appointments and metallic ceiling tiles, doesn't try to be The Dorsey at Venetian or Clique Lounge at Cosmopolitan. There's no pretense, and the drinks are still dirt cheap, just the way we like them. The $5 Patron margarita looked especially enticing.
The bar's footprint has been expanded to include a wood floor, which presumably could be used for dancing.
At the moment, the area is full of plush chairs and couches, perfect for hanging out with friends.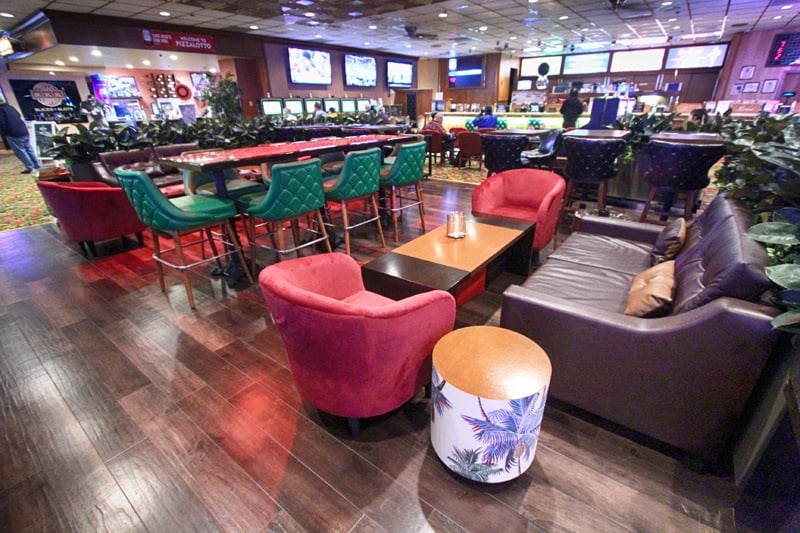 Thankfully, El Cortez hasn't gone full Gold Spike, and there's not a single game of cornhole or Jenga to be found.
Our favorite part of the new social area is a long table with chips from the now-closed Thunderbird and Western casinos embedded in the tabletop.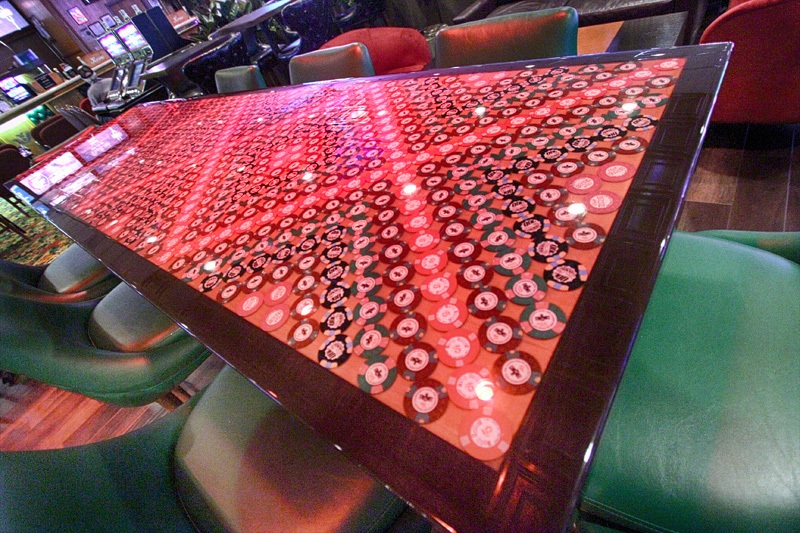 No, really, it's our favorite thing. Right behind the bottles of Captain Morgan at the bar, of course. Priorities.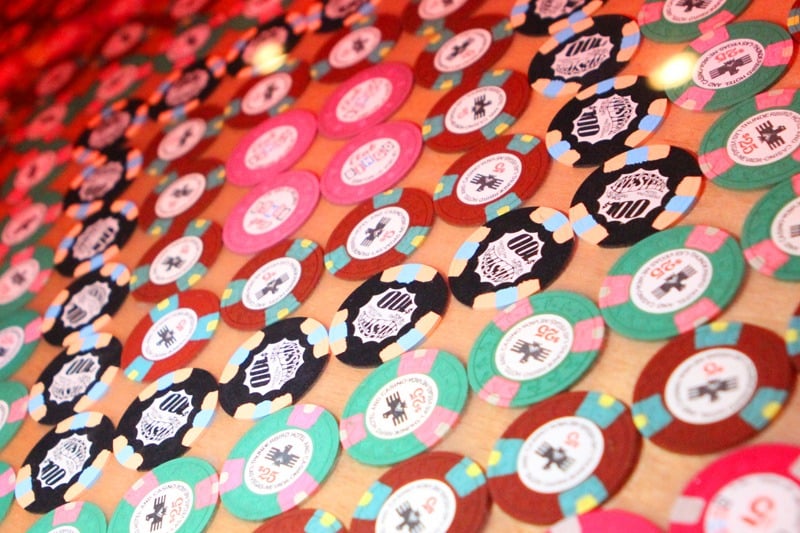 If that's the Thunderbird we're thinking of, it was originally the Silverbird, then El Rancho. It holds the distinction of being the place Judy Garland made her final Las Vegas appearance in 1965. Sweet nod to Vegas history, El Cortez.
El Cortez is trying to liven up this portion of the casino by loudly playing popular music through exactly six of the casino's speakers just above the bar. We suspect this won't land very well with the typical El Cortez customer, but we're all going to have to learn to play nicely.
Ike's Bar (it's a coin toss at this point) has 19 video poker machines, 11 on one side and eight on the other.
The bar also features 10 flat screen TVs.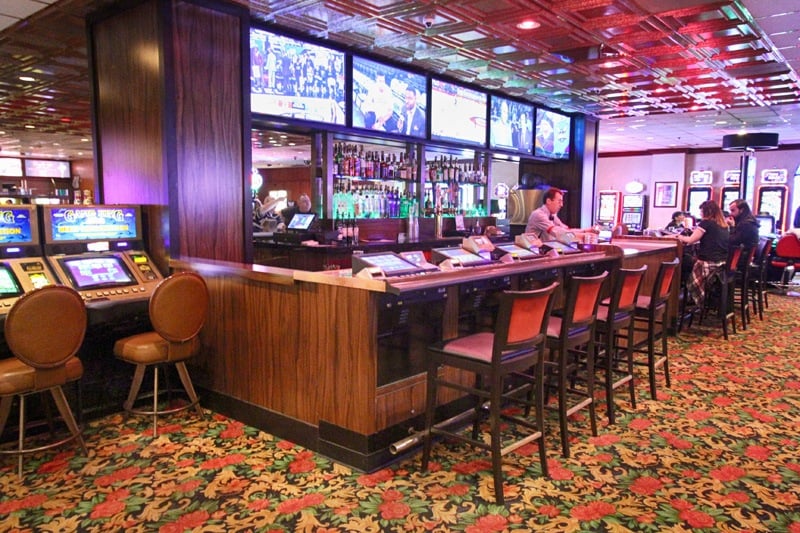 The new casino bar at El Cortez is located near one of the entrances off Fremont Street, and sits next to the keno lounge and excellent Pizza Lotto restaurant. Pizza Lotto never did get those promised scratch-off lotto cards, but the solid pizza makes up for it.
You can still score freebies by visiting the Pizza Lotto Web site.
Cheers to El Cortez for investing in a more modern bar while retaining some old-school charm, including bartenders wearing old-timey garter on their sleeves.