Confirmed: Two New Restaurants Set for Downtown Grand
Downtown Grand has confirmed it's getting two new restaurants, Hot N Juicy Crawfish and Yama Sushi.
Downtown Grand is located downtown. You'd think that's intuitive, but we live in a world where some people need labels on laundry detergent pods that say, "Do not eat laundry detergent pods."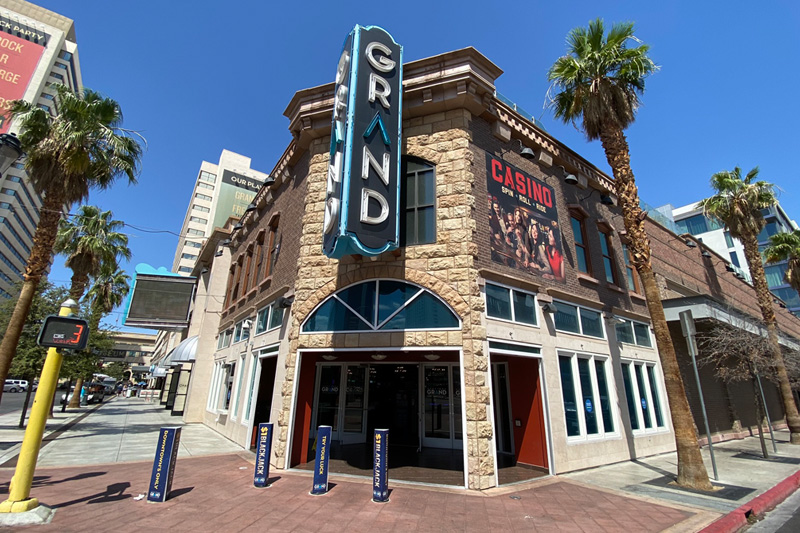 If the news about Downtown Grand getting a Hot N Juicy Crawfish sounds familiar, it's because we first shared the news two-and-a-half years ago.
Hear reliably Hot N Juicy Crawfish will go into the former Commissary After Dark (and later, Downtown Underground eSports Lounge) space at Downtown Grand. pic.twitter.com/RqSIeOsxgr

— Vital Vegas (@VitalVegas) January 6, 2020
If you are not impressed by that, you have impossibly high standards likely to make you miserable for the rest of your life. Seek help.
This is the fifth Hot N Juicy Crawfish location in Las Vegas.
Hot N Juicy Crawfish will go into the former Commissary space, on the same side of the street as Hogs & Heifers and Triple George and Pizza Rock. Let's just say two of those three places are on good terms with Downtown Grand. Don't make it awkward.

Hot N Juicy Crawfish opens at Downtown Grand in September 2022.

Hot N Juicy Crawfish will be open from 11:00 a.m. to 11:00 p.m. Sunday through Thursday, 11:00 a.m. until midnight on Friday and Saturday.
It's a brutal location, but perhaps the lure of sucking the juice out of "mudbug" heads will magically draw people away from Fremont Street and the restaurant will be a resounding success.
Don't hold your breath.
There are other things on the Hot N Juicy Crawfish menu, thankfully. Guests can have a range of seafood, including crab, mussels, clams, shrimp and lobster.
Anything bottom-dwelling, they're all over it!
Yama Sushi opens at Downtown Grand this winter, so either late 2022 or early 2023.

No, we didn't break that news, but that's because sushi is disturbing.
In a former life, we Photoshopped billboards and even published a book called, "Twisted Billboards." The book was accompanied by refrigerator magnets. One of our favorites featured sushi.

Yes, our book sold dozens of copies and, while out of print, you can still buy them used in various placed on the Internet.
Yes, we had a life before droning on endlessly about Las Vegas.
But back to something you actually care about.
Yama Sushi will operate 11:00 a.m. to midnight.
While we are obviously not a seafood person (Yama serves something called "Japanese Lasagna," but that feels like a trap), downtown visitors will no doubt enjoy some additional dining options.
Downtown Grand has faced some recent challenges with foot traffic because of construction going on at Fremont casino. The walkway has been narrowed considerably, and Downtown Grand has been even more obscured to visitors at Fremont Street Experience.

The good news is once the expansion of Fremont casino is complete, the no-man's-land between Fremont and Downtown Grand should be much more appealing and active. Fremont casino will have a new entrance into its expanded casino space, which should draw people farther north, a blessing for Downtown Grand.
Look for more changes at Downtown Grand.
During our recent visit, we got wind of a new General Manager coming onboard at the resort, and there are some changes in the works inside the casino.
The casino's sportsbook is being relocated to the current high limit slot room. The loyalty club desk is moving, and will be replaced by a small bar of some sort. We expect it to be slushy drinks, as slushy drink bars downtown print money.
We also hear Downtown Grand will get a deli. It's actually the return of the deli, as it opened with Spread Deli back in 2013.
Since opening, Downtown Grand has reportedly struggled on the gambling side, but has done well with its hotel rooms. The resort opened a new hotel tower in September 2020.
We like Downtown Grand quite a bit, and if you mix in Triple George and Pizza Rock, it's well worth a visit.
You know we'll be there to check out the new restaurants when they open. We aren't going to eat anything, but we'll share photos of the menus and interiors, be happy with that.
Update (11/12/22): Yama Sushi opens near Downtown Grand in the spring of 2023. Here's new information from the General Manager of Downtown Grand, Andrew Economon.
Just some clarification, yes, it's right next to "beef jerkey" and expected opening is spring of '23. This is an old picture. The artwork is much better now!

— Andrew Economon (@ajeconomon) November 12, 2022