Caesars Palace Reveals Addition to Iconic Fountains and Everything is Ruined
It's either a creative way for a casino company to generate revenue from "unproductive" space or a swift kick to the groin with a steel-toed boot: Caesars Palace has unveiled a new addition to its iconic fountains and our Las Vegas WTF meter is about to have a meltdown.
First, let's take a look at what was arguably one of the most spectacular photo ops in all of Las Vegas.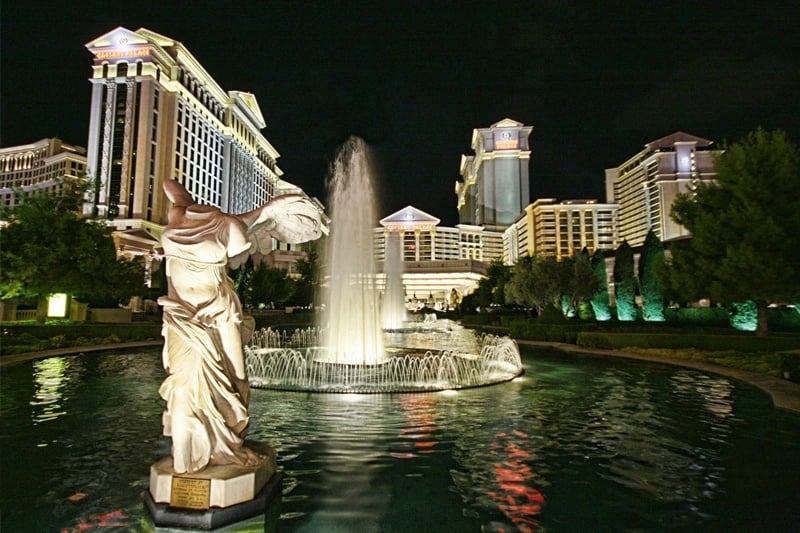 The image above is one of the things that pops into our mind when people say "Las Vegas." The other is boobs, but that's probably just us.
On Sep. 28, 2017, Caesars Palace debuted a Samsung Galaxy Studio sitting atop its fountains. The fountains, we should mention, an estimated 20 million people a year stroll by along Las Vegas Boulevard.
Here's a look at the Samsung Galaxy Studio that will reside on the Caesars fountains through the end of January 2018.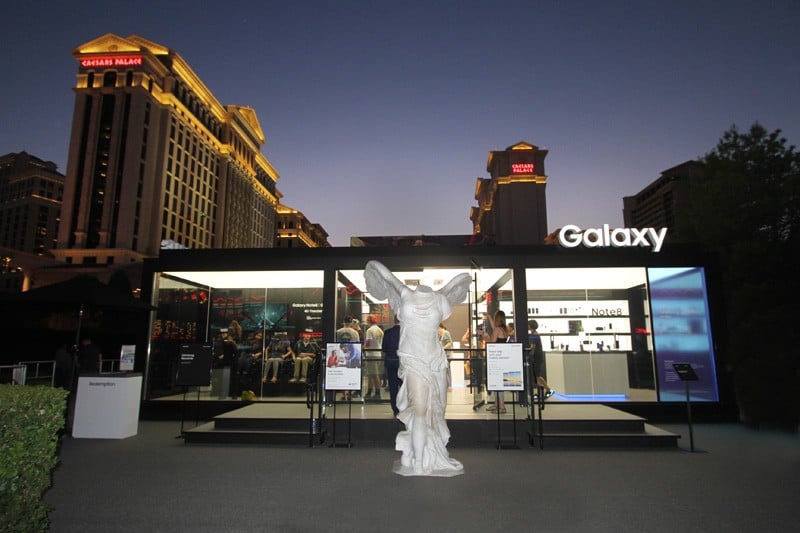 The Samsung Galaxy Studio is a place for guests to get "hands-on experience exploring the latest Galaxy products." The pop-up shop has a virtual reality theater, offers customer care for existing customers, boasts interactive art installations and has a retail component.
This location is, honestly, possibly the best location in the world if you're Samsung.
But here's the thing.
Just because Samsung offered Caesars a metric hell-ton of money to have a store on their fountains doesn't mean the offer had to be accepted.
Maybe we're naive or overly romantic, but it feels like the Caesars bean counters have flagrantly shat upon the entire history of one of Sin City's most venerable megaresorts? And how mad must we be to use the word "shat" for only the second time in the history of this blog?
What dollar amount has been assigned to an epic Las Vegas photo op that's been taken and shared by millions of people around the world?
And, trust us, just because this particular use of the space is temporary, there's no way this is a one-off.
Granted, we are a blog. We don't have to pay salaries or answer to shareholders. Caesars Entertainment, owner of Caesars Palace, is slowly, finally emerging from bankruptcy. It's a business. We get all that.
We also don't have to like it.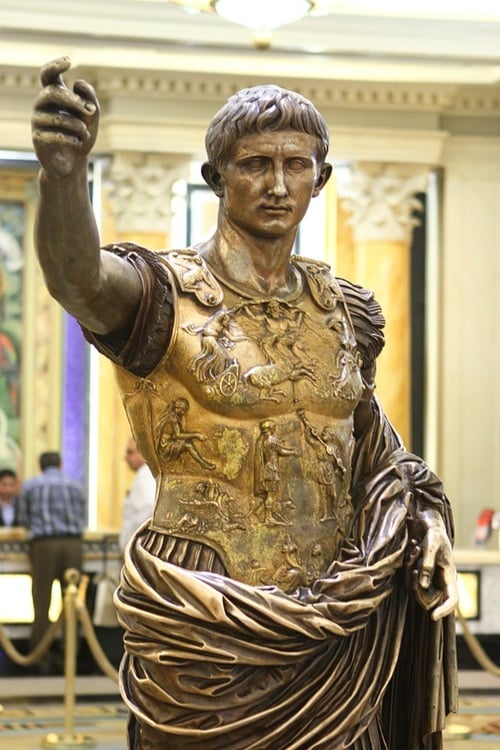 It was all fun and games when an April Fools' joke about Bellagio's fountains being converted into retail space from our friends at Vegas Bright went viral. It was so believable, many reported the story as fact, and we even went on TV to talk about it.
The recent monetization (which we're still not convinced is a real word) of "idle space" at Caesars is an illustration of how such stories can gain momentum. Because when things like this happens, in the words of Billy Crystal, "It's not fun, it's not funny." If you think MGM Resorts hasn't pondered a scenario similar to the one at Caesars Palace for its own fountains, we have a half-scale Eiffel Tower to sell you.
Update (9/30/17): Our friends at KTNV did a follow-up to our story, and included our thoughts, so it's well worth a look, because you can never get too much us.
In the story, Caesars Entertainment says, "The Samsung Studio is a temporary structure where guests can experience the newest in Samsung products and an interactive virtual reality experience. With only five locations in the U.S., Samsung has selected Las Vegas for this surprise and delight attraction and Caesars Palace is excited about bringing this experience to its center Strip location. Additionally we are receiving positive feedback from our guests and passerbys."
First, it's "passersby."
Second, claiming there's been positive feedback from guests and passersby about a Samsung pop-up store is easily one of the most absurd things we've ever heard, and we've heard a lot of absurd things, trust us.
We'd love to hear your thoughts, even if you think we should get over it, so share a comment.