Caesars Entertainment Resorts Roll Out Paid Parking, Vegas Surprisingly Still Awesome
Las Vegas visitors and locals have had some time to adjust to the idea of paid parking, and now things have gotten real. Parking fees for self-parking are now being rolled out on the "other half of The Strip," specifically, at Caesars Entertainment resorts.
Paid valet parking has been in effect for several months at Caesars Entertainment casinos, and since mid-2016 at MGM Resorts hotels (valet and self-park), but now guests will get dinged for self-parking at Caesars Entertainment destinations in Las Vegas, too.
So far, paid parking has been instituted at Linq Hotel & Casino and Caesars Palace. Next up is Paris and Bally's (April 6, 2017).
Here's a look at the newly-installed parking machines at the Linq casino.

Unlike at MGM Resorts hotels, self-parking will remain free for Las Vegas locals at Caesars Entertainment resorts (for the first 24 hours).
Parking is also free for visits of 60 minutes or fewer.
You can also park free at Caesars Entertainment resorts if you reach the upper tiers of the casino's loyalty club, specifically, Platinum, Diamond and Seven Stars.

One can also avoid being charged for parking by getting the Total Rewards Visa card. There's no annual fee, and getting the card bumps you up to Platinum membership, so you can sidestep parking charges. The same tactic works with the M Life Rewards card through MGM Resorts.
Parking fees vary at different Caesars Entertainment resorts, just to keep things interesting.
At Linq, Harrah's and eventually Flamingo: One to four hours, $5; four to 24 hours, $8; more than 24 hours, $8 per day.
At Caesars Palace, Bally's/Paris, Cromwell and Planet Hollywood: Up to four hours, $13; four to 24 hours, $18; more than 24 hours, $18 per day.
At the moment, there's no plan to charge for parking at Caesars Entertainment's ugly stepchild, Rio Las Vegas.

From what we could see at the Linq casino, the roll-out of paid parking is going fairly smoothly. The company has installed the promised upgrades to the parking facilities, including availability indicators (rather than green and red, they used green and purple and blue).
Speaking of red lights and green lights, it's ironic the parking gates at Linq light up red and green. This is the same system we first reported Caesars Entertainment using to monitor comped drinks at its casino bars.
It's important to note that as you're exiting the resort, you can pay at the gate on the way out, but those machines take credit or debit cards only. If you only have cash, pay inside the casino.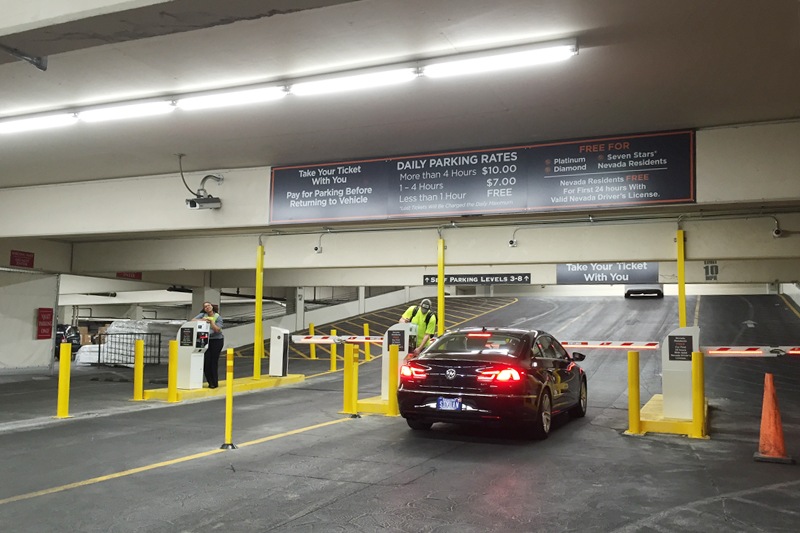 And, so, paid parking in Las Vegas is pretty much universal. There are a few hold-outs on The Strip, but they'll eventually have to cave as bargain-hunters make their way to the free lots.
A few of the remaining Strip hotels with free parking include Tropicana, Circus Circus, SLS Las Vegas and Stratosphere. Hooters and Lucky Dragon, just off The Strip, are also free.
While paid parking is a break from tradition in Las Vegas, it's clearly here to stay, and ultimately a business necessity for casinos as gambling revenue declines. Gambling used to pay for all the freebies in the casino, but now each part of the casino's business has to be profitable or at least self-sustaining.

Sure, parking fees are irksome, but it's good to keep things in perspective. Las Vegas remains one of the premier travel destinations in the world, and paid parking is the norm in every major city in the country.

So, either budget for parking fees or take advantage of the various ways you can skip paying for parking altogether.
Paid parking doesn't make Vegas any less Vegas, just as paying for sex doesn't make it any less sex. Allegedly.