Armed Robbers Hit Rolex Store Inside Bellagio, Resort Goes on Lockdown
A Rolex store named Tesorini at Bellagio was robbed in the early morning hours of March 25, 2017, prompting reports of an "active shooter" (later proven to be false) and general chaos at the high-end Strip resort.
Several news outlets passed along social media posts by witnesses, with conflicting information about the robbery.
A Twitter post shows an armed robber wearing a pig mask outside the Rolex store. Other masks included a cat mask and panda mask.

The robber in the photo was one of four suspects involved in the burglary.
The four robbers carried sledge hammers, presumably to assist with smashing the store entrance and jewelry display cases.
The store was closed at the time of the robbery (about 12:50 a.m.). We're thinking authorities can eliminate rocket scientists from the pool of suspects, as luxury shops generally remove merchandise from display cases overnight. Rolex watches can cost $30,000 or more.
Early reports said at least one of the suspects fired shots inside the Rolex store during the robbery, but authorities later stated witnesses actually heard glass breaking.
One robber, Sebastian Gonzalez, was quickly apprehended by police. Reports suggest the suspect was captured in the Bellagio's parking garage. Here's another Twitter pic of the suspect being led out by police.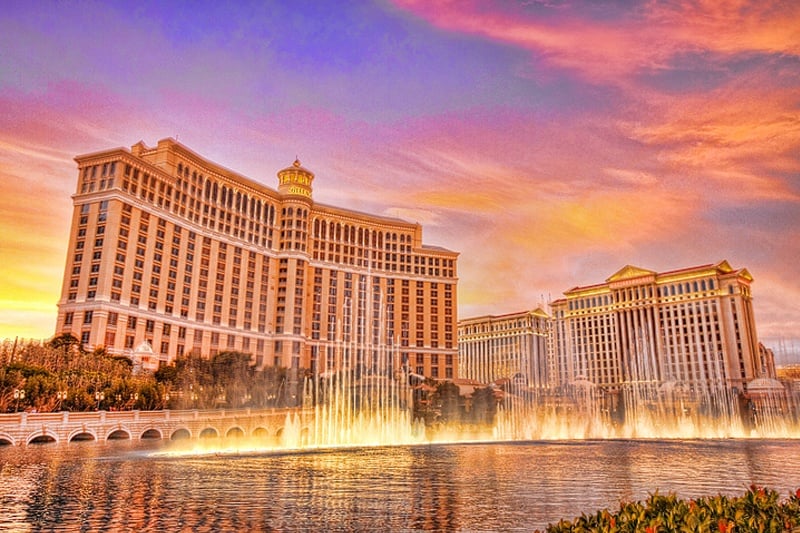 The robbers apparently tried to escape in a vehicle, but the car wouldn't start. They then tried to carjack another vehicle, then attempted to escape by foot.
As word of the robbery spread, dozens of guests fled Bellagio (described by several witnesses as a "stampede"), and the casino floor of the neighboring Cosmopolitan was evacuated as a precautionary measure.
The Las Vegas Metropolitan Police Department has confirmed there were no injuries as a result of the robbery.
Bellagio, owned by MGM Resorts International, has been the site of other robberies and attempted robberies. Probably because that's where all the money is. Please try and keep up.
In 2010, card-carrying bonehead (and son of a Las Vegas judge) Tony Carleo stole $1 million in chips from the craps pit at Bellagio while wearing a motorcycle helmet. Carleo is currently serving 3-11 years in jail for his misadventure.
In addition to that real-life heist, the most notorious robbery of Bellagio was fictional. Bellagio was one of the targets in "Oceans Eleven."