Arena Football's Las Vegas Outlaws Go Under
The floundering Las Vegas Outlaws, Sin City's third attempt at an Arena Football League franchise, have ceased operations after just one season.
The Las Vegas Outlaws launched in April 2015, and rumors of the demise of the troubled team have been swirling since June.
The Outlaws have had trouble attracting fans from opening day, with attendance at home games averaging a paltry 3,500.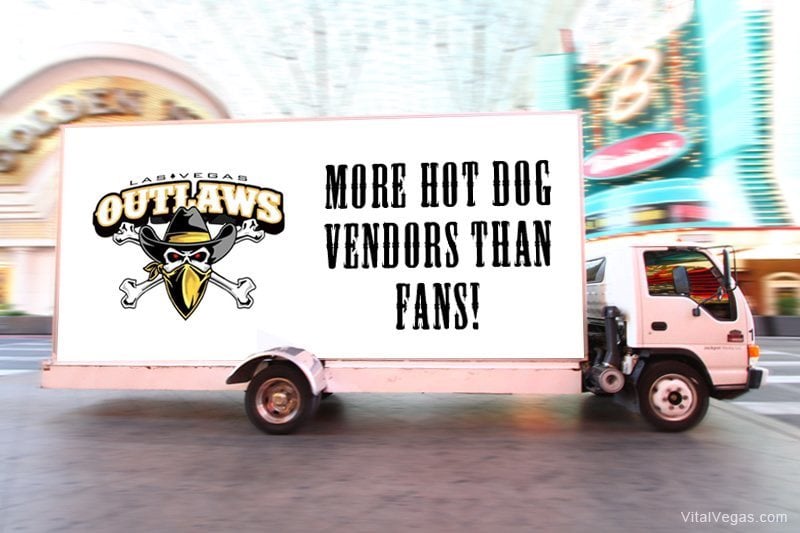 In mid-July, control of the Las Vegas Outlaws was wrested away from owner Vince Neil, former frontman for Mötley Crüe, by the Arena Football League. Neil and his ownership partners reportedly lost control of the team when debts mounted and the AFL stepped in to bail the team out.
Vince Neil, ever the class act, blamed Las Vegas on the team's financial problems. "Sports teams survive on sponsorships. It's the sponsors who keep all sports alive, and unfortunately Las Vegas did not step up as much as we envisioned with sufficient sponsorships." Get out your waders, folks, it's finger-pointing time. Read more.
Vince Neil's cringe-worthy rendition of "The Star Spangled Banner" at the launch event for the Outlaws is the stuff of Las Vegas legend, for all the wrong reasons.
https://www.youtube.com/watch?v=zg5K0JGWFXI
The Outlaws are the third AFL team to tank in Las Vegas.
In 1994, there was The Sting. Unable to gain a foothold in Vegas, the team eventually moved to Anaheim, California. (They became the Anaheim Piranhas.) Another team, The Gladiators, made a go of it in Vegas from 2003 to 2007 before relocating to Cleveland.
Seriously, how bad to things have to get before moving to Cleveland is an improvement?
As for the Las Vegas Outlaws, insiders claim AFL Commissioner Scott Butera is seeking a new ownership group for the team. Vince Neil says, cluelessly, "The Outlaws will be back for next season." Right. Don't hold your breath.