America Restaurant at New York-New York Rolls Out B.S. "Process Fee"
Las Vegas is making a comeback, and unfortunately, that means horseshit fees are back as well.
Such fees aren't, technically, fees for horseshit, because that would imply you get something for your fee (presumably, horseshit).
No, today's shady fee is called a "process fee," and it's slapped on every tab at America Restaurant at New York-New York.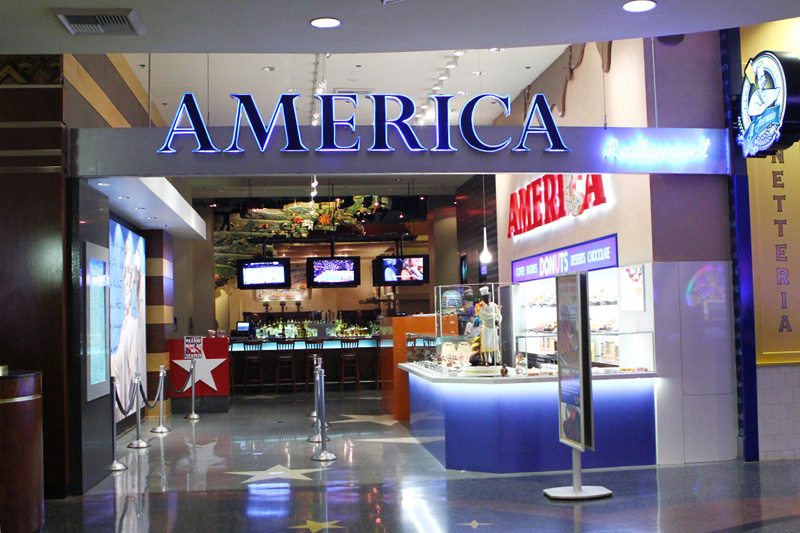 A customer who got dinged asked a manager what the charge is for, and got some slimy answer about it being a "fee imposed by Las Vegas for privacy." Utter nonsense.
The guest asked for the charge to be removed and it was.
That's because such ridiculous charges are voluntary. That's right. Just because it's on your bill doesn't mean you have to pay it.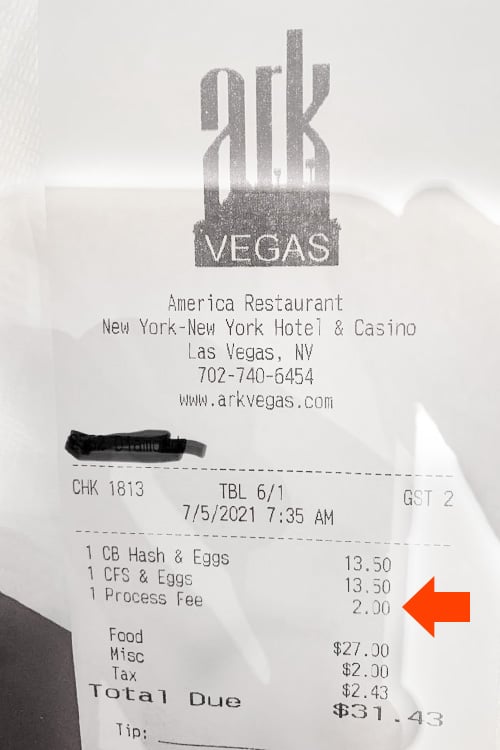 Such fees are shady because they rely upon a couple of things: 1) The knowledge most people don't examine their checks too closely and they'll just pay it, 2) Even if a tourist notices the charge, they're on vacation and too busy to bother with having the fee removed.
Gross, really.
Reminder: While such charges are annoying (not to mention damaging to the perception of Las Vegas overall), do not take any frustration out on the server. They didn't make the policy.
America Restaurant is operated by Ark Restaurants, with venues across the country.
Ark Vegas operates other restaurants at New York-New York, including Broadway Burger, Village Streets, Gallagher's Steakhouse, Gonzalez Y Gonzalez, as well as Yolos Mexican Grill at Planet Hollywood.
We haven't heard about this fee being perpetrated at other Ark Restaurants locations in Vegas, but give it a minute.
Thanks to an eagle-eyed Twitter follower for bringing this charge to our attention.
Whenever we share a nuisance charge like this, and there have been many over the years, some bonehead always chimes in with something along the lines of, "Imagine complaining about a $2 charge."
Dear, bonehead, it's not the $2. These charges are insidious, deceitful and prey upon unsuspecting tourists.
They not only hurt tourism and employees, they hurt the perception of Las Vegas and they're annoying AF.
Politely ask a manager to remove the charge and take your business elsewhere next time.
Yes, there are other venues with irksome fees, but they are in the minority, thankfully. Beware the CNF charge at Hexx and Beer Park at Paris, as well as the RRF charge at Cafe Americano at Paris and Caesars Palace. And don't get us started on venue fees.
Don't obsess about fees (we do, but it's our job), just enjoy your vacation and know before you go.
Update (7/8/21): A representative for Ark Las Vegas reached out to say the company has reversed its policy and will no longer charge the process fee. The rep said, "I wanted to inform you that our management team at Ark Las Vegas has listened to our guests and removed the process fee on July 6, after just three days in operation. Instituting the process fee was a result of ongoing costs associated with Internet Protocols, EMV and PCI credit card processing rules, and the overall costs of protecting personal information and privacy. Lesson learned."
We appreciate Ark Las Vegas being open to feedback, and are happy to report the end of this misguided fee.