MGM 2014 Outlook Points to Overall Growth and Recovery
Posted on: January 10, 2014, 05:30h.
Last updated on: January 12, 2023, 11:16h.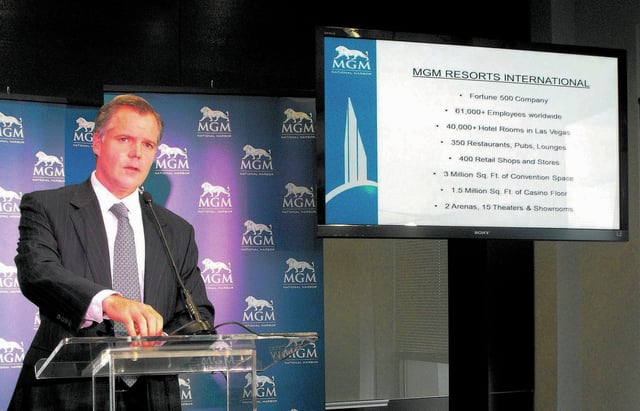 Looking for investment ideas for the new year? Consider MGM Resorts, is the word coming down from gaming analysts who are bullish on the gaming outfit.
According to experts, MGM Resorts International hasn't had such a bright outlook in quite awhile; the casino conglomerate has so many pending projects – both in the States and abroad – on the docket right now that  industry analysts are giving them a gold star for "fresh ideas" when it comes to stock investments.
Stocking Up
J.P. Morgan gaming analyst Joe Greff actually called MGM a "top gaming investment idea" in a recent industry research note, saying that the company's stock prices are well worth a second look these days. Stocks – which closed late last week at $23.45 – are showing an 85 percent jump in the last year, and experts predict even more subtle gains to come.
Part of the positive picture is pinned to Las Vegas' – and the overall U.S. casino markets' – continuing recovery from the brutal hit they all took during the recession. Credit Suisse gaming analyst Joel Simkins says that MGM  "remains the best-positioned operator to capitalize on the continued recovery of Las Vegas as the U.S. economy recovers."
The rosy outlook also stems from a bevy of anticipated new casinos and ancillary projects that MGM has in the pipeline. That includes new projects on the Las Vegas Strip: MGM has $100 million riding on a new shopping, dining and entertainment area that they are constructing between company-owned casinos New York-New York and the Monte Carlo. That district in turn opens the door for an ensuing $350 million sports and entertainment complex. Projected opening dates are 2014 and 2016, respectively.
Strip Comeback
And with 10 Las Vegas Strip casinos under their auspices, and convention bookings once again picking up, 2014 looks to be a much better year than years past.
"We believe 2014 has the potential to be a stronger year for Las Vegas, as any meaningful uplift in the economy will give retail gamblers and leisure travelers confidence to book their trips to the Strip," industry analyst Simkins said.
MGM CEO Jim Murren will also be taking over the chairman position with lobbying organization American Gaming Association this year. As that group continues to try to redefine legal gaming in the U.S., the high-profile gig can only further cement Murren's already solid reputation as a mover and shaker in the American casino industry.
But that's just the tip of the iceberg for MGM's construction projects. In total, the company has $3 billion going towards not only Las Vegas, but also new ventures in Atlantic City and the very lucrative Macau Cotai Strip as well.
In New Jersey, the company is waiting for licensing re-approvals for a 50 percent vestment in one of the more successful Atlantic City casinos, the Borgata. To avoid regulatory hassles back in 2010 for their other pending U.S. projects, MGM allowed their profit shares of Borgata – which were about $110 million – to be held in trust while issues surrounding their ties to their Macau project's casino partner Pansy Ho were ironed out. The allegations were that Ho's casino magnate father Stanley had ties to Asian mob figures; allegations that all parties have denied.
Regaining that licensing footing would bring cash flow from both Borgata's land gaming and new online New Jersey casino ventures pouring back into MGM's coffers.
Meanwhile, in Macau, it's looking like a 2016 opening for their $2.6 billion Cotai Strip project, and this will be the company's second casino in the #1 gaming revenue region in the world.
But wait, there's more.
While still awaiting final regulatory approvals, an $800 million hotel casino in Springfield, Massachusetts would make it one of the Bay State's first land gaming facilities; and another $925 million resort in National Harbor, Maryland – perched just outside the nation's capitol – make the company's expansion efforts even more enticing. Those projects expect a 2017 opening date.
All in all, it's a marked turnaround from their financial outlook of just a few years ago. Back in 2009 – during the height of the recession which hit the Las Vegas Strip particularly hard – their $8.5 billion CityCenter complex seemed like a huge economic drain on their bottom line; but MGM has now reduced its long-term debt to $13 billion – an amount not considered egregious when compared to, say, Caesars Entertainment's at $23 billion + – as well as extending their loan maturity dates to closer to 2020.