Macau Visitor Arrivals Up Nine Percent in 2018 First Quarter
Posted on: April 23, 2018, 05:00h.
Last updated on: April 23, 2018, 04:21h.
Macau visitor arrivals totaled more than 8.5 million in the first quarter of 2018, an 8.6 percent increase on the same three-month period in 2017.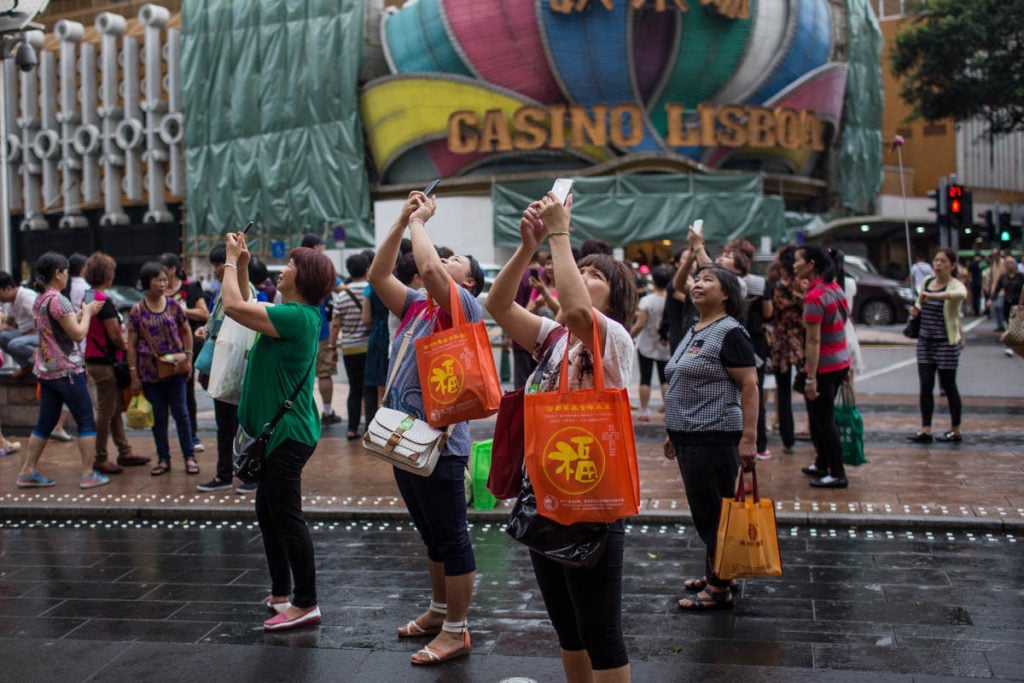 March was an exceptionally strong period, as tourism traffic jumped more than nine percent due to the month having an extra Saturday in 2018 compared to the previous year. Visitor arrivals totaled 2.7 million, which is actually an 11 percent drop from February due to that month hosting the all-important Golden Week holiday.
Visitation from Mainland China was up almost 10 percent last month, and 13.4 percent in the first quarter.
The Macau Statistics and Census Service report is welcomed news to casino operators that continue to look to increase mass market visitation to the gaming enclave.
Gross gaming revenue (GGR) has followed the visitation trend. Income from games of fortune are up 20.5 percent through March. China's gaming enclave has now posted 21 consecutive months of positive gains.
Mass Appeal
Following three years of annual GGR declines between 2014 and 2016 due to Chinese President Xi Jinping's anti-corruption campaign being extended to VIP junkets, casino operators began rethinking their focus to more of the general population.
While the VIP has reigned supreme for years and is responsible for transforming Macau from a sleepy hallow into the world's richest gaming hub, casinos no longer want to solely rely on the high roller to keep revenues robust.
Mainland China and Hong Kong is responsible for more than 85 percent of the traffic to Macau. Showing an increase in visitation from the mainland through the first three months of 2018, without an apparent surge in junket activity, means resorts are successfully enticing more of the mass market.
"Mass demand is growing to record highs," analysts at JP Morgan said last week. "The pace that this recovery is occurring without any discernible rise in promotion suggests it's a genuine demand recovery, not artificially pulled forward."
Macau officials are hoping infrastructure improvements assists in future growth. Along with a new ferry terminal near the Cotai Strip, the 2018 summer opening of the multibillion-dollar mega bridge that will reduce auto travel time from Hong Kong to Macau from four hours to just 45 minutes should bring new visitors to the enclave.
Entry Concerns
Gross gaming revenue and Macau visitor arrivals are both up in 2018 with one quarter of the year in the books.
Macau Travel Industry Council President Andy Wu Keng Kuong told local news agencies this week that the Special Administrative Region (SAR) government needs to be prepared to handle large quantities of visitors 356 days a year, as compared to only at peak times like Golden Week.
"We didn't foresee there would be a jump in the number of tourists coming last weekend" Wu told the Macau News Agency. "Related government departments should study more data in order to better organize and prepare for the growth of tourists."
Wu believes room rates during major holidays, which are of course at premium levels, has some mainlanders postponing their trips to off-peak times such as mid-April.
The travel industry president is urging the government to improve border crossing procedures, and look to invest in new public transportation.
Similar Guides On This Topic
Latest Casino Stocks:
Retrieving stocks data...
Retrieving stocks data...
Retrieving stocks data...
Retrieving stocks data...
Retrieving stocks data...