Judge Says Fantasy Horse Racing a Betting Business, Not Protected by UIGEA
Posted on: May 18, 2017, 03:02h.
Last updated on: May 18, 2017, 03:05h.
A federal judge in California has ruled that services offered by the fantasy horse racing site Derby Wars amount to "wagers," not "contests."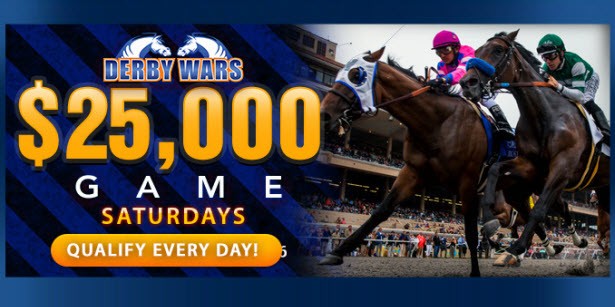 On Monday, Judge James Otero of the US District Court for the Central District of California granted The Stronach Group's request for partial summary judgment in a case against purveyors of the horseracing-based game, and decided against Derby Wars' motion to dismiss.
This means Derby Wars has been operating as a gambling business, according to the courts, not a friendly fantasy sports site. This would make the game subject to the federal Interstate Horseracing Act (1978), which requires operators to get permission from tracks and racing commissions before accepting bets on race outcomes.
The judge's ruling allows Canadian-based global horse-track operator Stronach Group to move forward with its lawsuit against Kentucky-based Horse Racing Labs, the parent company of the Derby Wars website. Stronach is suing for injunctive relief, meaning the court can order the site to shut down, and monetary damages.
Fantasy Carveout
Derby Wars challenges players to pick horses from multiple races and pits them against one another in a tournament-style competition. Payouts are awarded based on accumulated points, with prize pools determined by entry fees collected, with the site keeping a sliver of each buy-in.
Fantasy sports and DFS companies argue that their business models are exempted from the Unlawful Internet Gambling Enforcement Act (2006), which included a carveout for fantasy sports. The leading argument is that fantasy sports are essentially skill-based games and therefore cannot, or at least should not, be classified as gambling.
But the argument in this California case was not about illegal gambling so much as it was about the definition of buy-ins for Derby Wars' tournaments. The court had to determine in this preliminary hearing if these buy-ins constituted "wagers" or merely entry fees to "contests."
Tough Mudders
Lawyers for the Stronach Group successfully argued that because entry fees go into a wagering pool from which a cash prize is awarded, the tournaments more closely resemble pari-mutuel exchange betting.
Judge Otero cited Bell Gardens Bicycle Club vs. Dept. of Justice, a 1995 case in which the Bike's bad beat poker jackpot was ruled to be an illegal lottery.
"The court agrees with [Stronach Group] that Derby Wars entry fees are more akin to the wagers which form the 'pot' in poker," Otero wrote in his ruling.
Because the decision is specific to this case, it does not automatically have a devastating effect on DFS operators facing other legal challenges. But it does remind new game creators that if they are going to make money off an established sector of the gaming industry, others in that business will want to make sure they get their legal preference first.