Hard Rock Atlantic City Promises 200 Nights of Live Music in Year One
Posted on: February 26, 2018, 03:00h.
Last updated on: February 26, 2018, 04:15h.
Hard Rock Atlantic City is planning to live up to its name and become the town's premiere music venue.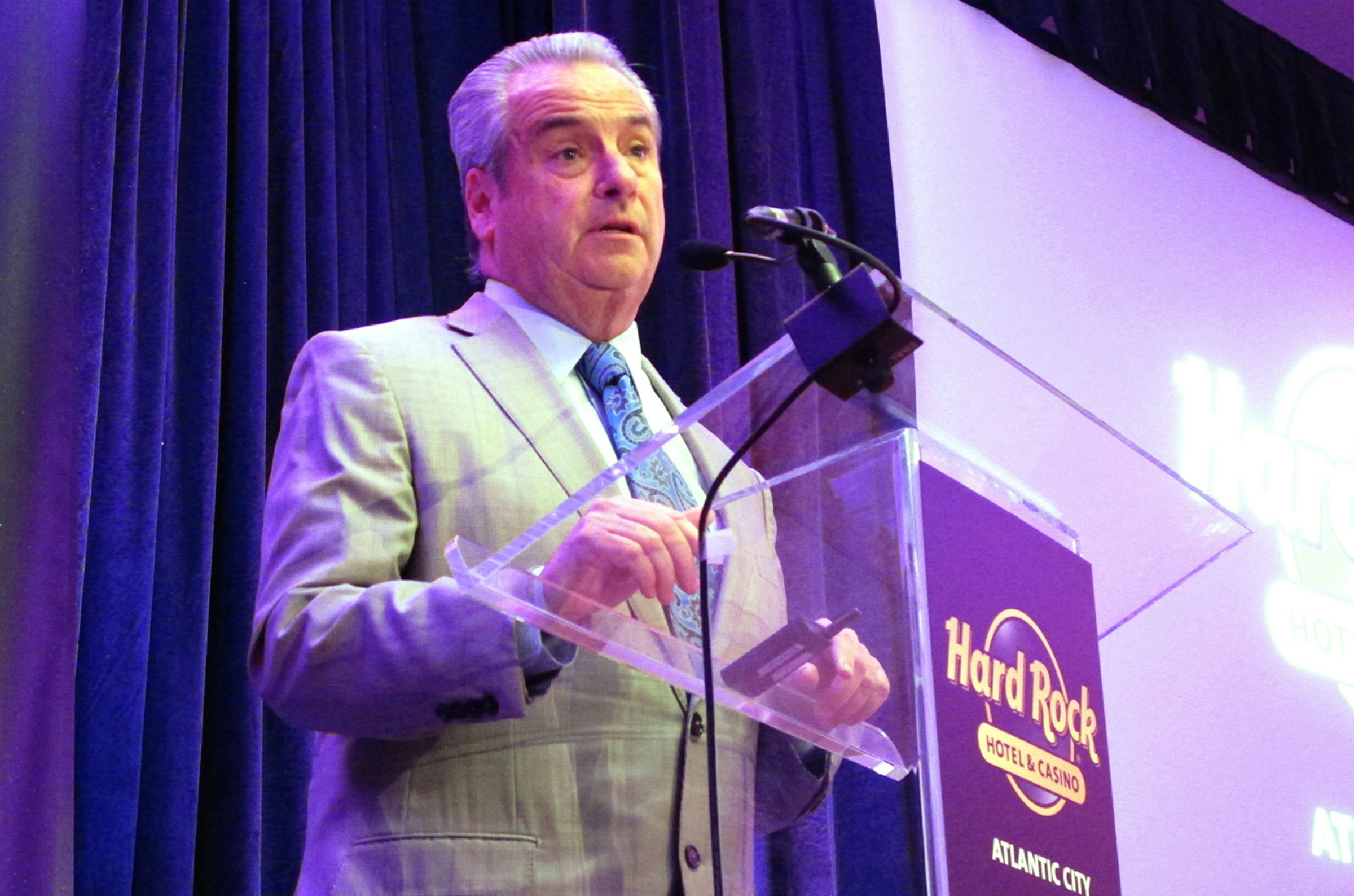 The music-themed Boardwalk casino resort is undergoing a more than $500 million renovation to strip the building's Indian décor left over from its former days as the Trump Taj Mahal. When it opens this summer, Hard Rock guests will be welcomed by numerous pieces of memorabilia relevant to famed musicians who have called New Jersey home, as well as live music throughout the week.
Appearing at a town hall, Hard Rock CEO Jim Allen pledged to host 200 nights of live music in the resort's first year in operation.
"When's the last time you saw entertainment on a night other than Saturday in Atlantic City? Two hundred shows. We're going to make that commitment," Allen explained.
Part of the Hard Rock Atlantic City makeover includes the resort's concert venue. The space is being expanded to 7,000 seats, up from its former 5,200-person capacity arrangement.
Guests Needed
For Allen to live up to his 200 concerts a year assertion, he'll need an influx of visitors to the area. And that's easier said than done.
Atlantic City visitor arrivals continue to decline. Per the South Jersey Transportation Authority, total trips in 2005 made by automobile, bus, air, and rail was nearly 35 million. A decade later, that number was less than 24.5 million.
As casino options continue to spread in the northeast, out-of-state gamblers no longer are required to travel to Atlantic City. Stockton University's Levenson Institute of Gaming Director Rummy Pandit told the Associated Press this week that Hard Rock's live music initiative should benefit the entire town.
"Bringing entertainment into the city mid-week at off-peak times will be a particularly persuasive reason for visitors to consider extending their stay," he said. "Turning a two-night weekend stay into a long weekend or mid-week getaway can make a huge difference for Atlantic City's lodging, food and beverage, retail, gaming and tourism businesses."
Atlantic City's seven remaining casinos generated $2.41 billion in gross gaming revenue last year. That's a small 0.3 percent year-on-year gain. The town will become an nine-casino destination when Hard Rock and Ocean Resort (the former Revel) open this year.
Headlining Acts
The Atlantic City Convention & Visitors Authority's 15,000-seat Boardwalk Hall hosted just 11 music concerts last year. 2018 doesn't seem positioned to increase on that number.
Only three notable music acts are presently planned. Remy Ma, Lil Kim, Fabolous, and Mase perform together on March 24, Maxwell and Gladys Knight take the hall on May 12, and Rod Stewart and Cyndi Lauper are in town August 4.
Allen says Hard Rock Atlantic City will bring in more A-listers. "You're looking at the person who just signed Jay-Z and Beyonce to play Hard Rock Stadium in Miami," the chief executive declared.
Allen said a diverse range of genres will be welcomed to the Hard Rock.