Caesars Japan Unveils Plans for Yokohama 'Great Wave' Integrated Resort
Posted on: September 27, 2018, 05:52h.
Last updated on: September 27, 2018, 05:52h.
Caesars wants to be big in Japan. At a press conference in Tokyo on Wednesday, the US casino giant's Japanese arm revealed its proposal for an integrated resort, which it submitted to the municipal government of Yokohama as part of the city's recent request for information (RFI) process.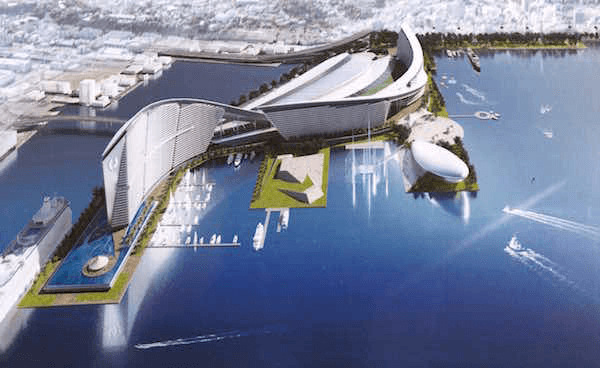 It's the first time that a prospective developer has publicly revealed its concept for a Japanese integrated resort.
The proposed resort –- working title: "Yokohama Art & Culture Park and Entertainment Resort" — would be built on the waterfront in the city's Yamashita Pier area. Architecturally, it's inspired by "The Great Wave of Kanagawa," the famous woodblock print by the Japanese Ukiyo-e artist Katsushika Hokusai. Yokohama is the capital city of the Kanagawa Prefecture.
Kengo Nishimura, Head of Government & Community Relations for Caesars Japan, explained the additional symbolism of the wave.
Yokohama is a city where the West and East have long intersected and is today a creative city of art and culture," he said. "The thinking is to spread waves of art, culture, and entertainment to the world."
Yokohama on the Fence
Japan's IR Implementation Bill passed into law in July, creating three casino licenses, which means competition among operators will be fierce. Before the licensing process can begin, operators must partner up with municipal governments, whose joint proposals will then be submitted to central government for a final decision.
There is no indication which cities will be chosen, although Tokyo, Yokohama, and Osaka are the nation's largest and thus the favorites.
But it is not yet certain that Yokohama will even apply for a license. The RFI process that was completed on September 21 was designed to help city officials make up their minds whether to apply or not.
Officials asked prospective operators to submit plans with a detailed analysis on the economic and social impact an IR would bring to the city, as well as to address concerns such as problem gambling.
Hearts and Minds
Nishimura said Wednesday Caesars Japan was also exploring Hokkaido, Osaka, and Tokyo as possible partners on an integrated resort, adding it "was not doing anything to narrow down which city" at this stage of the process.
While local business leaders are largely supportive of an integrated resort in the Yokohama, the public is not — and emphatically so. A recent poll commissioned by the municipal government revealed that an incredible 94 percent of the city's residents had negative viewpoints on the idea.
The challenge for casino operators is to win over the hearts and minds of a hostile Japanese public and assuage fears about problem gambling.
Caesars used the press conference to unveil its "100 Year Partnership for Japan" campaign, revealing it had plowed around $223,000 for responsible gaming initiatives in the country so far this year.