Atlantic City Union Declares Victory Over Carl Icahn, Credits Hard Rock Opening
Posted on: July 27, 2018, 06:47h.
Last updated on: July 27, 2018, 06:47h.
The Unite Here Local 54 union in Atlantic City says the June opening of Hard Rock vindicates its 2016 strike against billionaire Carl Icahn at the former Trump Taj Mahal.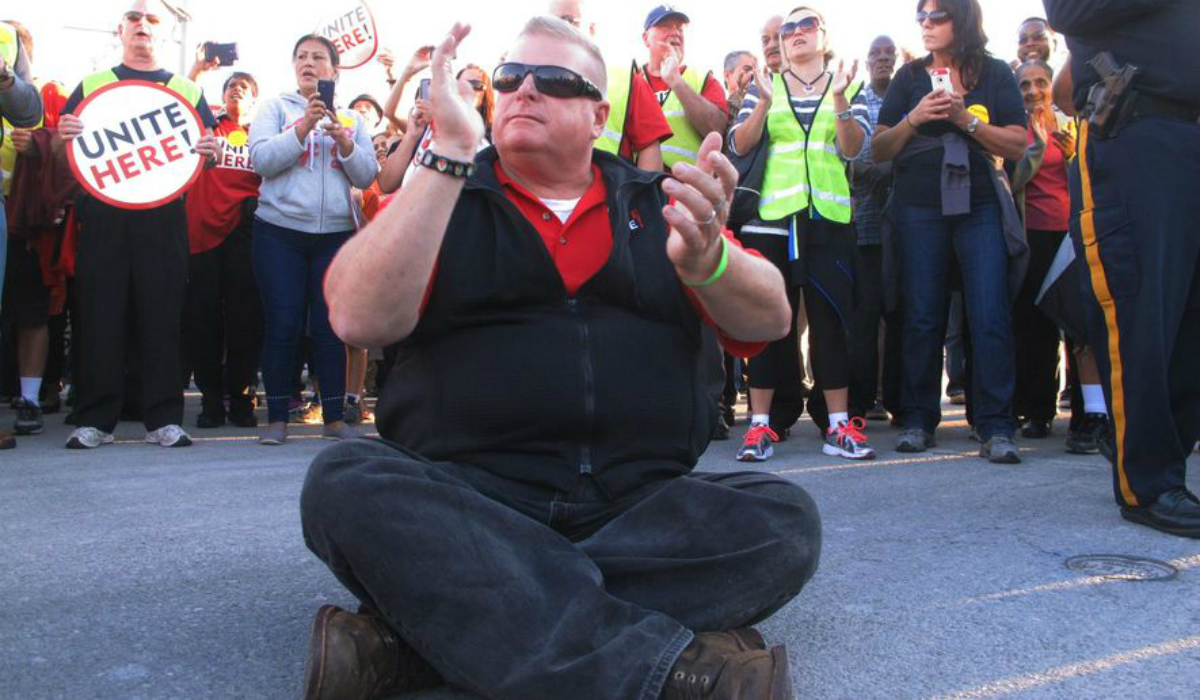 Speaking with the Press of Atlantic City, union president Bob McDevitt declared victory over Icahn. "I think the one thing they're (union members) walking away today with is they know that their actions not only were morally justified, but their actions brought about today," McDevitt declared.
Even if the rest of the wider community won't recognize that, they know in their heart that their fight brought this new beginning for Atlantic City. And I think they're proud about that," McDevitt concluded.
Local 54, a casino union that represents kitchen and waitstaff, bartenders, housekeepers, doormen, and other service jobs, walked off the job at the former Trump Taj Mahal in August 2016. The strike lasted for 102 days before Icahn said he had no choice but to shutter the property and take a massive loss on the investment.
Determining Victor
The labor dispute stemmed from a 2014 bankruptcy court decision that allowed Icahn to temporarily halt or reduce certain benefits. Icahn promised to turn around the casino's fiscal situation and invest in Atlantic City in exchange for the bankruptcy acquisition deal.
Two years later, the union said it was time for Icahn to restore its collective bargaining agreement, but the billionaire insisted there was "no path to profitability" under the proposed contracts. He claimed he would lose "in excess of $100 million over the next year" operating the property.
Icahn said after closing the casino that McDevitt chose to "burn the Trump Taj Mahal down."
"The best thing that could happen for Atlantic City would be for McDevitt to leave, and I'd happily buy him a one-way plane ticket and pay his moving expenses," Icahn stated.
With Hard Rock open, and roughly 385 of the 450 union workers who lost their jobs by the Taj closure rehired at the reimagined Boardwalk casino, McDevitt says the strike is vindicated.
Mixed Opinions
There are plenty of union critics in Atlantic City, none more so than the nearly 3,000 people who lost their jobs in 2016 due to the Taj closure. After 944 union members received settlement checks last month for $850.76 from Icahn, residents fired off on the workers group.
So, for $850, 944 Local 54 employees put 3,000 people out of work – and that's a win?" asked one online commenter.
Another stated, "We were the sacrificial lamb used by Local 54. They got a contract and we lost our jobs. I will never work in AC again or for a union. Wasted 35 years in that crummy town."
Icahn has since left the casino business entirely after selling Tropicana Entertainment in April for $1.85 billion.
"Tropicana was bankrupt and desperately needed new leadership. By hiring a great CEO … and a great management team, and by reinvesting every single penny of profits back into the company, we turned Tropicana into a great casino company," Icahn said.