The Trains Are Officially Leaving Palace Station
The off-Strip Palace Station is getting a major facelift, and that includes dumping its train station theme.
The resort recently unveiled its fancy new porte cochere.

Other upgrades have included a remodel of the hotel's facade and a new bingo room.
Since it opened in 1976 (as The Casino, because naming things is hard), Palace Station has featured several decorative trains—more art than accurate replicas—on its north-facing exterior.
The trains are out of sight thanks to a large construction wall.

Construction walls don't tend to serve as a deterrent to us, so we nabbed a photo of the very first of the train noses to be removed.
Somebody's got to do it.

While Palace Station claims it's in talks with the Neon Museum to take the trains, but that's a symbolic exercise. The trains aren't of any particular historic value to the Neon Museum, and more significantly, they don't have any neon.
When donations are made to the Neon Museum, a nonprofit, removal and transportation of the signs is paid for by the donor, often at a cost of thousands of dollars. Donors are also asked to donate additional funds for the restoration of the signs.
So, as we said, an unlikely scenario. The Neon Museum might get one of the trains, but otherwise, it's farewell to these decorative touches at Palace Station.
It remains to be seen what will happen to the large, classic marquees at the resort, as they're clearly train-inspired.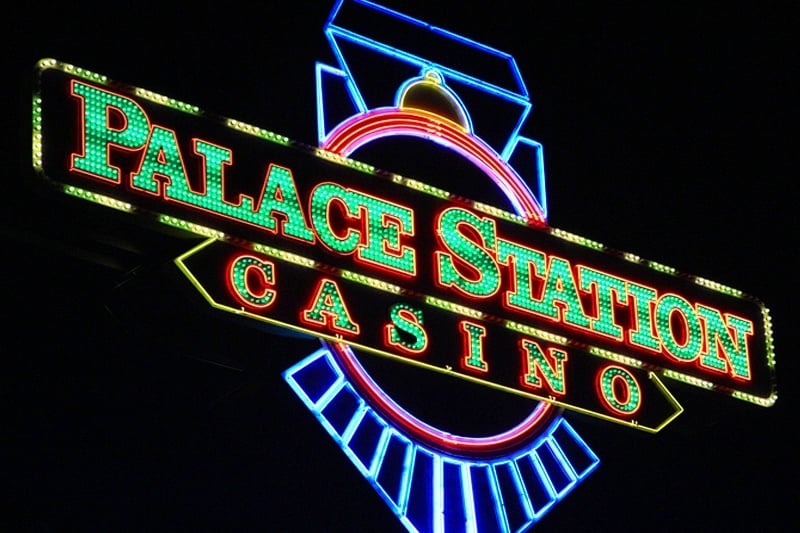 Palace Station officials have said the renovations are moving the resort toward a "mid-century modern design." Translation: "Less interesting."
A number of Las Vegas casinos have attempted de-theming to modernize and presumably have a broader appeal. We're looking at you, millennials.
Monte Carlo will soon become Park MGM, and Treasure Island was rebranded as TI, along with removal of many of its swashbuckling elements, including its free "Sirens of TI" show. The Luxor, at least on the inside, is much less Egyptian than when it opened.
Next up, Palace Station will revamp its buffet and add two additional restaurants.