That Time We Had Every Signature Cocktail at F. Pigalle
F. Pigalle isn't the easiest name to remember, but even if you don't recall the name, you will most certainly remember the East Fremont fondue joint's food and drinks.

As we've shared previously, F. Pigalle is a new offering in the former Radio City Pizzeria space, between the shuttered Insert Coins and Park on Fremont restaurant.
F. Pigalle was inspired by a red light district in Paris. Not the Strip hotel. The other, less appealing Paris.
Since F. Pigalle opened, we've been bugging them about getting a sign, and this was their response.

Thankfully, the restaurant installed some gorgeous neon which more than makes up for the lack of a sign-sign.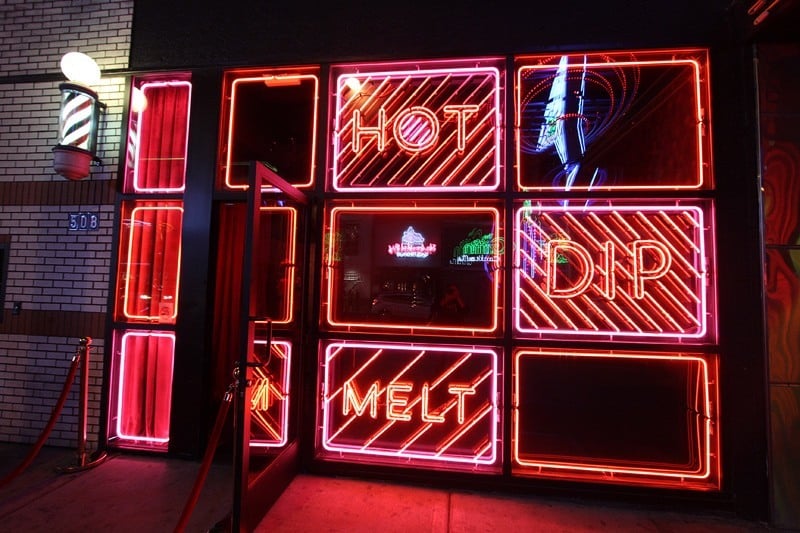 Following our fawning over the delicious fondue, we were invited in to try some specialty cocktails. In true Vital Vegas fashion, we had them all.
Let's dive into some truly enticing pantry-dropper cocktails!
First up is the Monk-E Sea, Monkey Do ($13). The liquor is served in a banana-shaped flask.

The Monk-E Sea, Monkey Do has Monkey Shoulder single malt whiskey, Benedictine, Giffard Banane liqueur, cocoa-infused Noilly Pratt Ambre, Angostura and seda salt. Precisely zero of which we have ever heard of before.
Next up is the Rhum & Marriage ($13).
This beauty has Rhum Clement Select Barrel ("characterized by its soft vanilla notes and
remarkable smooth finish"), Ancho Reyes Chile liqueur, Lustau Oloroso sherry, fresh lime, Angostura, Barrett's ginger beer and fresh-grated nutmeg.

In a nod to the bajillions of drinks served in boots on Fremont Street, F. Pigalle also has the Puss in Boots ($22).
This cocktail serves 2-3 people, unless you're us, then it's pretty much just one.
The Puss in Boots has Lillet Rose French aperitif wine, Contratto Bitter liqueur, fresh lemon,
strawberry-beet syrup and sparkling rose.

Time for a pause in the action as we dip some stuff on little forks into melted cheese. See more F. Pigalle menu options.

As you work your way through the cocktails at F. Pigalle, make sure to venture out to the bar. The patio is dimly-lit and romantic, as if your cocktails hadn't already set the mood.

Our penultimate panty-dropping potion is the Violet Beauregaude ($13). The character from "Willy Wonka & the Chocolate Factory" is Violet Beauregarde, by the way.
This dainty elixir is made of Hendrix gin, Thatcher's Elderflower liqueur, fresh lime, blueberry-lavendar syrup, Champagne and violet perfume.

The final signature cocktail is one you won't soon forget!
It's the Jacques Cousteau ($16), complete with an over-the-top presentation sure to elicit gasps from your fellow patrons.

The Jacques Cousteau has pineapple-infused Macchu Pisco, Hardy Pineau des Charentes (a French aperitif), fresh lime, Thai basil, Blue Curacao, Wray & Nephew and Giffard Orgeat Sirop.
Say that five times fast.
Let's just say you're guaranteed to taste something you've never tried before at F. Pigalle.
You know you're in for a treat the moment you walk in.

Oh, and keep an eye out for the branded condoms.

F. Pigalle also serves beer and wine, and there's a full bar. (Fear not, fellow Captain Morgan fans. We're covered.) Be forewarned, the wine is served in baby bottles. Long story.
Give F. Pigalle a try the next time you're downtown. The fondue dishes ($22-25) are a solid value and come with bottomless wine.
If nothing else, swing by F. Pigalle after your downtown exploits and top off your evening with the dessert fondue and one of the thoughtfully-concocted beverages.
It's just like being in a Parisian brothel, but without all the haggling and penicillin shots.