Sgrizzi's Pizzeria Opens at Ahern Hotel
Ahern Hotel, just off the Las Vegas Strip, has a new pizza place, and it's really good, so we sacrificed our diet to check it out.
By "diet," of course, we mean "that thing we tell people we're on so they know we know we should probably be on a diet."
The new pizza place is called Sgrizzi's Pizzeria (formally, Sgrizzi's Romana Style Pizzeria), a sister restaurant to Ahern's Chef Marc's Italian Steakhouse. The chef in question is Chef Marcus "Marc" Sgrizzi, who has been in Las Vegas for years (he previously operated Chef Marc's Trattoria in Summerlin) and has a strong following.

We interviewed Chef Marc on episode 110 of our podcast. At 42:20 of the interview, he pronounces his name. It's along the lines of "skrid-see." His family name was changed to Ritz when they first immigrated, but the chef changed it back.
Trattoria by Chef Marc, like his new Sgrizzi Pizzeria, is an amazing restaurant that doesn't get enough love, possibly because it's located at the Ahern Hotel.
Ahern Hotel is the former Lucky Dragon casino, a smidge west of the Bonanza Gift Shop, the self-proclaimed biggest gift shop in the world.
Going to Ahern is awkward for several reasons. First, there's not much there there. There's no casino, and not much else, really. Mostly, it's awkward because the owner is polarizing. Translation: His political leanings veer toward the loopy. (He hosted an event for a bunch of QAnon-friendly wingnuts, among other things.)
If the food's good enough, who cares who owns the place?
Eating pizza is not a political statement. Veggie burgers, political. And don't get us started about wraps. Pizza, though, pizza transcends politics. It's beloved and timeless and one of the best possible foods when you're drunk in Las Vegas. Allegedly.
Here's a look at the pizza at Sgrizzi Pizzeria.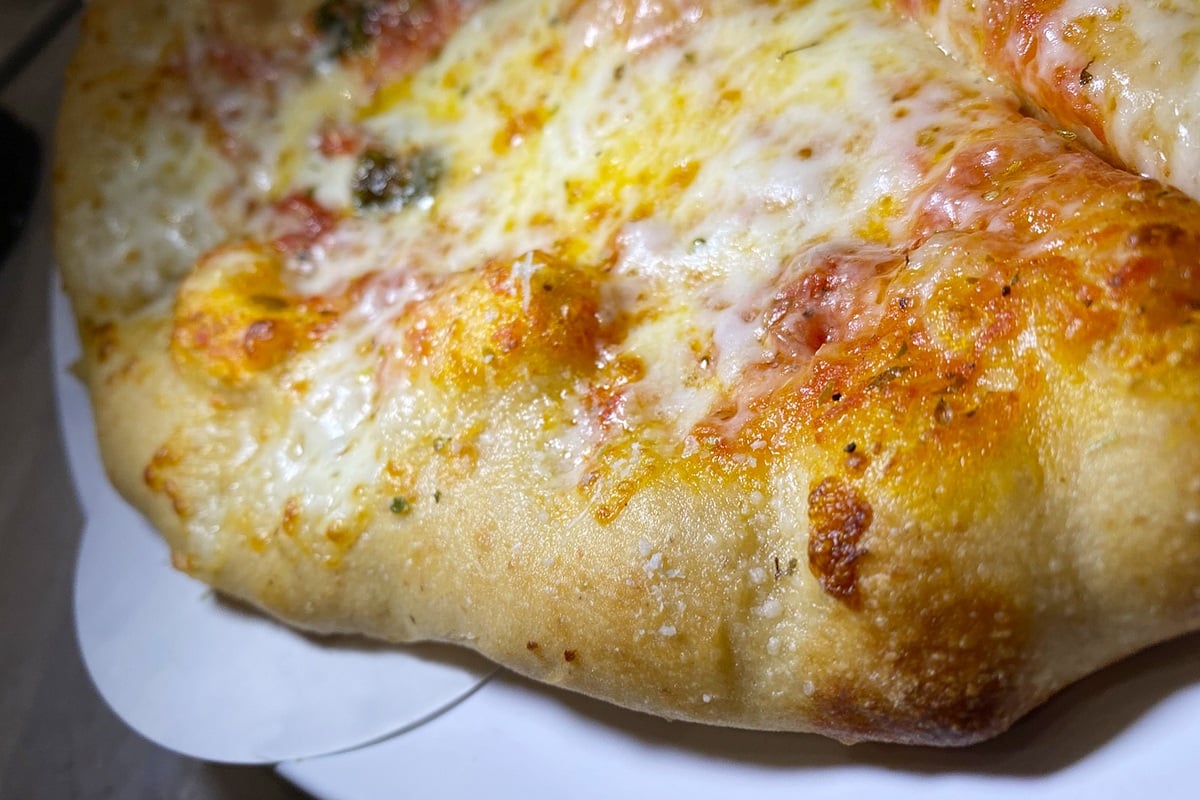 We are a big crust person, so we were delighted to discover the pizza crust at Sgrizzi's Pizzeria is made of actual clouds.
Absolute perfection.
We are not a foodie, but we have been to Rome and can attest the pizza at Sgrizzi Pizzeria is a lot like what you'll find in Rome. Sometimes Roman pizza is square, but the pizza here is round.
We couldn't decide between the pepperoni and Margherita, so we had both on the same pizza and both halves were delicious.
Here's a pic of the other half.

There's an ancient Italian saying we just made up: "One cannot live by pizza alone."
We do not agree with this saying, despite our having been responsible for it.
We could absolutely live on pizza, especially this pizza.
However, in the interest of not offending anyone who adheres to the adage we just made up, we also had the meatballs.
They, too, were spectacular, and some of the best meatballs we've had in all of Las Vegas.

Sgrizzi's menu isn't just pizza. There are also salads and appetizers and New York-style pizza, which is similar to Romana-style, but a little more rude.

There are also some sandwiches we are anxious to try.
The chicken parm at Chef Marc's fancier restaurant is world-class, so we were disappointed there was no chicken parm sandwich, but again, it's really about the pizza.
Speaking of the fancier restaurant, it's worth noting Chef Marc's Italian Steakhouse (upstairs) is temporarily closed for renovations.
Trattoria by Chef Marc is open, and sits in the space formerly occupied by Dragon's Alley. Some of the Asian decorations have been removed, but you can still see the artwork fashioned from bicycles.
Anyway, Sgrizzi's Pizzeria and Trattoria by Chef Marc are side-by-side. You already saw the photo. Are you even paying attention? We slave over these blog posts for dozens of minutes a day and you're daydreaming and aren't even looking at the photos?
While the pizza is the star of the show at Sgrizzi's Pizzeria, we're very interested in visiting again to try the happy hour menu.
The happy hour small bites dishes are $6 a pop and just scream fun. Among the offerings: Meatball Sliders, Baked Jalapeno Poppers, Southwest Crispy Mac & Cheese Bites, Bolognese Cheese Fries, Carnival Hot Dogs and Ahern Street Dogs.

Yes, visiting Ahern Hotel is disorienting. There are still lots of Lucky Dragon flourishes, including a casino cashier cage for a casino that no longer exists.
There's a lot of great pizza in Las Vegas, but Sgrizzi's Pizzeria qualifies as destination pizza, so you may have to consider popping into Ahern for some pie and poppers.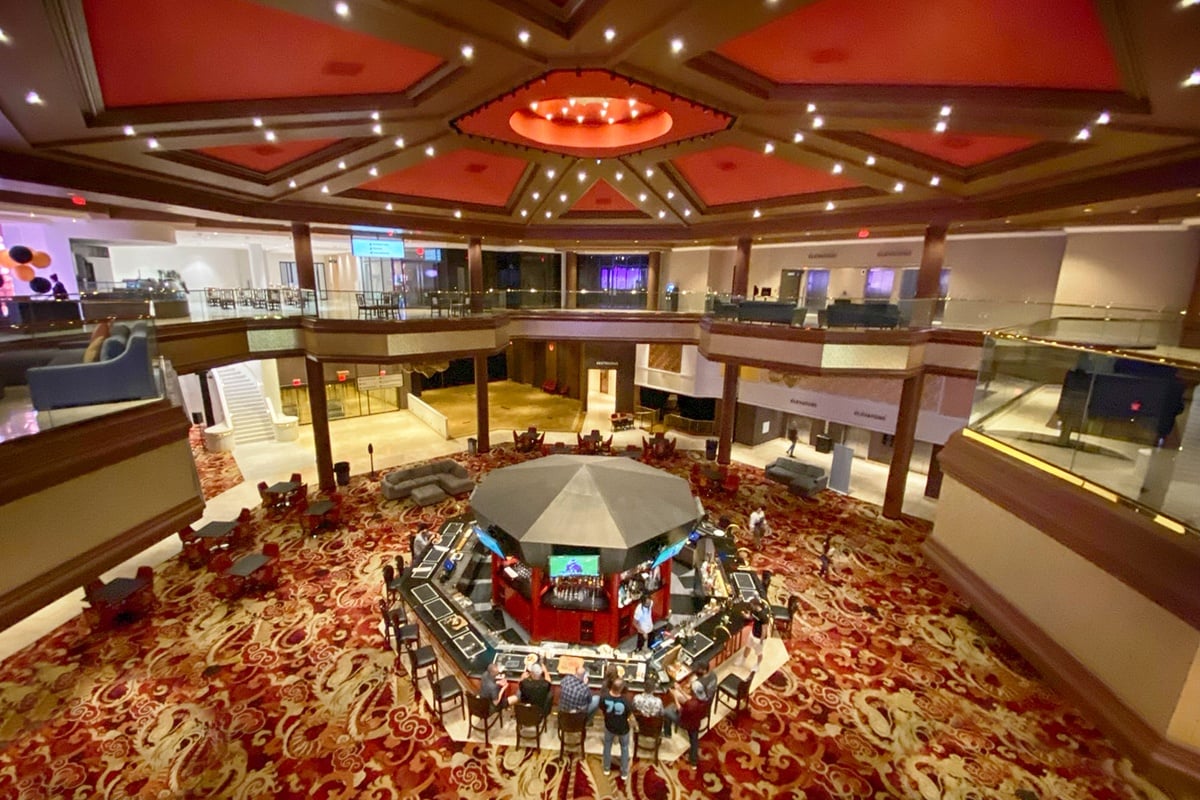 Sgrizzi's Pizzeria is open 11:00 a.m. to 10:00 daily.
There's a bar in the center of the hotel, but as it no longer has video poker machines, meh.
Perks: The parking is free. The service at Sgrizzi's is fast and friendly, and employees seem truly appreciative you're there.