New York-New York's Roller Coaster Set to Be a VR Coaster
Virtual reality seems to be taking over Las Vegas, and the iconic roller coaster at New York-New York is rumored to be converting to a VR Coaster soon.
Virtual reality roller coasters, or VR Coasters, have been in existence since 2015, and there are currently about 20 operating at theme parks throughout the U.S.
On VR Coasters, riders don virtual reality headsets, and animations inside the headsets are synchronized to the movements of the real world roller coaster.

The conversion of the Big Apple Coaster at New York-New York to a VR Coaster is a brilliant business move. It provides a unique experience, it encourages those who have ridden the coaster before to do it again, and it also gives the resort an opportunity to bump up the ticket price to enhance the bottom line.
At the moment, tickets for the Big Apple Coaster are a very reasonable $15.
Once the coaster becomes a virtual reality roller coaster, the price could be bumped up to $20 or more. Multiply that $10 increase over the approximately (self-reported) 1.4 million customers each year, and New York-New York and its parent company, MGM Resorts, are in for a windfall.
Here's a look at a promotional video for VR Coasters, although, from what we hear, there's no video that can really show the exhilaration guests experience on a VR-equipped ride.
There's been no official announcement yet, but our philosophy is if it's in a news release, it's too damned late.™
Word is New York-New York is partnering with a German company to bring the VR Coaster experience to the Strip resort.
We haven't ferreted out the name of the company yet, but a company called VR Coaster seems a likely candidate. They got the VR Coaster ball rolling, and describe themselves as "pioneers of the augmented thrill ride."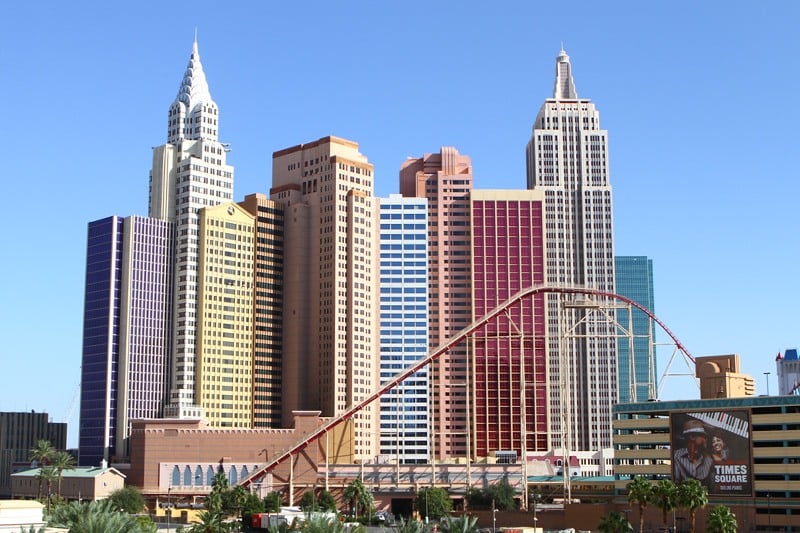 While can be some perils with VR Coasters, mostly related to motion sickness when VR units are out of sync with the movement of the ride, a VR Coaster at New York-New York has virtually limitless potential.
We are not a roller coaster person (mainly because we tend to be a motion sickness and terrified-of-heights person), but give us an animation that includes some stunning Las Vegas effects or a Las Vegas-themed adventure, and we'd be all over it.
From what we understand, the VR feature on the New York-New York roller coaster will be an optional element, and guests can still ride the coaster in the traditional manner.
To be clear, the Big Apple coaster isn't going anywhere! The ride will just be "enhanced" to include the virtual reality capability, also known as an "upsell."
Our inside scoop about the New York-New York's coaster becoming a VR Coaster follows on the heels of another virtual reality-related announcement, which we reported nearly two months before it came out in a news release, of course.
The first multi-player, free-roam VR experience in Las Vegas is set to open at Level Up inside MGM Grand on Sep. 8, 2017.
Up to eight players will navigate a 2,000-square-foot arena and play one of three, 30-minute experiences at a cost of about $50 a pop.
Here's a look at what it's like to get your VR nerd on.
The three VR experiences are Zombie Survival (blast zombies, already), Singularity (blast rogue robits, already) and Engineerium (solve physics-based puzzles, already).
The new VR experience at Level Up, from a company called Zero Latency, seems to be a response to a failed attempt to get approval for its arena-style gaming area (from a company called Interblock) that was supposed to "revolutionize the casino player culture." We are not making this up.
Level Up has struggled since it opened at the end of 2016, but a virtual reality arena could give it a much-needed boost.

Other VR experiments have been showing up around Las Vegas, including a VR lounge at Alto Bar at Caesars Palace, and we even spotted a virtual reality kiosk at Harmon Corner.
There's also a VR Adventures location at the Linq promenade.

At one point, there were rumblings about a "virtual reality theme park" coming to town, but we haven't heard anything more about it. Don't hold your breath.
Virtual reality seems a good fit for Las Vegas, as the city constantly strives to evolve its entertainment offerings. There's even been talk of strip clubs integrating virtual reality.
In a way, Las Vegas is a city built on virtual reality, or at least an alternate one.
Update (1/17/18): Las Vegas Weekly has confirmed our story, without attribution, obviously. The VR starts Feb. 7, 2018.
Update (1/18/18): More details have been shared about the VR.