Fontainebleau Las Vegas Sold for $600 Million Clams
As we first shared on Aug. 21, 2017, it's now been officially announced Fontainebleau Las Vegas has been sold for $600 million.
The abandoned project was sold by bajillionaire Carl Icahn to two real estate firms, Witkoff, a "global real estate development and investment firm," and New Valley, an investment company.
A rep from Witkoff said the purchase marks his company's foray into "the supply-constrained and fundamentally strong Las Vegas market," which makes it sound so much more sexy than it really is.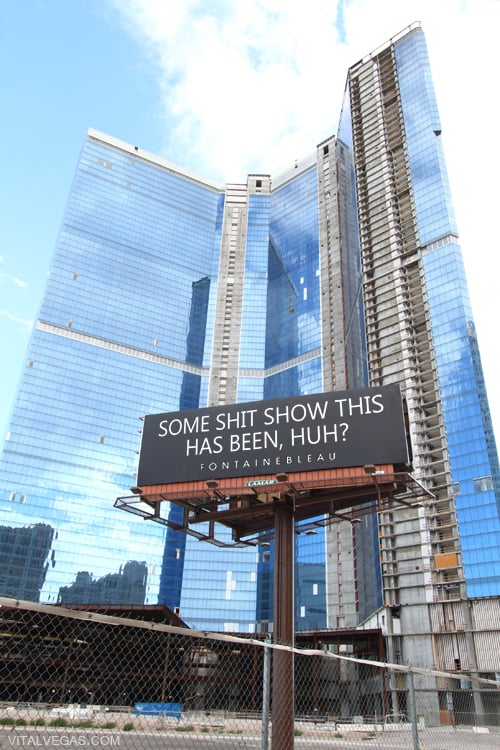 In a news release, Steve Witkoff, Chairman and Chief Executive Officer of Witkoff, said, "2755 Las Vegas Boulevard South is one of the best physical assets in the country, which is one of the reasons we were attracted to it. Furthermore, the resort is ideally located on the Las Vegas Strip, directly across from the Las Vegas Convention Center, which is in the midst of a $1.4 billion expansion and renovation. At the basis, we acquired a well-designed, structurally sound integrated resort at a significant discount to both replacement cost and the implied public market valuations of comparable Las Vegas Strip resorts."
Witkoff continued, "Las Vegas is one of the strongest lodging markets in the country given its highly favorable dynamics. RevPAR and EBITDA growth continue to accelerate and there has been no new supply since 2010."
RevPAR is "revenue per available room," and EBITDA is "earnings before interest, tax, depreciation and amortization," a measure of a company's operating performance.
During the economic downturn, Carl Icahn purchased Fontainebleau, pronounced "fountain blue," for $150 million ($148 million, to be precise).
We are no math expert, but that means Icahn made $450 millionish on the deal. Or roughly double what he's carrying in his pants pockets right now. (Realistically, though, there are costs associated with maintaining even an empty building, so his actual profit on the deal was less.)

Specific plans for the former Fontainebleu Las Vegas haven't been articulated yet, but it's likely it will be rebranded and open as a hotel or (fingers crossed) shimmering "new" hotel-casino.
It's been suggested this won't happen for at least 2-3 years, so manage those expectations.
Deep thanks to our tipster who helped us break this story before the rest of the world.
We remain giddy about this news, and look forward to seeing what's ahead for Fontainebleau, the tallest non-Stratosphere building in Las Vegas and a monument to WTF.