It's Time for a Rio Wellness Check
It's been a while since our last visit to Rio.
The off-Strip casino takes a lot of jabs, some warranted, but mostly it's a fun casino with a lot to offer, especially if you don't obsess about the resort's glory days and how the "Masquerade Show in the Sky" closed and everything was ruined.

At the moment, Rio is in a sort of casino purgatory, and it shows.
While Caesars Entertainment continues to operate Rio, they no longer own it. It's owned by a company called Dreamscape. The Caesars lease runs out fairly soon (December 2023), then it's expected Dreamscape will take back the reins while making a substantial financial investment in overhauling Rio.
While Rio may be in limbo, there's hope on the horizon.
We thought it would be a good time to do a walk-through of Rio to capture the old girl in her current state.
For context, we visited on a Saturday night.
Here are some images from our visit and some perfunctory snark to keep the photos from slapping together.
While some parts of Rio are dark and dreary, some parts are thriving, including Smashburger, the first thing you seen when entering from the parking garage. Yes, parking is still free at Rio.

Just across from there, Chippendales is still doing what it does. It's one of the most entertaining shows in Las Vegas, and we aren't exactly its target audience as we are a stubbornly straight dude.

The first big change you notice at Rio can be seen as you descend the escalators near Smashburger.
The bar at the bottom, dubbed Village Bar, is closed. No bartender, video poker machines turned off.

Village Bar was always a popular place for guys looking to meet women who had just ogled hot guys for 90 minutes, if you get our drift. Now, it's just a place for people in line for Kiss Minigolf to hang out.
Kiss Minigolf is another part of Rio that's booming. There's also a bustling arcade. This was all the Village Seafood Buffet at one time, of course, but it's best we not dwell upon what was. There are far too many opportunities for dwelling a Rio.

The Masquerade Village side of Rio is easily the least lively, with a number of former bars and retail shops shuttered.
On the bright side, the casino floor is no longer home to timeshare salespersons.
We miss Cafe Martorano and McFaddens, among others. Our liver appreciates your closure, McFadden's!

It looks like Rio tried something called The Wall, a "gaming lounge," but the plug has apparently been pulled.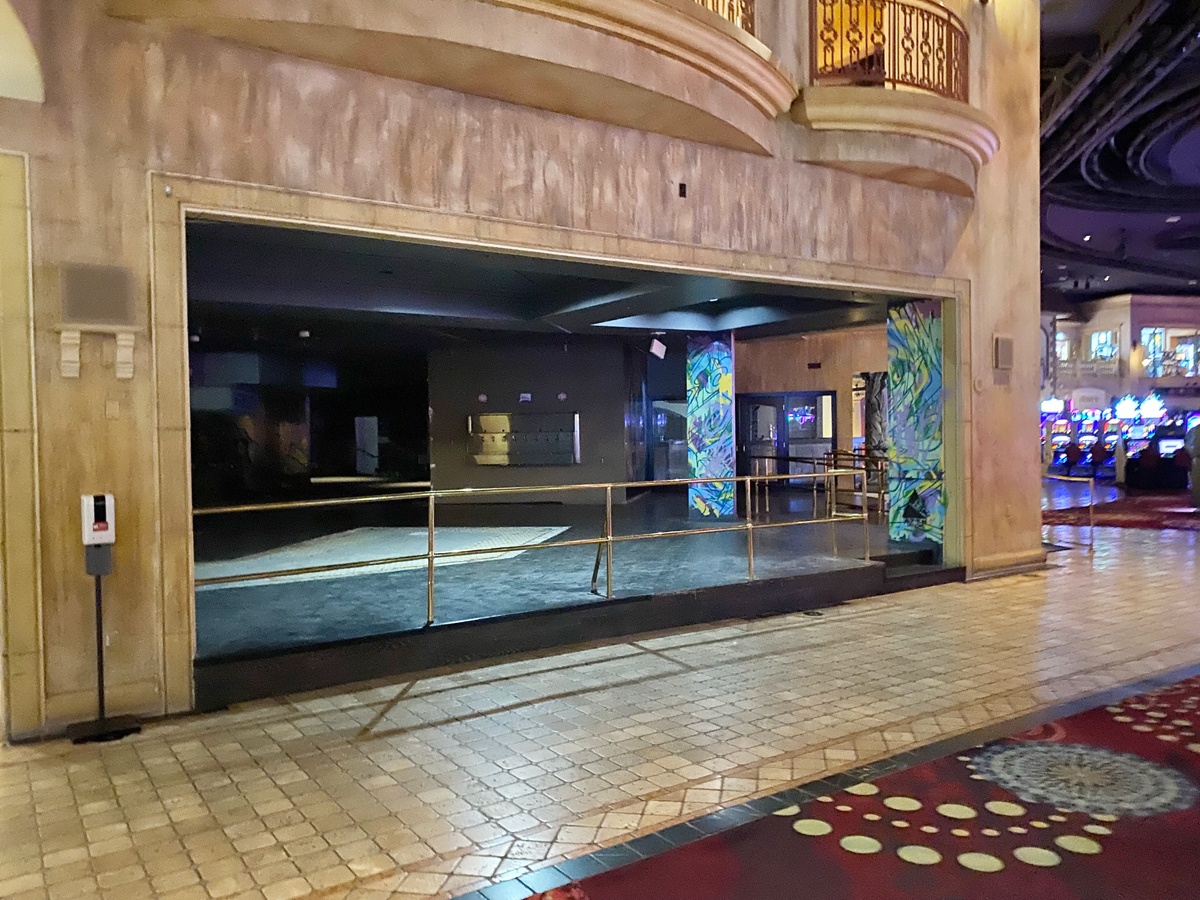 Then you hit the "Wow" theater. This show has managed to thrive since 2017. Nobody saw that coming.

Wine lovers will no doubt pine for the Wine Cellar at Rio, now closed. The Caesars Web site says the closure is temporary, but don't get your hopes up. This venue was once a mecca for oenophiles as it housed 3,000 bottles of wine valued at more than $3 million. Which seemed like a lot back in the day, but we're pretty sure you could pay that much for a couple of bottles at Christie's.

Masquerade Bar was closed. On a Saturday night.
The fact is, the portion of the resort called Masquerade Village is just too big to deal with. It's a lot of space and a lot of labor when business levels don't warrant it. Caesars is focusing on other parts of the casino, we get it, but that doesn't make it any less sad when there are former hangs sitting idle.

Up next is the famed bar Vegas regulars refer to as "Hooker Bar." Alas, no hookers.

Nearby, the keno room is closed.

Also nearby, the loyalty club desk has been moved to the cage. This isn't just a Rio thing. A number of Caesars Entertainment casinos have consolidated their loyalty club desks with the cage as a cost-saving measure.

While Rio's casino wasn't packed, there were players, although fewer than expected on a Saturday night. It's the slow season in Vegas, so there's that.

One of the trickiest things to navigate at Rio is which restaurants are open and which aren't. A lot aren't.
Due to staffing, some Vegas restaurants have erratic hours, so it's tough to tell which Rio restaurants are closed or just napping, but we assume if a restaurant is going to be open, it'll be open on a Saturday night.
A Korean BBQ place, Kang's Kitchen, was doing brisk business.

KJ Dim Sum was also fairly busy.
Pho is out, as is Royal India, which was easily one of the best Indian restaurants in Las Vegas. The elephants are still there, so we're hoping that means Royal India can return at some point.

All-American Bar & Grille was busy, and we like the place, but that doesn't mean we aren't going to share a photo of the restaurant with a stretcher outside. We trust they can take a joke. They're at Rio.

While the Rio's casino still has platforms for "bevertainers" (cocktail servers who perform), we were told there are rarely performances now. Our sad trombone is really getting a workout today.
We were happy to see the cocktail server uniforms at Rio updated. They're flattering and festive and we would have taken a photo but you'd think we're creepy so we'll just leave it to your imagination.

Also kaput is the Rio's poker room, ironic given Rio has been the home to the World Series of Poker.

Naturally, we stopped by the former Carnival World Buffet, at one time the gold standard of Las Vegas buffets.

But we aren't going to end on a depressing note, because that's not how we roll.
At this juncture in the walk-through, we hopped into an elevator in the Ipanema Tower.
We met two dudes attending the Tabletop Gaming Convention. They were awesome and let us take a photo of their miniature game figures which definitely didn't make us think of "Dinner for Schmucks," at all.

Anyway, we got off the elevator to explore and discovered Rio has been experimenting with carpeting and decor for its upcoming renovation of the Ipanema Tower.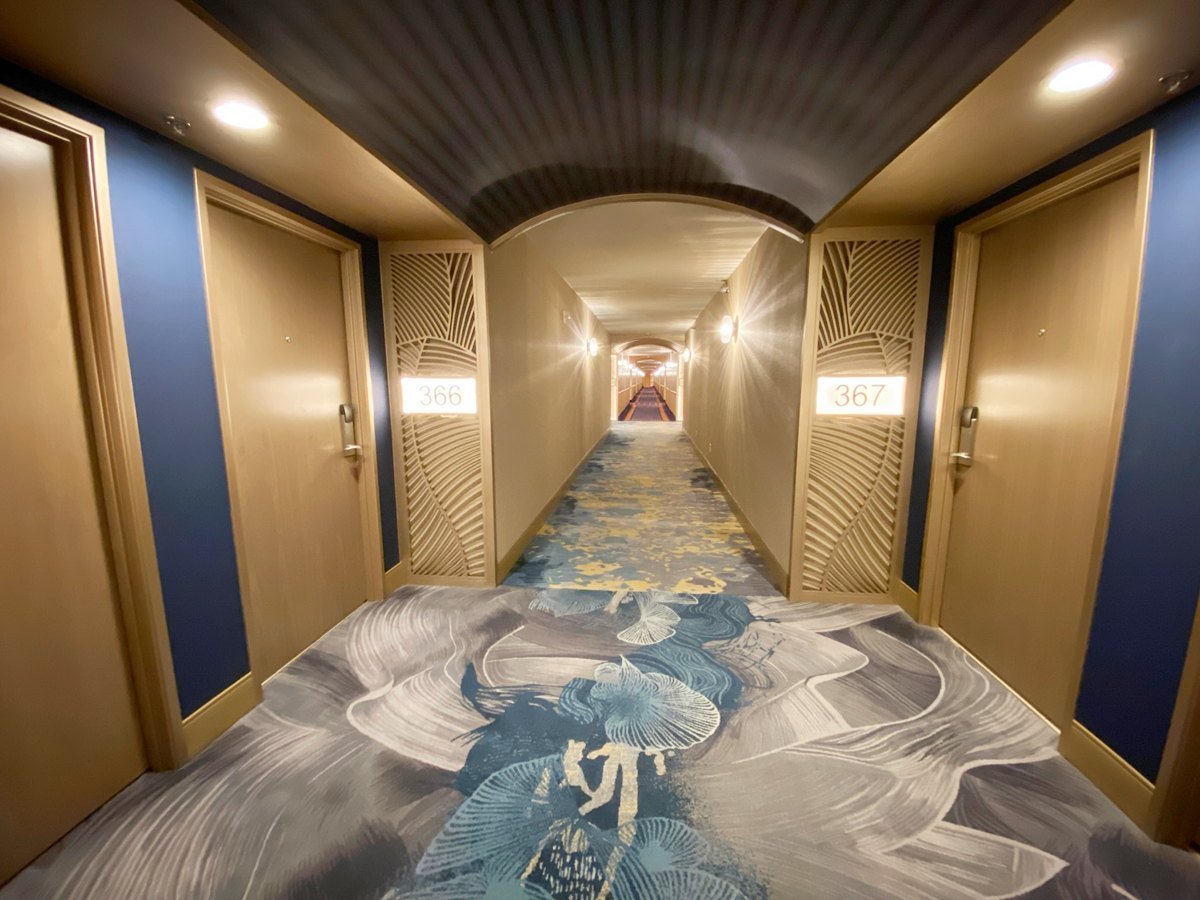 In the same hotel hallway, we saw three carpet designs (which we hear have been rejected) and various fixtures and other accents which could telegraph what guests will see in the near future at Rio.
We understand the Ipanema renovation could start as soon as summer 2022.
That's about it from Rio!
Penn & Teller are still going strong, and just hit an impressive 21 years at Rio.
The Purple Zebra slushy drink stand and iBar lounge are still open.
Most of the neon on the Rio's marquee has been repaired.
In other great news, Rio is a great value, with rooms in the $30 range midweek. Rooms are $69 on March 28, 2022. If you think that's just some random bit of information, you don't know this blog at all.
Overall, Rio still has the potential for greatness.
Palms is reopening soon across the street, and Rio's new owners seem sincere in their plans to give her some love and attention she never really got from Caesars.
No, the "Show in the Sky" isn't coming back, but once we're through the pandemic, Rio's convention business is likely to perk up again, and those corporate credit cards could lead to new offerings as Dreamscape sticks with Rio's Brazilian theme and builds upon the resort's colorful history.
Rio's Ipanema Tower will be a Hyatt Regency hotel, which will tap into a massive marketing database, and again, more business means more newness at Rio.
We can't wait until Rio starts to feel like a party again, even if it means getting hit in the eye with Mardi Gras beads.
If you know, you know.
Want to explore more stories? Read about US gambling here:
You can also learn about online gambling in Canada here: