Iconic "Crazy Girls" Booties Exit Planet Hollywood
The iconic bronze "Crazy Girls" statue has been removed from Planet Hollywood.
The statue, a fixture at Riviera for decades, is being put into storage until the show can find a new venue.
"Crazy Girls" found itself without a home following the closure of several venues by Caesars Entertainment.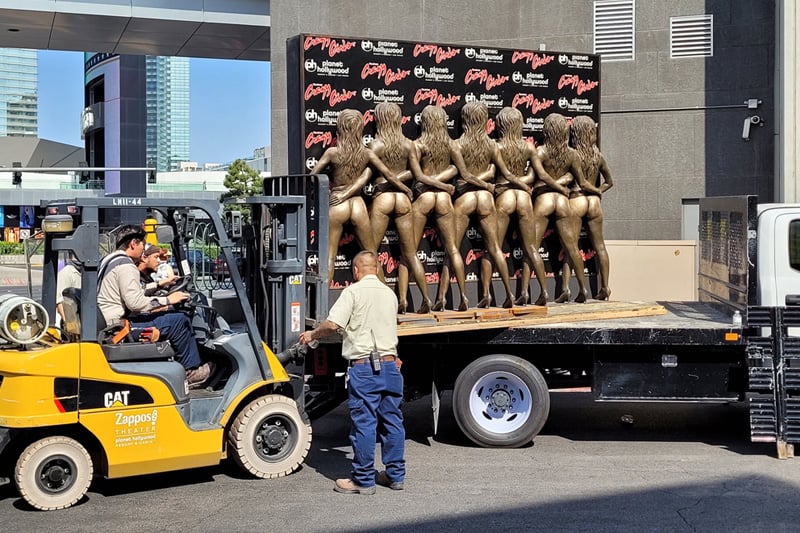 The "Crazy Girls" statue was removed from Planet Hollywood at 8:00 a.m. on June 15, 2021.
We wanted to get up to capture the momentous occasion, but did we mention it was at 8:00 a.m.? Do you know this blog at all?
Big thanks to Jason C. on Twitter for the photo.
The "Crazy Girls" statue has a long and storied history, including an urban myth one of the women in the statue is actually a man. That's a nope.
The dancers in the bronze "Crazy Girls" statue (left to right) are Karen Raider, Debra Sill, Pat Lumpkin, Kim Baranco, Angela Sampras-Stabile, Michelle Sandoval and Chris Zytko.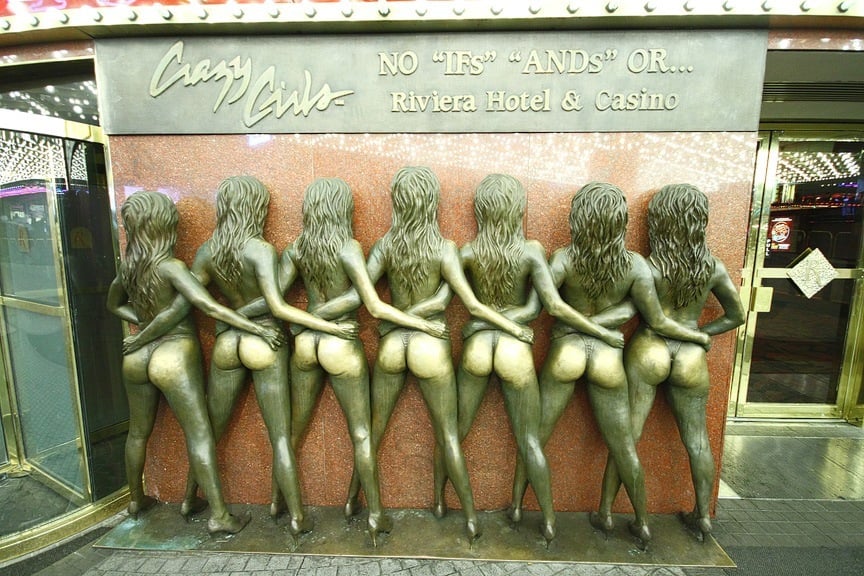 If you recognize the name Angela Sampras-Stabile, that's because Angela Stabile is one of the producers (with her husband Matt Stabile) of the topless "X" shows in town.
Their show, "X Rocks," also closed with the shuttering of Caesars Entertainment venues. The pair still has "X Burlesque" at Flamingo and "X Country" at Harrah's.
"Crazy Girls" closed at Riviera on May 1, 2015, and the statue was moved to Planet Hollywood.
That move wasn't as early in the morning, so we got some pics.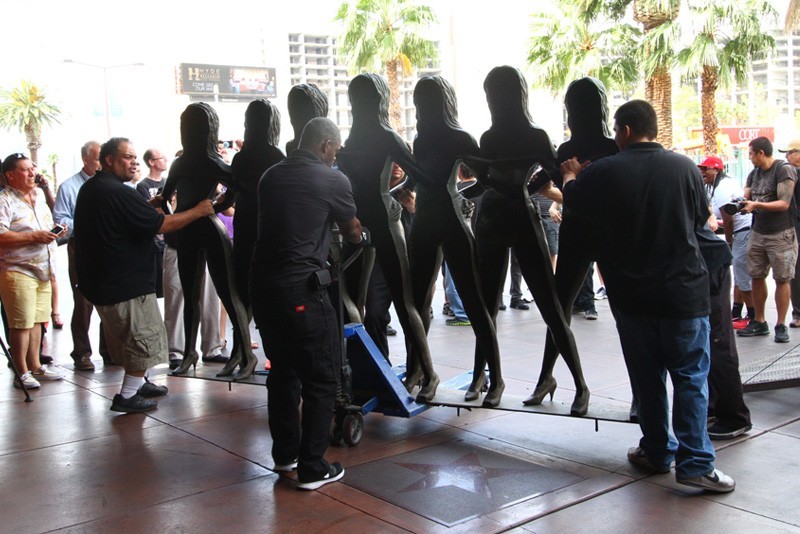 We trust "Crazy Girls" will find a new venue soon, as it's been a mainstay of adult entertainment in Las Vegas since it opened in 1987 at The Riv.
It's been a tough year for shows in Las Vegas due to the pandemic, and "Crazy Girls" got a double whammy as it learned the Sin City Theater, its home since 2015, would be closed.
Another show sharing the space, "Tenors of Rock," has yet to announce its new location.
With the "Crazy Girls" statue in storage at an undisclosed location, visitors will have to find other objects to rub for good luck.
We've got you covered with our 10 Things You Can Rub for Good Luck in Las Vegas Without Getting Arrested. Temporarily, nine.
While "Crazy Girls" has faced some challenges recently, if you don't think it'll be back and better than ever, you must be on crack.
We'll wait.