10 New Things Downtown to Up Your Las Vegas Street Cred
Your friends might be Vegas fanatics, but when it comes to the latest Vegas stuff, you've got the edge. Because you're here. Reading this. Well, not that, in particular, but you know what we mean. Increase your Vegas street cred with some downtown Vegas scoop, because everybody loves a know-it-all.
1. Pizza Rock Gets a Big-Ass Sign
Pizza Rock is the latest addition to Downtown Third, a little district that includes the Downtown Grand (formerly the Lady Luck), Triple George and Mob Bar, among others.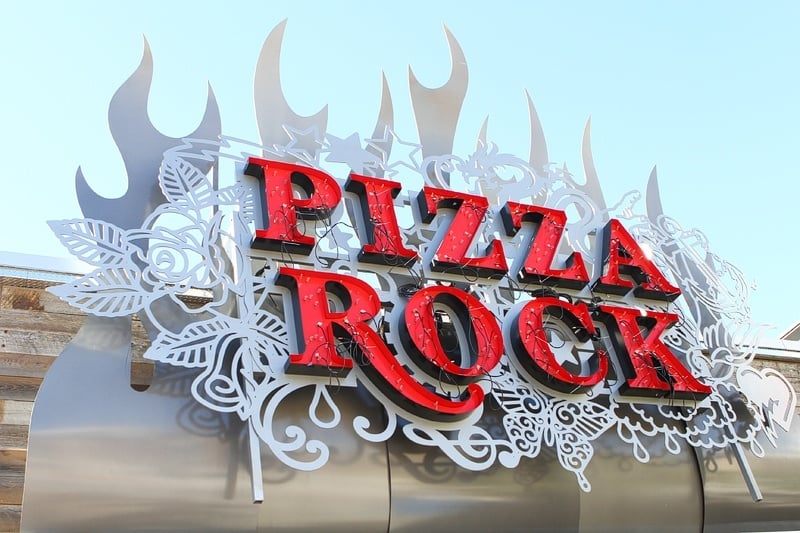 Pizza Rock is supposed to be a pretty big deal. The owner and chef, Tony Gemignani, has won some impressive international recognition for his pizzas.
We also breached security and got our first good luck at the interior of Pizza Rock, still in the works.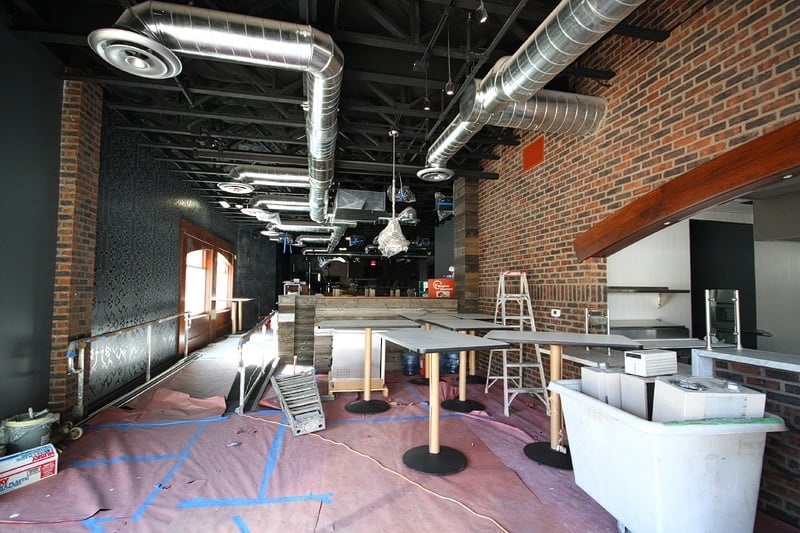 2. Downtown Grand Lights Up Its Casino Sign
It was awesome when the Downtown Grand's "Casino" sign went up. It's even more awesome lit up.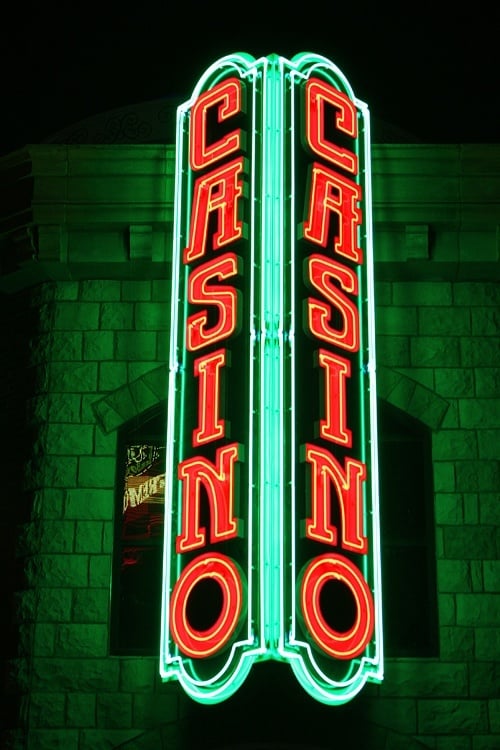 3. Downtown Grand's Valet Entrance Gets a Thingy
The Downtown Grand's new valet area is huge, and since our last visit has gotten a sign and a thingy on top.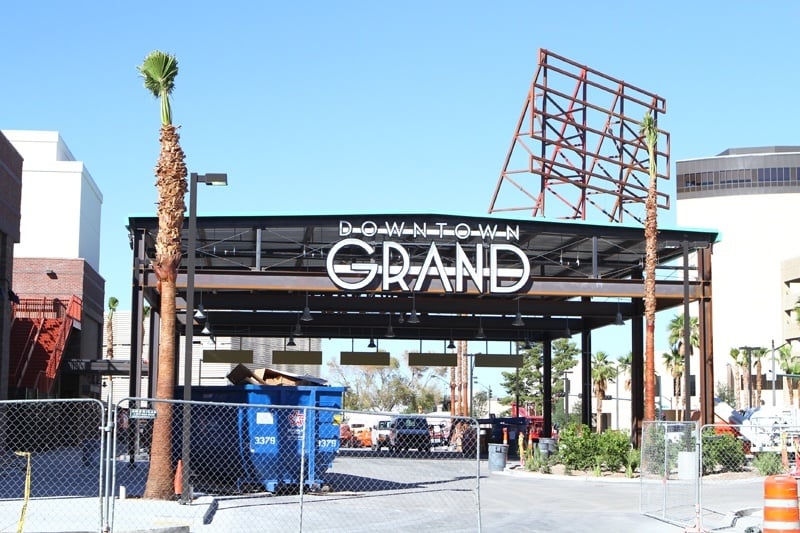 4. SlotZilla Gets a "Candle"
SlotZilla is set to be the world's biggest slot machine (not to mention a new zipline ride), and no slot machine would be complete without a "candle." That's the red light on top.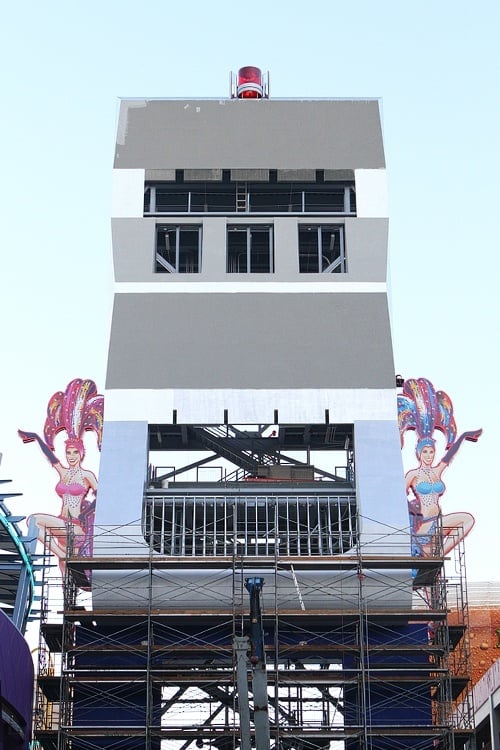 The candle is a light on top of slot machines that tells you what denomination the machine accepts.
A red candle denotes nickels, so SlotZilla is a nickel slot machine. Exclusive! (Hey, we'll take an exclusive where we can get one.) Yellow means quarters, blue means dollars and gold means half-dollars.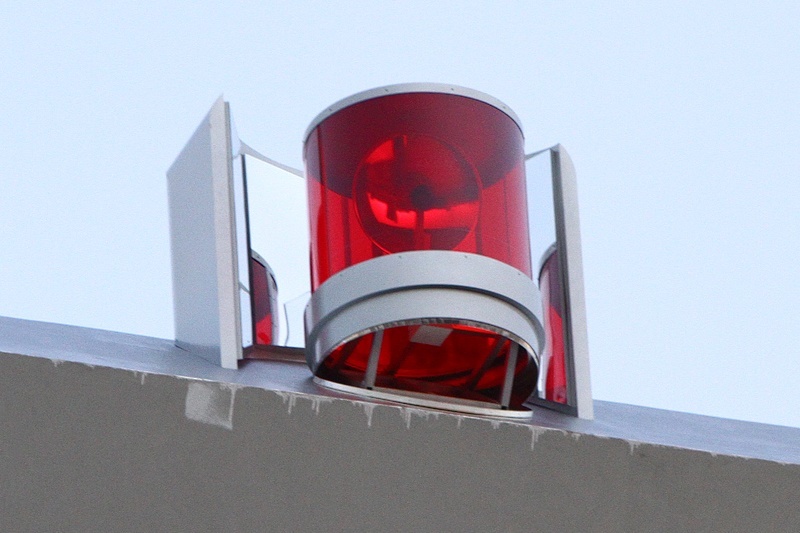 Check out all our posts about the SlotZilla zipline attraction at the Fremont Street Experience.
5. Temporary Seating Platform
This one's new, but not permanent. Spectator stands have been installed in front of the Fremont Street Experience's Third Street stage.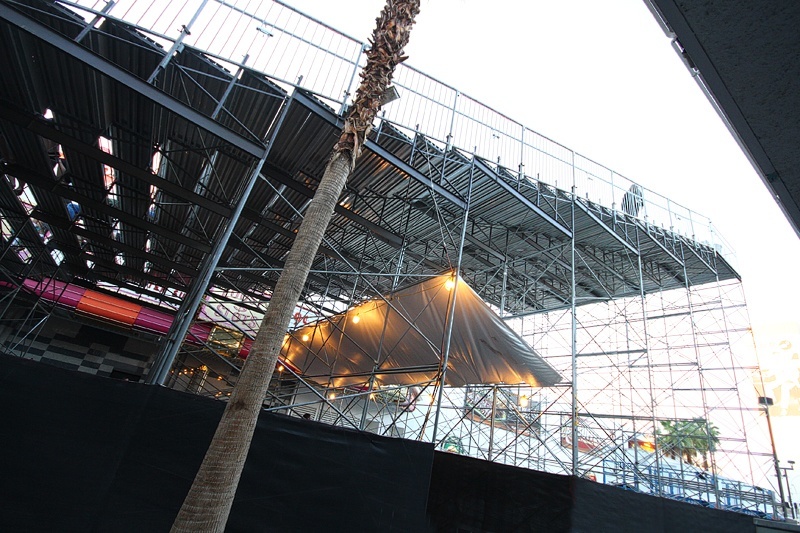 The stands were put up for a little Muay Thai (some kind of sport) action outside The D, but should also come in handy for a Kid Rock performance on Sep. 28, in honor of The D's first birthday as The D (formerly Fitzgerald's). Other performers will include Uncle Kracker (Sep. 26) and Stone Temple Pilots (Sep. 27).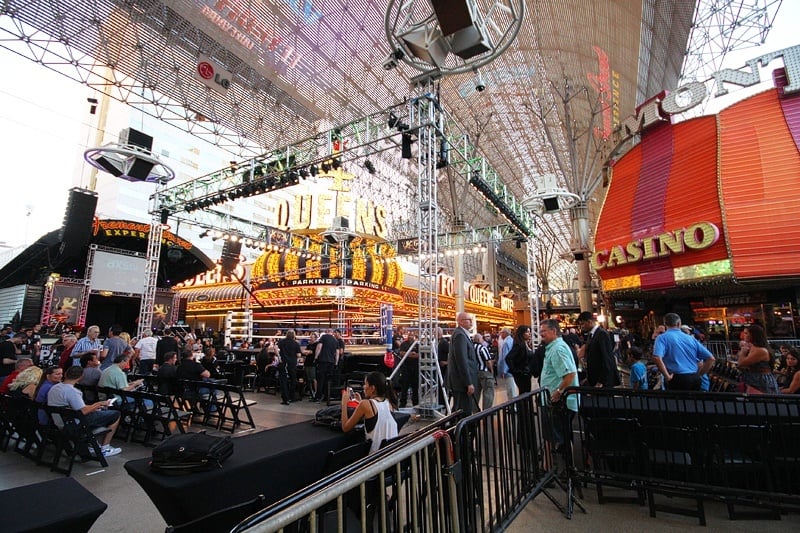 6. Banger Brewing's Grain Silo
Banger Brewing is coming to Neonopolis, and it looks like they already have a place for the grain they'll be using in their beer. This new microbrewery will focus on craft beers, and is expected to open in late October, 2013.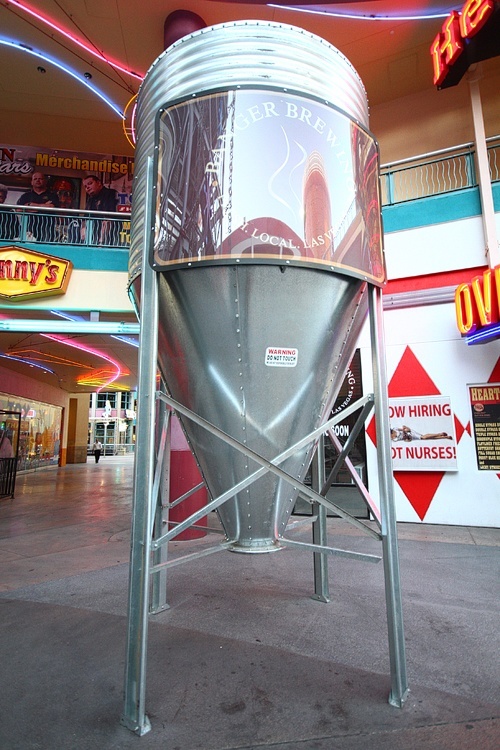 7. Luna Rossa Deal
Luna Rossa Italian restaurant, also at Neonopolis, just started a deal where you can get 20% off your meal with "your machine ticket, bet or casino card." There's some small print, of course, but it's not too burdensome: "Not valid on holidays, not valid on drinks, not valid with happy hour, not valid with any other discount, special menu or coupon." OK, it's a little burdensome, but still might be worth checking out.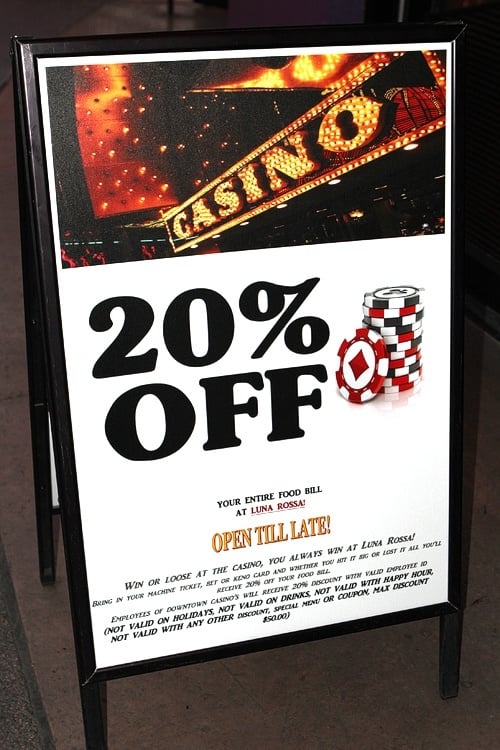 8. These Guys
We loved these T-shirts so much, they made our list. If you don't like it, get your own Las Vegas blog.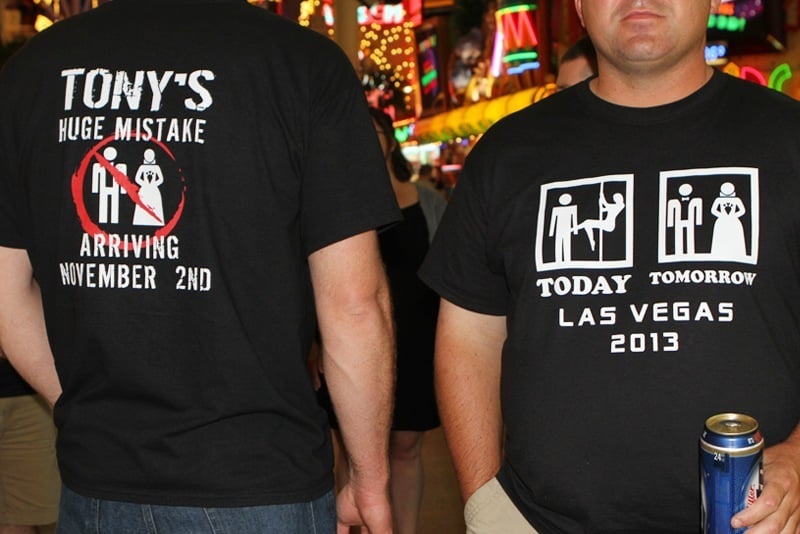 9. Beer Garden at The Plaza
The long-awaited outdoor beer garden at The Plaza seems to be picking up steam. Plywood has been removed, and a metal lattice has gone up in its place.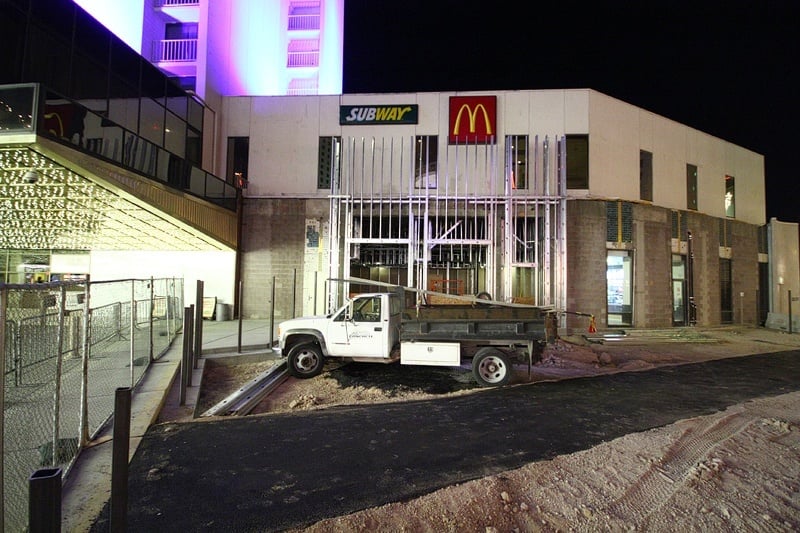 The hotel hasn't announced an official opening date. Clearly, there's isn't too much garden at the beer garden yet. Hey, things happen a bit more casually downtown. We'll wait.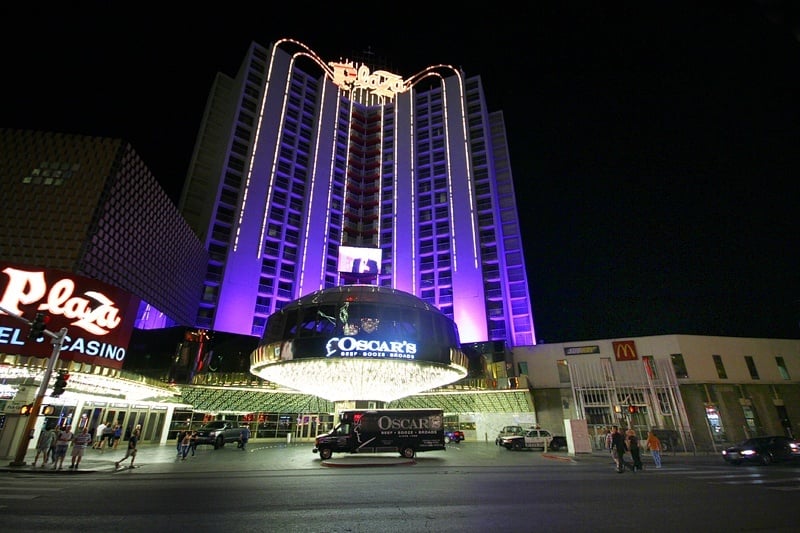 10. Rush Lounge Opens at Golden Nugget
It seems like only yesterday we were sharing photos of Rush Lounge at Golden Nugget in the throes of a renovation. Well, those renovations have been wrapped up, and the new lounge is already packing them in.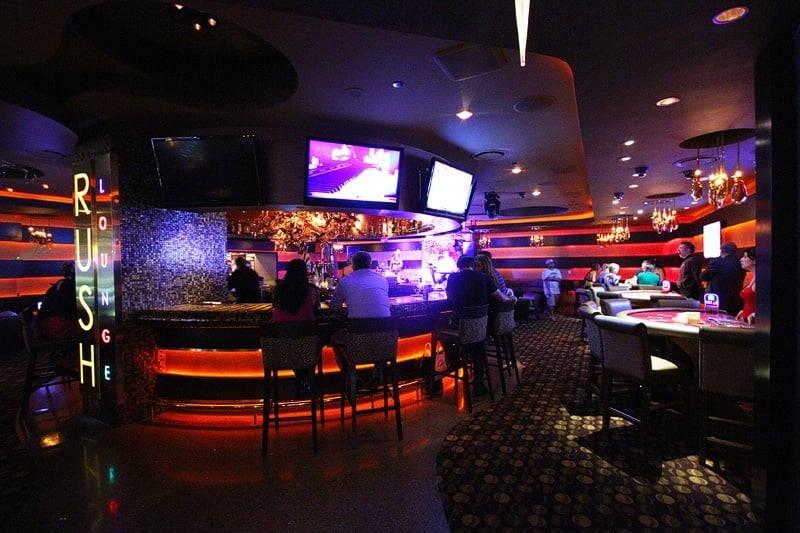 Awhile back, we shared a photo of a construction wall that seemed to be free-standing, in the middle of the casino. The signs made it look like this area would be part of an expanded Rush Lounge.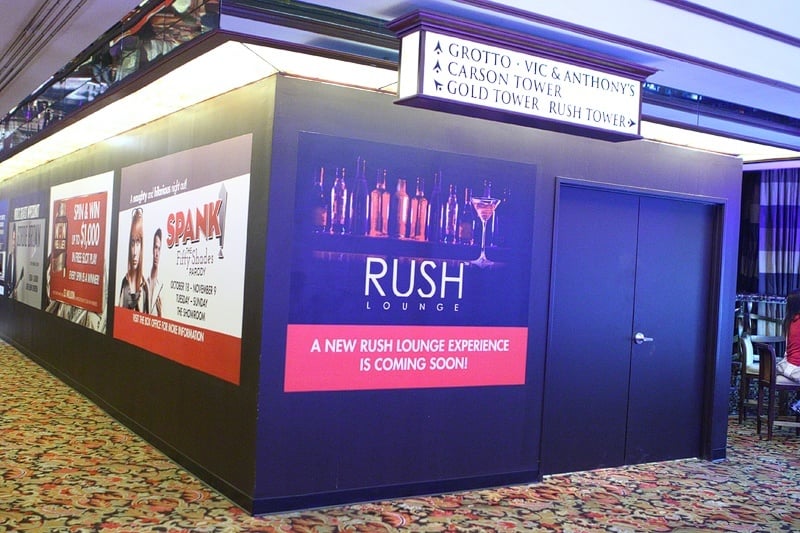 Now that the construction walls are down, we can see the area in question has been given some design enhancements, like light fixtures, but it remains part of the main casino floor. It's just outside the Rush Lounge.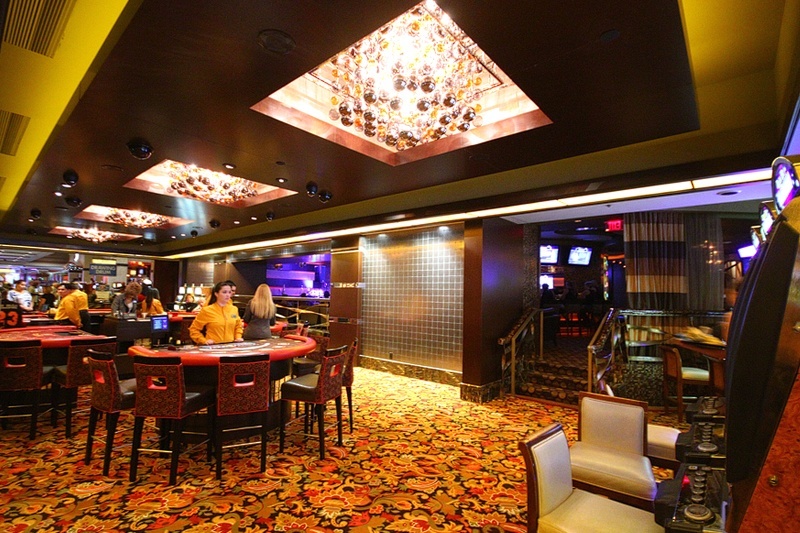 We're exhausted, but always excited to see new things downtown. Or anywhere in Vegas, for that matter.
If you see something new, send it our way and as a way of expressing thanks, we'll tattoo your name on our thigh. (Offer subject to change without notice. Not valid on holidays or with any other discount, special menu or coupon.)