San Antonio Could Host Raiders Games Should Fanbase Retaliate in Bay Area
Posted on: April 2, 2017, 11:00h.
Last updated on: April 1, 2017, 09:15h.
San Antonio is emerging as a viable interim host city for the Oakland Raiders should the team's Bay Area fanbase retaliate for owner Mark Davis planning to move the organization to Las Vegas in the coming years.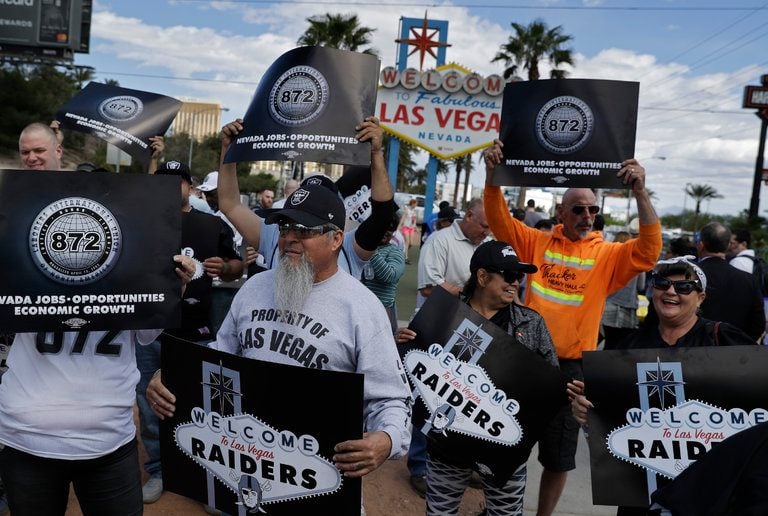 Earlier this week, 31 of the NFL's 32 owners approved Davis' wishes to move the storied California franchise to the Mojave Desert. How Raiders fans will respond isn't quite clear.
Las Vegas will soon commence construction on the team's future home, a $1.9 billion, 65,000-seat domed stadium. It won't likely be ready until the start of the 2019 season at the earliest.
Davis plans to remain in Oakland until the facility is complete. But many believe Raiders fans might have sinister plans as a result of the team moving to Sin City.
According to NFL columnist and insider Vincent Bonsignore of the Los Angeles Daily News, San Antonio would welcome the Raiders over the next three years. The Texas city is home to the Alamodome, a 65,000-seat multipurpose facility that hosts the annual college football Alamo Bowl.
Another option would be for the Raiders to play in Sam Boyd Stadium, the home of the UNLV football team. But that stadium is aged, and only sits 40,000.
Boycott Encouraged
The Raiders are coming off their best season in more than a decade, but the team's first postseason appearance in 14 years wasn't enough to keep Davis in town. Expected to soon re-sign star quarterback Derek Carr to a longtime contract, there's plenty of optimism on the Raiders' 2017-2018 Super Bowl chances.
The Westgate SuperBook has the Raiders at 20-1 to win Super Bowl LII next February. That line is tied for the seventh-best odds of the 32 teams and trails only the New England Patriots (5-1), Dallas Cowboys (8-1), Pittsburgh Steelers (10-1), Green Bay Packers (12-1), Seattle Seahawks (12-1), and Atlanta Falcons (12-1).
Regardless, Raiders fans might not be too supportive of a franchise they know will soon skip town. Golden State Warriors star Draymond Green, one of the Bay Area's most popular sports figures, is calling on fans to boycott.
"If I were the fans, I wouldn't attend a game for the next three years," Green said after his basketball team's win on Tuesday night. "No way I'd pay my money to attend a game."
Good for Oakland
While fans are understandably upset to learn their Raiders will one day move, the loss of the NFL team will actually benefit the city.
"It's never been better to lose an NFL team," Oakland-Alameda County Coliseum Authority Executive Director Scott McKibben told Bloomberg. "In terms of pure dollars and cents, operationally, it's to our benefit."
That's because the municipal agency looses money each year operating the stadium and hosting the professional football games. The Raiders paid the city just $3.5 million in 2016 to use the city-owned stadium for eight games.
The city covers all game-day expenses including security, and lost about $13 million doing so last year according to Bloomberg.
Credit rating agencies no longer value a city having a football team. In fact, it can actually hurt assessments. After the Chargers announced they were leaving San Diego, the Southern California city saw its credit rating improve.
Similar Guides On This Topic
Latest Casino Stocks:
Retrieving stocks data...
Retrieving stocks data...
Retrieving stocks data...
Retrieving stocks data...
Retrieving stocks data...