Maximum Security Survives Inquiry, Fends Off Mucho Gusto to Claim Victory in Haskell Invitational
Posted on: July 20, 2019, 10:20h.
Last updated on: July 20, 2019, 10:20h.
Maximum Security raced his way into the Breeders Cup Classic on Saturday but not without racing into more controversy after his win in the Grade I TVG.com Haskell Invitational at Monmouth Park.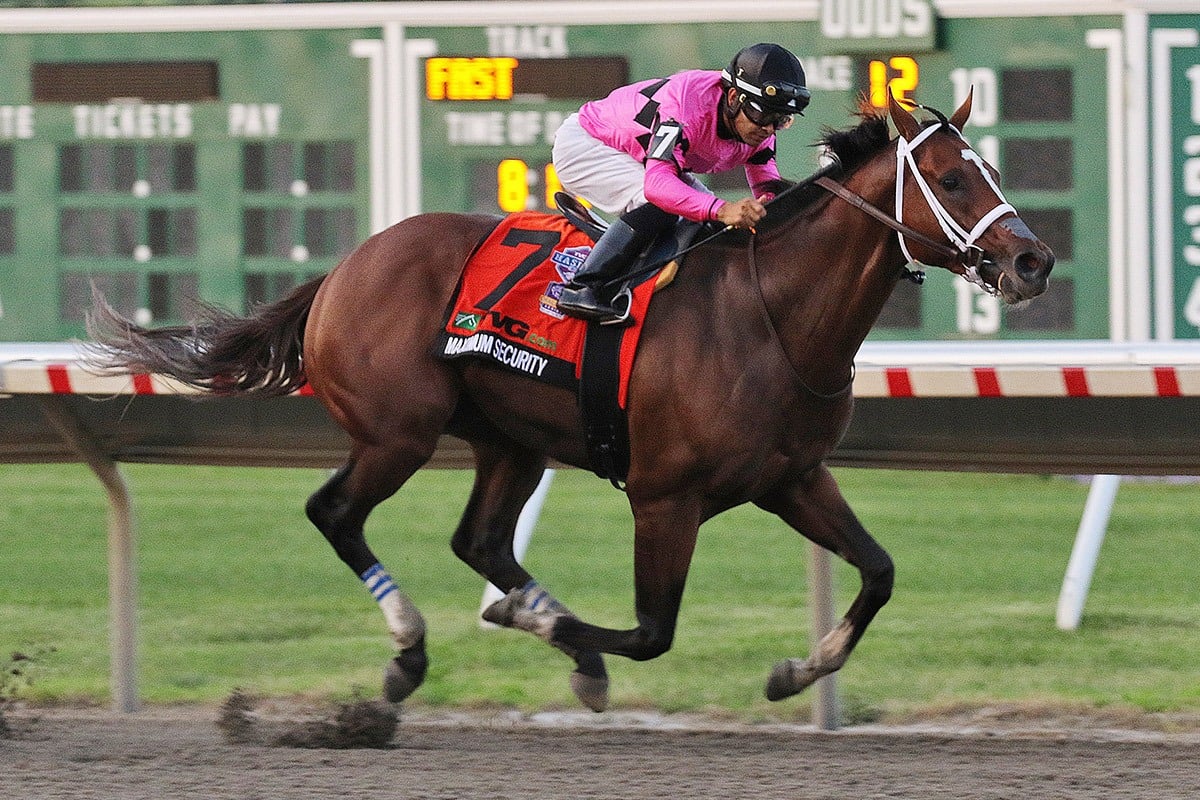 The 3-year-old colt ridden by Luis Saez deftly held off a hard challenge from Mucho Gusto down the stretch to win by a length and a quarter. However, just seconds after he crossed the finish line, track stewards posted an inquiry and examined whether Maximum Security cut off King for a Day in the final turn.
It was eerily reminiscent of the Kentucky Derby, in which stewards at Churchill Downs disqualified Maximum Security for interference after reviewing the race for more than 20 minutes. This time the stewards quickly dismissed the inquiry, and the Jason Servis-trained horse earned his fifth victory, and his second Grade I win, in seven starts.
My horse has always been in top form," said Gary West, Maximum Security's owner. "Of them all, he's now the only (3-year-old colt) with two Grade I wins. He has to be at the top of the class."
Going off at 4-5 odds, Maximum Security paid $3.60, $2.60, and $2.20. Bob Baffert-trained Mucho Gusto, who had 3-1 odds, paid $3.40 and $2.80, and Spun to Run, who went off at 34-1, paid $5.60 for finishing third, 9-1/4 lengths behind Maximum Security. A $2 exacta paid $12.00, and a $2 trifecta paid $90.40.
'Exciting' Race
Maximum Security broke sharply from the gate, but unlike most of his other races, he contended with speed horses early. Through the quarter-mile, he sat third behind 42-1 Bethlehem Road and King for a Day, who bested him last month in Monmouth's Pegasus Stakes.
As Bethlehem Road faded, it became a three-way race between the top three betting choices. King for a Day, who went off at 5-2, grabbed the lead on the rail going into the final turn. As King for a Day began to drift back, Maximum Security and Mucho Gusto began pulling away. However, Maximum Security veered to the rail. That forced jockey John Velazquez to check King for a Day, who continued his fade and eventually finished fifth.
"He bumped me right into the rail," Velazquez told TVG immediately after the race.
The stewards, though, did not see anything that warranted taking down Maximum Security. Others agreed.
"That was exciting," Baffert said. "I'm glad they didn't disqualify him. That would have been awful."
Joe Talamo, Mucho Gusto's jockey, said his horse got a perfect trip and gave 100 percent, but it was a tough race. Saez said he saw Mucho Gusto approach but just let Maximum Security run. He showed he had enough in the tank for the 1-1/8-mile race to keep the speedy competitor at bay.
Travers Next?
While he secured his spot in November's Breeders' Cup Classic at Santa Anita, there's still some question about when Maximum Security will race again. The Grade I Travers Stakes at Saratoga on Aug. 24 is still in play, and his presence, along with 2-year-old champion and Baffert-trained Game Winner and perhaps Preakness Stakes winner War of Will, would certainly increase betting interest.
Servis, though, did not commit. The Travers would make three tough races for Maximum Security in less than 70 days. He said he'd send Maximum Security to Saratoga but would not go beyond saying he'd "probably" race.
"We're going to take all the steps and see how it goes," West said. "But Jason is the boss and he'll do whatever is right for the horse."
The inquiry wasn't the only controversy on the day. Monmouth started its 14-race card on time at noon despite an excessive heat warning with temperatures in the upper 90s. Track officials ran the first two races before opting to cancel the remaining non-stakes races and postponing the six stakes races until 6 pm ET. After the Haskell, track officials announced Sunday's races would be postponed.