Macau Gaming Licenses Still Frozen, But Citizens Get Money for Nothing
Posted on: December 7, 2013, 05:30h.
Last updated on: January 23, 2014, 01:49h.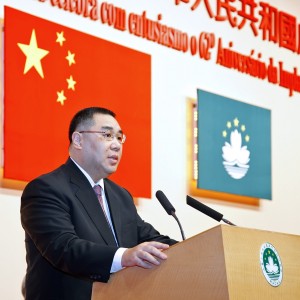 Want a Macau casino license? Too bad and take it off your holiday wish list; the country's chief executive has made it very clear that no new ones will be forthcoming anytime soon.
Fernando Chui – Macau's chief executive – told the 2014 Legislative Assembly in his annual presentation that nothing will be changing vis-a-vis the special administrative region's licensing for gaming establishments; the existing setup of three concessions and three sub-concessions will continue as is, the same way it has since the region first opened up to foreign casino operators in 2003.
Read My Lips: No New Licenses
This despite the reality that not only is gaming doing booming business in  the Asian enclave, infrastructure improvements and massive capitalization are allowing for millions more mainland Chinese tourists to come over and lose their money. Where visa restrictions once limited the number of times a Chinese national could come over, no restrictions on numbers of visits exist anymore; or at least, they are no longer enforced.
Similarly, although only two American casino companies were supposed to be allowed to build on Macau's Cotai Strip two years ago, in fact, three are now in the works: Wynn Resorts, Las Vegas Sands and MGM Resorts all have luxury projects going up there, and all are expected to open their doors about two years down the line, in 2016.
But while the Macau powers-that-be may be loosening up in these areas, they have no intention of issuing more licenses, period. Which is why Caesars Entertainment ultimately made the decision not to throw anymore good money after bad, and put their $483 million golf course property up for sale, a property they purchased back in 2007, hoping, wishing and waiting.
Despite the area's booming gaming economy, Macau has been eyeing the Las Vegas non-gaming model (Sin City now makes more revenue on non-gaming attractions such as nightclubs, retail shops, restaurants and sporting and theatrical entertainment than it does strictly on gaming) and authorities want gaming houses to incorporate more non-gaming attractions into their properties. And they haven't been shy about telling casino owners to do so at their behest.
Amenities-R-Us
When Macau authorities speak, gaming moguls listen; MGM's business partner Pansy Ho put up the One Central Mall next to the MGM Macau and the Las Vegas Sands made sure it had 10,000 – yes, you read that right – guest rooms to offer gamblers, sprinkled among five properties they run: Venetian Macau, Four Seasons Macau, Conrad, Holiday Inn and Sheraton. All these rooms are located within Sands' Cotai Central complex, and complement the company's 1 million square feet of retail and dining, as well as an additional 1 million square feet of meeting space.
And whether they have built it so they came, or the other way around, Chinese middle-class tourists are flocking to Cotai now for overnight gambling junkets that include, it appears, plenty of shopping, dining and entertainment, so chalk up a score for the Las Vegas paradigm indeed.
"They stay longer, come from farther away and require sleeping rooms," said Las Vegas Sands President of Global Operations Rob Goldstein. "So (the) rooms in Cotai turned out to be a pretty good idea."
Besides clarifying the no-new-licenses situation, Chui – who grew up in a prominent Macau family and earned a doctorate at Oklahoma State University before becoming a culture minister in his homeland – had some popular concepts to throw out to the masses. He said that the region's 2012 record-breaking $38 billion intake from casino revenues – followed by more record-breaking this year with $37.13 billion pulled in just through to the end of October – will mean a sort of holiday bonus of sorts for each and every one of Macau's residents of $1,127; that will come from the $11.89 billion brought in via gaming taxes this year, with two months left to go yet.
Chui's role as "chief executive" in Macau is akin to being a governor in the U.S.; he mediates between Macau and Beijing. Which we are pretty sure is not very much like anywhere in Oklahoma.
Similar Guides On This Topic