Storied Strip Club Crazy Horse Too Being Demolished
That sound you hear is the collective weeping of pretty much anyone who ever set foot into Crazy Horse Too, an iconic Las Vegas strip club.
That's because this lap dance mecca is being demolished following years of neglect and a handful of fires set by vagrants.
We had to stop by to bid the old girl farewell, of course.

At one time, Crazy Horse Too was the center of the exotic dancing universe in Las Vegas.
It was located on Industrial Road, west of the Las Vegas Strip.
Here's a look at Crazy Horse Too as she crumbles into Las Vegas history.
The aforementioned history of Crazy Horse Too is the stuff of Las Vegas legend.
Crazy Horse Too (technically, Billy Jo's Crazy Horse Too) came into being in 1978, and was originally called just Billy Jo's, which was more of a disco with strippers than a strip club.
One of the early owners of the Crazy Horse was mobster Tony Albanese, named after a popular Italian dish. At some point, Albanese's head was found in the desert. Just for the record, the Italian dish thing was a joke, the severed head thing wasn't.
Fun fact: Prior to losing his head, Albanese founded the Tony Albanese Talent Association, a way to find new dancers for his establishments. The acronym used for this venture? T.A.T.A.
Things got interesting when Crazy Horse Too was taken over by Rick Rizzolo. Rizzolo is so shady, his name is sometimes prescribed by doctors to help prevent melanoma.

You can read more about Crazy Horse Too in a story by our friend and former Las Vegas Review-Journal writer Corey Levitan. Yes, Levitan is back on the Las Vegas beat, doing all the laborious research so we can stay focused on important things like drinking and gambling. Which is also "research," but in quotation marks.
Following a long and glorious history of drama and guys thinking dancers were talking to them because they were interesting, Crazy Horse Too finally went bust on August 23, 2014.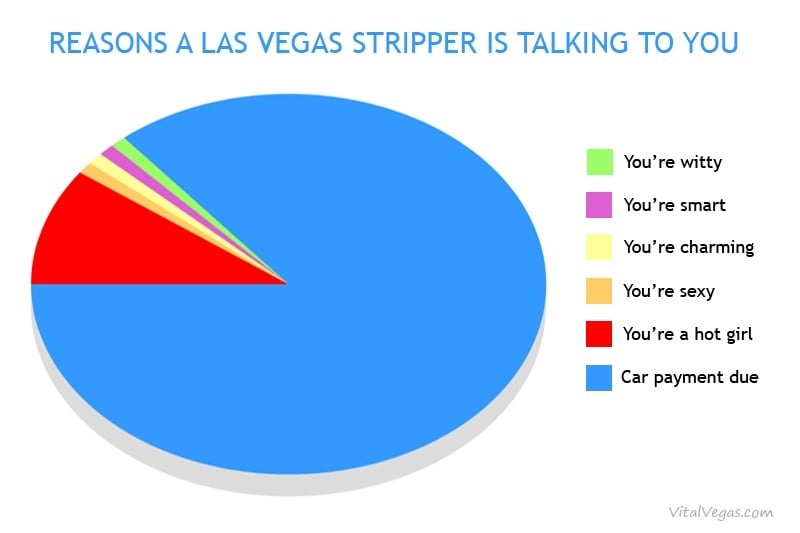 Here's what we wrote about the closure at the time.
Yes, we actually wrote this joke in that story: "Attempts to get a permanent liquor license have failed like Kate Upton's training bra." Clearly, we have matured a lot since then.
Anyway, Crazy Horse Too has been abandoned for years, and was recently the site of a series of fires. Unfortunately, our firefighters are so good, Crazy Horse Too continued to stand.
The City of Las Vegas issued a notice of demolition in July 2022, and demolition began Dec. 20, 2022.

Crazy Horse Too was in the headlines again recently due to an episode of "Unsolved Mysteries" about the death of James Barrier, also known as "Buffalo Jim." The episode implies Rick Rizzolo may have had something to do with Barrier's death. It sounds like hooey to us, but we are are blog, not Robert Stack, who we're pretty sure died at some point, probably under mysterious circumstances.
As Crazy Horse Too is leveled, we must tip our hat to the legions of beautiful, charming entrepreneurs who danced at the strip club during the years when we first moved to Las Vegas and fell in love with this town.

We learned so much about strip clubs, and life, from these dancers. Like the fact a stripper can immediately tell if a customer has money from his shoes, watch and manicure.
Here are more interesting things about Las Vegas strippers.
While there are a number of fine strip clubs in Las Vegas, we'll always have a soft spot for Crazy Horse Too. As further evidence of how much we've matured, we gave you a layup to write your own joke to close out this story. (Bonus points if you can work in the word "titular.")
Crazy Horse Too, you have been, and will continue to be, missed.