Salt Bae's Nusr-Et Steakhouse Reveals Menu, Opening Date
Nusr-Et Steakhouse opens at noon on Feb. 24, 2022 and we've got a first look at the menu of this much buzzed-about new restaurant on the Las Vegas Strip.
Nusr-Et, of course, comes from butcher, chef and cultural phenomenon Nusret Gokce, otherwise known as "Salt Bae."

Nusr-Et isn't the easiest name to remember, so we've taken to referring to the place as "Salt Bae's Nusr-Et."
Nusr-Et sits right next to T-Mobile Stadium at The Park's restaurant row, between Park MGM and New York-New York.

You sort of can't miss it. There's a giant dancing woman nearby. Possibly nude. Bliss Dance is a 40-foot sculpture by Marco Cochrane.

We popped into Nusr-Et Steakhouse prior to its opening, and during our visit noticed a QR code on one of the tables. We snapped a pic, and boom, the Nusr-Et Las Vegas menu.

One of the "buzzed-about" things related to Nusr-Et is its reputation for extravagantly-priced steaks covered in gold leaf.
While that's certainly available ("Golden Feast" on the menu), we're pleased to share there's an ample selection ("Main Feast") for the rest of us, too, at prices more in line with menus at other high-end steakhouses on the Las Vegas Strip.
Starters include Beef Carpaccio ($31), Steak Tartare ($29), Meat Sushi ($25), Nusr-Et Salad ($24), Ottoman Salad ($24) and Caesar Salad ($24) and others.

There are also seafood starters like Salmon Tartare ($29), Grilled Prawns ($39), Alaskan King Crab Legs Two Ways ($75 and Salt Bae Crab Cake ($49).
Moving into the "From the Char-Grill" section of the menu, there's meat, lots of meat.
There's Spaghetti (thinly-sliced Wagyu striploin, $80), Saslik (tenderloin, $80), Kages (a whole rack of lamb, $250), Meatball with Cheese (now we're talking, $45), Salt Bae Wagyu Burger (yes, please, $30), Istanbul Steak (Wagyu striploin, $100), Ottoman Steak (thick cut bone-in ribeye, $190), Salt Bae Tomahawk ($275), Wagyu NY Striploin (3.5 ounces, $45), Petit Wagyu Filet Mignon (3.5 ounces, $45), Giant Salt Bae Tomahawk ($550) and the Giant Char Grilled Wagyu NY Striploin (70 ounces, $750).

There are also a good number of sides and desserts, but let's face it, those aren't quite as sexy as the slabs of meat cloaked in gold leaf!
This is where the prices veer into the realm of probably not feasible for normal human beings. Then again, you're in Vegas, so it's time to splurge.
The Golden Baklava kicks things off for $100.
There's a Golden Burger for a relatively modest $180.
The Golden Kafes is a 24 karat gold coated rack of lamb, $1,250.

The star of the show is the Giant Golden Salt Bae Tomahawk at $2,400.
There's even Golden Cappuccino for $75.
Remember, we're not just talking food here, we're talking experiences!
And we can't wait to try the 3.5 filet experience, possibly with a side of truffle mac and cheese.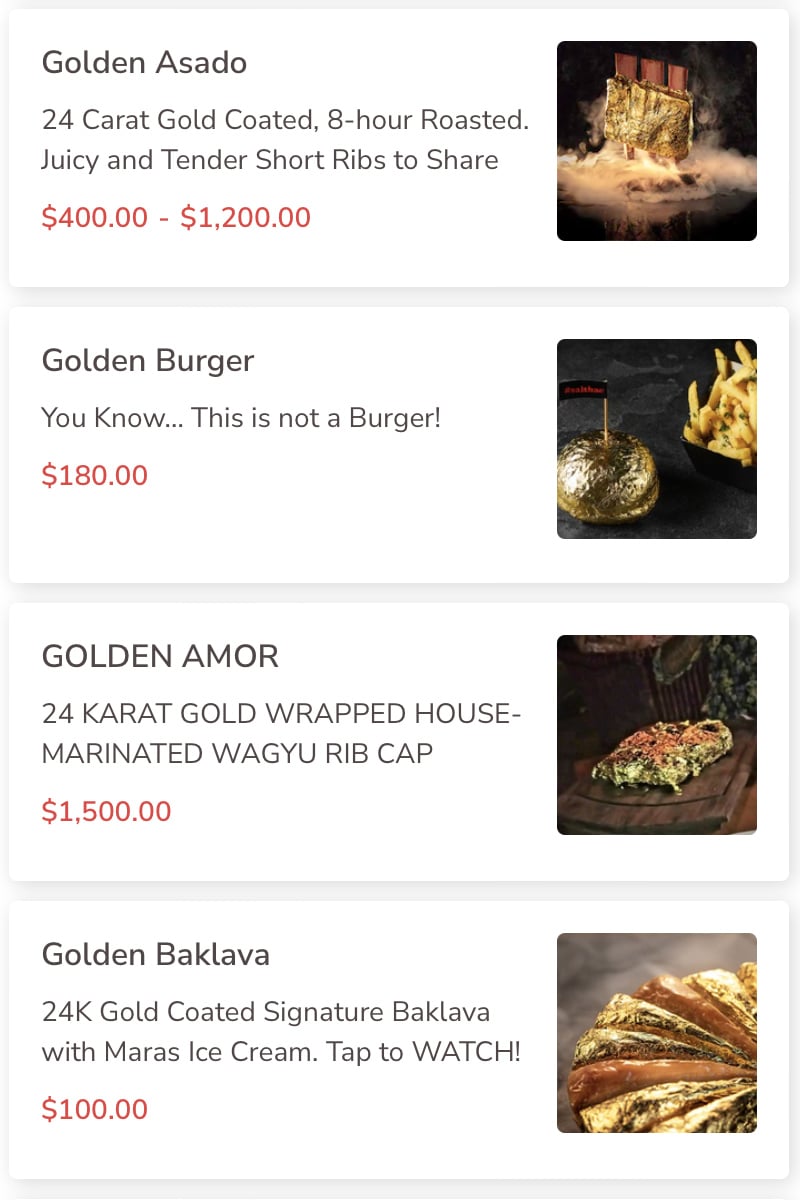 Salt Bae's Nusr-Et Steakhouse has a couple of challenges ahead of it, including the name, the location and helping people get past the idea everything on the menu is wildly expensive.
It's not cheap, but high-end restaurants aren't cheap. Ultimately, it's not about prices, it's about experience and value.
Salt Bae's Nusr-Et Steakhouse at The Park is going to offer diners items they simply can't get anywhere else in Las Vegas, set against a beautifully-designed, two-story space. The eye-catching bar could be an attraction all its own.

Nusr-Et should do well when there are events at T-Mobile, but it's the off nights when things will get interesting. As a two-story venue, they can just limit seating to the first floor if needed. The days of "build it and they will come" are done in Las Vegas, but a restaurant with a pop culture hook has an advantage right out of the gate.
We trust "Salt Bae" will be on-site when the restaurant opens, and his presence should be a draw for the curious.
Ultimately, the restaurant knows it can't rely on Salt Bae for its long-term success, so the food will have to deliver on its own merit.
Salt Bae's Nusr-Et could raise the stakes for other steakhouses in the neighborhood, and we look forward to taking part in some world-class bone-in soon. Also, please grow up.