Oakland A's Considering Rio's Excess Land for MLB Ballpark
The rumor about Rio being the potential site of a Major League Baseball ballpark has been out there awhile. We should know, we first shared the rumor back in 2018.
In a fun turn of events, while that rumor may have been ahead of its time, Rio's back in the mix again as the Oakland A's continue their search for a new home in Las Vegas.
News of the A's interest was shared by the Las Vegas Review-Journal, and Rio's owner, Dreamscape, has confirmed discussions are happening.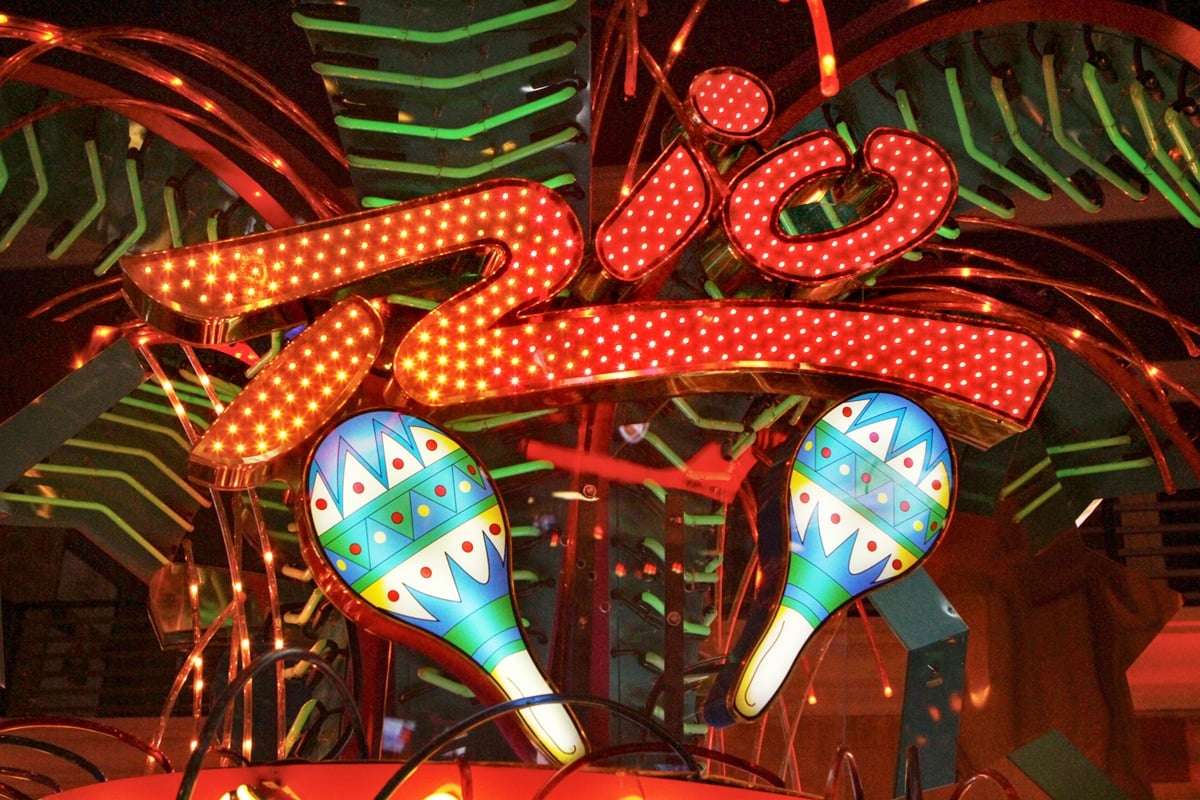 Dreamscape said in a statement, "The company has been engaged in a dialogue about a portion of the excess land at the Rio as a potential MLB ballpark for the past several years. The company remains open to this idea."
Back in 2018, rumors were flying that Rio was going to be sold, which it was in 2019. Dreamscape paid $516 million, with plans Rio will be "rebranded into multiple Hyatt full-service brand flags." Here's more.
According to our sources at the time, a group of investors were reportedly interested in demolishing the Rio and building a baseball stadium. That group fell out of the running and Dreamscape bought the resort, with the former owner, Caesars Entertainment, staying on to operate the place.
It's expected Caesars Entertainment will be out this year and Dreamscape will take over operation of Rio.
The reason Rio was a rumored site of a ballpark back in 2018 is the reason it's under consideration again. It's the metric butt-ton of land. Specifically, 88.53 acres.
Rio has about 22 acres of "excess" land, and a baseball stadium would require just 10-12 acres.
Here's a look at the Rio's footprint.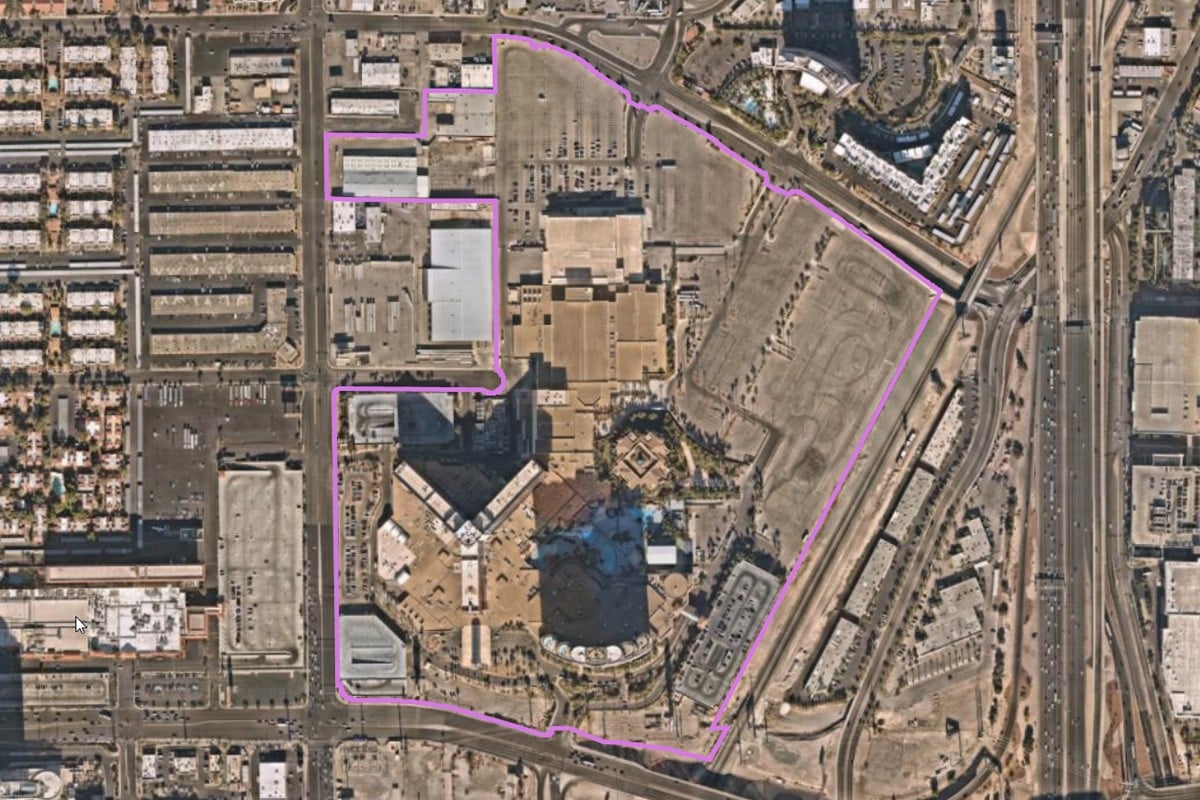 The "excess" land hasn't been specified, but we took the liberty of adding some other Las Vegas landmarks for scale.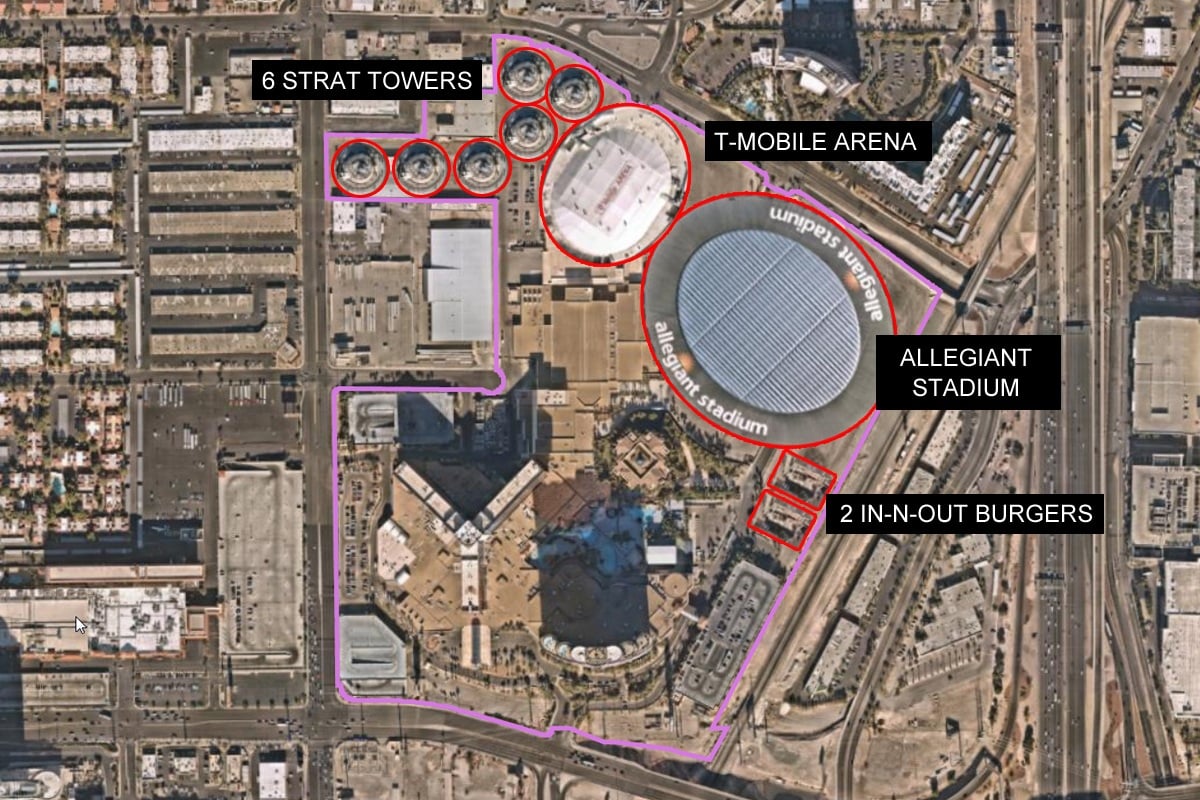 Which means a scenario including a potential demolition has been scrapped. We're told Dreamscape considered demolition and rebuilding of Rio as one of several possible plans, but the numbers just didn't pencil out. So, we get to keep the Rio (or Hyatt Regency or whatever), and not only that, Dreamscape is going to invest hundreds of millions of dollars in bringing the long-neglected casino-hotel back to her former glory, at a much lower cost than rebuilding the resort from scratch.
Dreamscape recently snagged $850 million in financing, a portion of which will be devoted to the massive overhaul of Rio.
Here's a recent look at Rio's current state, and we got an early peek at some interior design tests that could end up in the Rio renovation.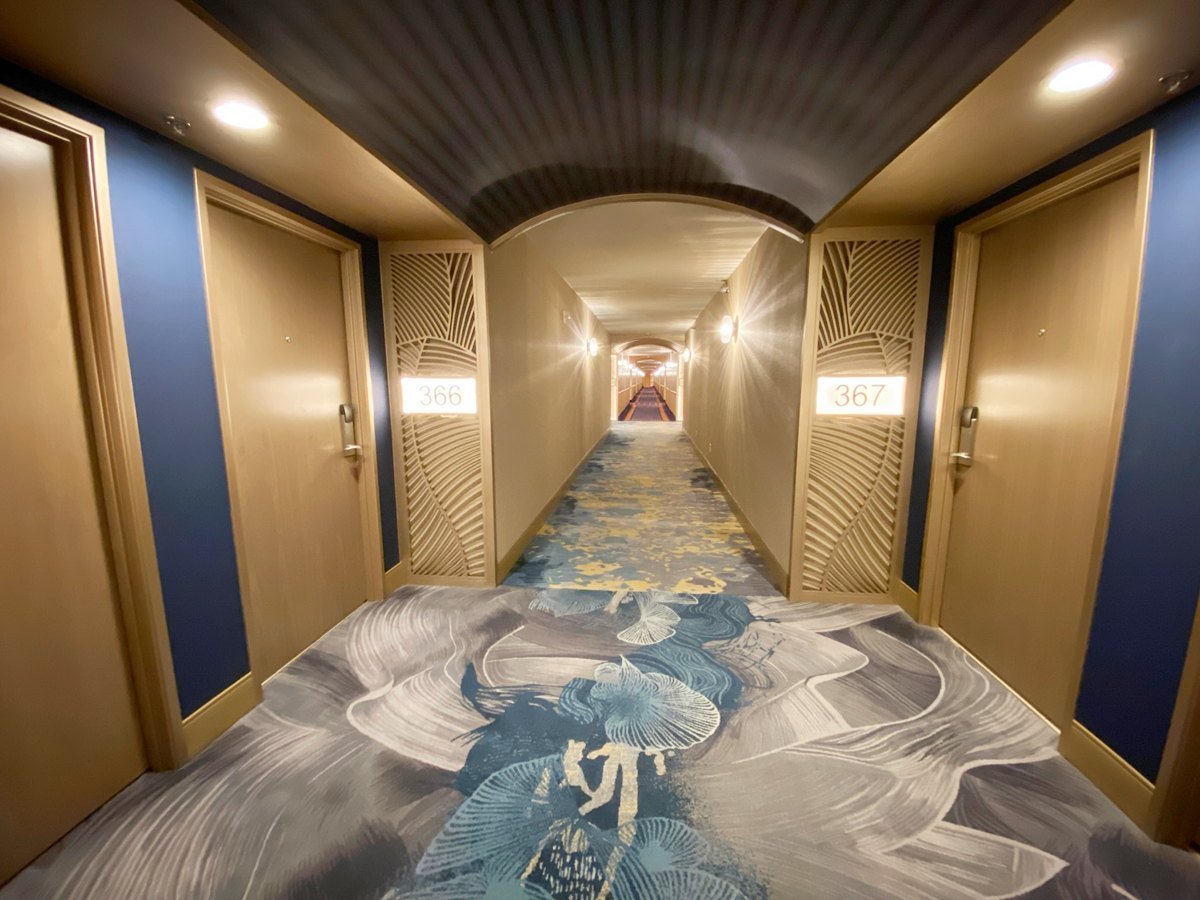 While the Rio deal for an A's ballpark isn't a done deal, it seems to make the most sense off all the possible sites that have been explored.
We've heard—unconfirmed—Circus Circus owner Phil Ruffin recently nixed a deal for building the ballpark at the Las Vegas Festival Grounds (at the corner of Las Vegas Blvd. and Sahara Ave.), so Tropicana was seen as the front-runner for the A's new digs.
Rumor is Oakland A's submitted a Letter of Intent (LOI) for the festival grounds at Las Vegas Blvd. and Sahara Blvd., but Circus Circus owner Phil Ruffin has nixed the deal.

— Vital Vegas (@VitalVegas) February 14, 2023
Should the Rio deal come to fruition, Dreamscape is going to end up looking like it's populated by pure geniuses. Station Casinos learned the hard way that hundreds of millions of investment can go sideways off-Strip (as it did with Palms), but if you make that investment in a resort sitting on top of a major league baseball stadium, you're golden.
Dreamscape should just give the land to the A's, and all eyes will pivot to Rio. Dreamscape is set to reap a windfall from the 20,000 people going to 80 A's games in a season (plus various concerts and other events), and they could pretty much name their price for rooms around games.
There are still lots of hurdles in the Oakland A's potential move to Las Vegas, including a desire to get public money to pay for the ballpark—a hard "no" from us, dawg, as Allegiant Stadium got $750 million in public financing (via a hotel room tax), and we're still aching in our sensitive places from bending over so billionaires can become bajillionaires. Don't get us started.
The situation in Oakland has always been a big fuzzy, so the A's might be using high visibility news like the discussions with Dreamscape as a bargaining strategy. We are not a sports expert, we just break a lot of sports-related news because it's our town.
This long, twisting road to getting a MLB team has been fun to watch. Las Vegas has hit its sports saturation point, but saying that is like whistling in a wind tunnel.
Next up, an NBA team at the Oak View Group's resort south of The Strip. It took five years for the Rio rumor to get some traction, give this one a minute.