Marigold Restaurant Closes Abruptly at Resorts World
Marigold restaurant has permanently closed at Resorts World.
We were going add the phrase "after just five months of operation," but that sentence was already awkward enough.
Resorts World opened June 24, 2021.

Our Twitter followers noted a "Closed for Renovations" sign at the restaurant, but Eater Vegas reached out to a restaurant rep and confirmed the sign clearly didn't know what the hell it was talking about.
Marigold apparently didn't connect with guests.
While it looked like a diner (or a casino cafe), the menu was weird. Burgers and seafood are natural enemies, everyone knows that.
Marigold was operated by Gen3 Hospitality (formerly Block 16 Hospitality), owned by Billy Richardson.
Richardson also owns Holsteins at Cosmo, as well as Flour & Barley and Haute Doggery at Linq promenade.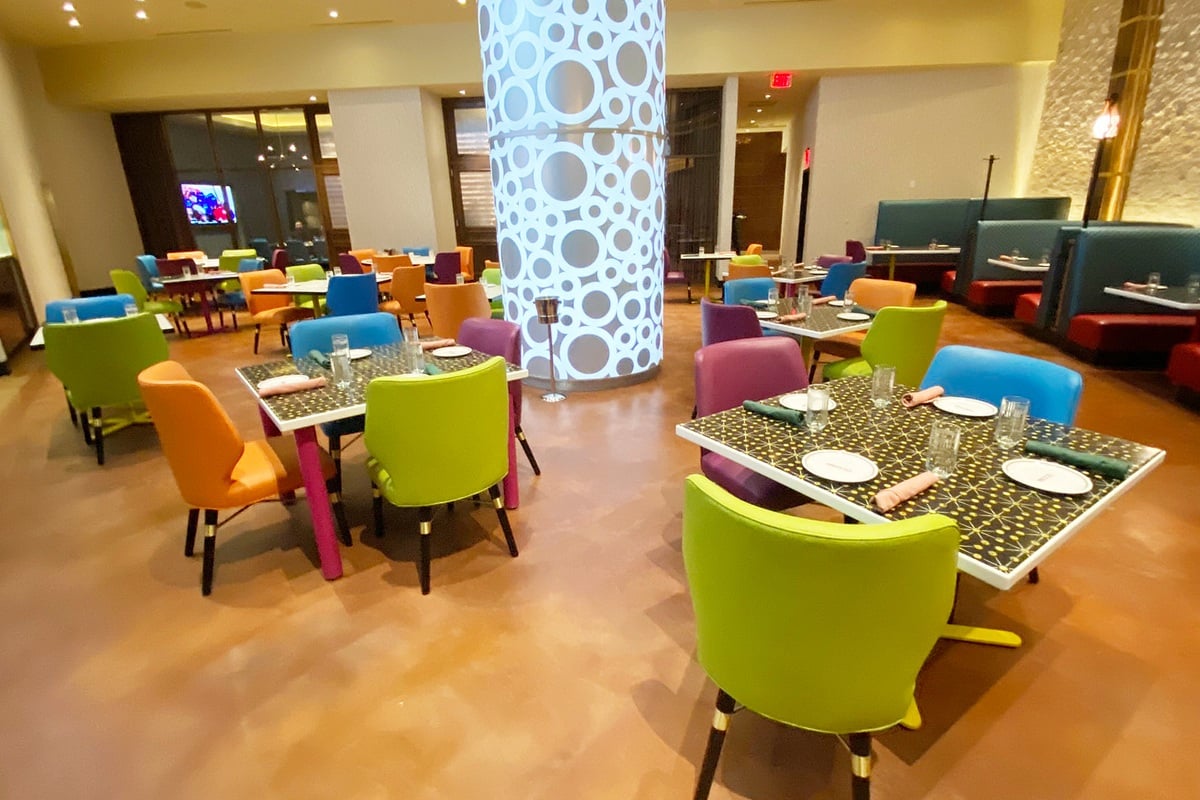 If the Richardson name sounds familiar, it's because Billy Richardson's father is Bill Richardson, owner of W.A. Richardson Builders, which purely coincidentally was the Construction Management company for (wait for it) Resorts World.
Resorts World, in case you missed the memo, is the most expensive casino resort in the history of Las Vegas. It cost $4.3 billion and sits on the former Stardust site.
While everyone is thrilled the project was completed, Resorts World is facing some challenges.
The resort's occupancy for the quarter that ended on Sept. 30, 2021 was 55%. Or, as it's called in the hotel industry, less than optimal. (How "less"? About 20% less than the Strip's average occupancy rate for the same time period).
Resorts World took another shot to the nardledanglers with the cancellation (sorry, postponement) of Celine Dion's residency due to medical issues. (Worth noting, she didn't cancel her world tour, just the first leg of her Resorts World residency.)
Resorts World is a gorgeous resort, with more restaurants still in the works.
Carversteak, the resort's steakhouse, opens Dec. 30, 2021.
Resorts World's location continues to be concerning, and the slow return of conventions has to be hurting the new resort. (It's practically on top of the new Las Vegas Convention Center expansion.)
Resorts World has also been hurt by international travel restrictions. Asian whales are a prime target market for Resorts World, owned by Genting, a Malaysian company.
We graduated from public school, but we're fairly sure Malaysia is in Asia.
The main thing that keeps us from visiting Resorts World more frequently is the resort is rumored to have to have some of the tightest slots on the Las Vegas Strip.
Loosen those suckers up, already.
Otherwise, we're a big fan of Resorts World, and hope they'll be able to take advantage of the ongoing (although temporary) surge in gambling as we emerge from the pandemic.
As with any new resort, some venues are going to click and others won't. It's best not to read too much into the closure of Marigolds. Resorts World has about 40 restaurants and bars. Well, 39. Forty was probably a tad ambitious. Reminder: Only the strong survive in Vegas.