First-Ever Las Vegas Sex Survey Reveals Surprises About What Guys Really Do In Sin City
Chances are you've seen statistics about Las Vegas visitors before, but you've never seen a survey quite like the one we took!
Our online Las Vegas sex survey garnered an avalanche of responses, providing a rare (and statistically valid) glimpse into the sex habits of travelers to the world's most stimulating city.
Here's what we learned. First, we learned men are far more likely than women to take an online sex survey. Just 10% of those who responded were women. Our professional survey analyst (no, we're not just winging this) says our sample size of women wasn't big enough to draw accurate conclusions about them, so we're going to focus on the men. You can still take the survey, ladies.
Our survey includes the responses of 688 male visitors to Las Vegas, giving our survey a margin of error of ±5% 99 times out of 100 (based upon the total number of visitors to Las Vegas).
Let's dive headlong into the gloriousness of the VitalVegas.com Las Vegas Sex Survey, patent pending.

First, we skipped the foreplay and asked visitors, "On average, how many times do you have sex during a Las Vegas visit?"
A mere 12% said they had none during a typical visit, while 63% had sex 1-3 times (20% had sex once, 22% had sex twice and 21% had sex three times).
An impressive 16% of male Vegas visitors have sex five or more times during a Sin City visit.

Overall, the typical male Vegas visitor has sex 2.7 times during their stay. Hey, don't laugh, we've had a few .7 experiences, too. (Culprit in 91% of instances: Hooch.)
We pressed further, asking, "Who do you have sex with?"
A whopping 69% of respondents said they have sex with their significant other, while 15% have sex with strangers.
Eleven percent of the men surveyed say they have sex with their significant other and strangers. Las Vegas threesomes for the win!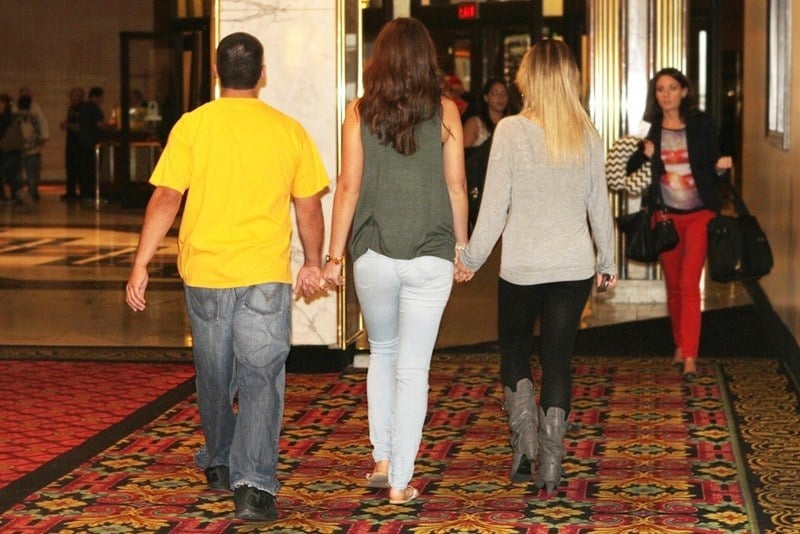 Our analyst dug into those numbers a bit more, cross-tabulating frequency with who visitors are having sex with and found more than third (39%) of respondents reported hooking up with a stranger at least once during a Sin City visit.
A quarter (25%) of men say they had sex four or more times with their significant other during their Las Vegas trip.
Next, we asked guys if they were more sexually adventurous when they're in Las Vegas.
A girthy 57% of men say they're more sexually adventurous during a Las Vegas visit. The magic is real! In our survey, by the way, the reported activity of these men correlated to their claims of greater sexual boldness. Walking the walk, baby.
We wanted to find out more about what kinds of adventure men are having here, so we asked about various activities for which Vegas is known.
Based upon our survey responses, about half (52%) of men have visited a Las Vegas strip club.
While prostitution is illegal in Las Vegas, we couldn't resist asking if men had been with a prostitute while in Las Vegas. According to our respondents, 16% of male visitors have paid for the services of a Las Vegas prostitute at some point.
On a related note, 5% of male visitors have visited a legal Nevada brothel. Don't miss our facts about Nevada's most famous brothel.
Four percent of male visitors have been to a swingers club in Las Vegas, such as the Red Rooster or Green Door.

When it comes to adventurous sex in Vegas, though, it's hard to match the allure of sex in public.
Of those who took our survey, 13% say they've had sex in public in Las Vegas. No word on how many of those public acts resulted in fines or being kicked off certain Ferris wheels.

Given all the sex being had, we felt compelled to ask how many people had taken part in a time-honored Las Vegas tradition, the "Walk of Shame." The Walk of Shame, of course, is when someone hooks up and has to trek through public spaces the morning after wearing clothes from the night before.
A full 11% of male visitors say they have done the "Walk of Shame" during a Las Vegas visit.
Overall, 61% of men who have visited Las Vegas have done one or more of the following: gone to a strip club, brothel or swingers club, been with a prostitute, had sex in public, or experienced the "walk of shame." Eight percent of respondents have done three or more of those things.
Our final Las Vegas sex survey question asked male Vegas visitors whether or not they believe the city's ubiquitous mantra, "What happens here, stays here."
Surprisingly, despite all the evidence to the contrary, two-thirds (64%) of men who visit Sin City say they believe what happens in Las Vegas, stays in Las Vegas.

Las Vegas, it seems, is full of wishful thinkers!
So, do your opinions align with the responses in our Las Vegas sex survey? Does it confirm what you already thought about what happens in Vegas?
We vote that the LVCVA include this subject in their next Las Vegas Visitor Profile Study. Sure, it's interesting to know how many people use social media to plan their Vegas activities (28% do) or how many people visit downtown (36% do), but it's a lot more interesting to know who's getting it on, with whom and if there were inflatables involved.
Ooh, something for our next Las Vegas sex survey!