Fremont Street Experience Welcomes Back Bands, Confirms Free Concert Series
It's been more than a year, but bands are back on the stages at Fremont Street Experience in downtown Las Vegas.
The return of live entertainment to Fremont Street was welcomed with the requisite hoopla, including onstage pyrotechnics.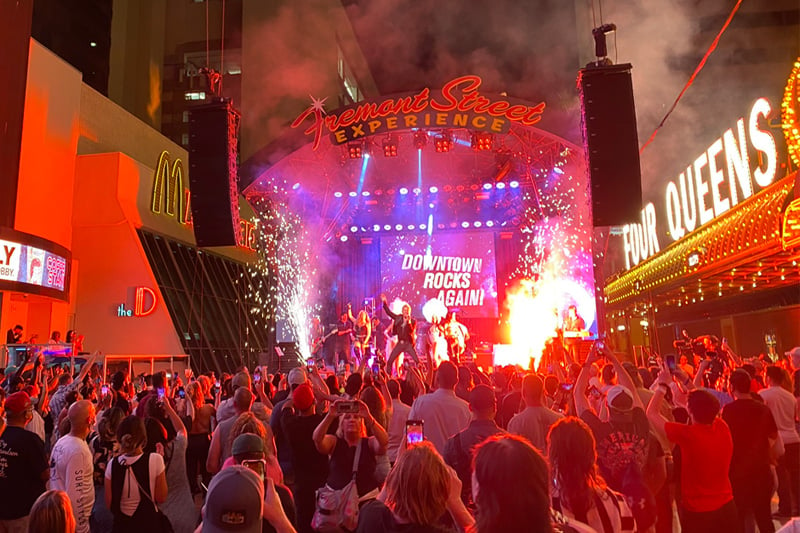 Live music started just after midnight on June 1, 2021 (more like just after midnight on May 31), as Nevada lifted restrictions related to the pandemic.
Capacities at casinos and other venues are back to 100% across the board, and masks are now optional. That's right, Las Vegas is fully open!
On-hand at the band kick-off were Circa owner Derek Stevens and Fremont Street Experience President Andrew Simon.
Confirming scoop
we shared a couple of weeks ago, Andrew Simon mentioned Fremont Street Experience will relaunch its free concert series soon.
Simon specifically teased one of the upcoming concerts, a double bill with 3 Doors Down and Seether on Sunday, September 5 (Labor Day weekend).

A full concert series schedule is expected soon.

In the meantime, downtown visitors get to see some great house bands, including Spandex Nation, Crush, Alter Ego, The Tony Marques Band and others.
Yes, Zowie Bowie is among the "others," but we don't want to encourage him.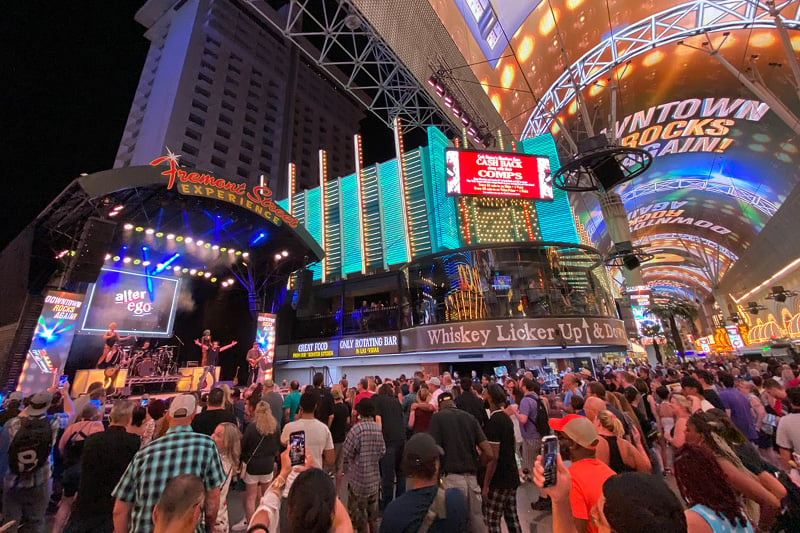 Live entertainment also includes dancing DJs, which are some of the only tolerable kind.
Live entertainment is one of the big draws on Fremont Street, and are beneficial for a number of reasons.
They draw business downtown—as free live entertainment is increasingly rare in Las Vegas— but also serve to displace some of the most irksome buskers. (A number of "performance circles" are taken out of circulation when there are bands onstage.)
Bands drown out pickle tub drummers as well as other "performers" who insist upon bringing their own amplification systems, often thumbing their nose at decibel level regulations and annoying the living crap out of casino and retail kiosk employees, among many others, including us.
Fremont Street Experience still needs to get its act together when it comes to overall volume (on stages and ambient music), as it's been years since visitors have been able to hold a conversation walking down Fremont, but overall the pedestrian mall's party vibe remains a big draw and Fremont Street has been packed for months now, especially on weekends.
We hope to get our hands on the concert series schedule soon, and we'll see you on Fremont.