Fremont Street Experience Adds Seven New Acts to Free Concert Series
Just when you thought loss leaders were done in Las Vegas, Fremont Street Experience has added an additional seven bands, and two new concert dates, to its free concert series schedule.
The previous free concert schedule was impressive enough. We know this because we recognized several names and did we mention the shows are free?
The new batch of bands are 10,000 Maniacs, Dishwalla, The Calling, Nitty Gritty Dirt Band, Mackenzie Porter, Theory of a Deadman and Saliva.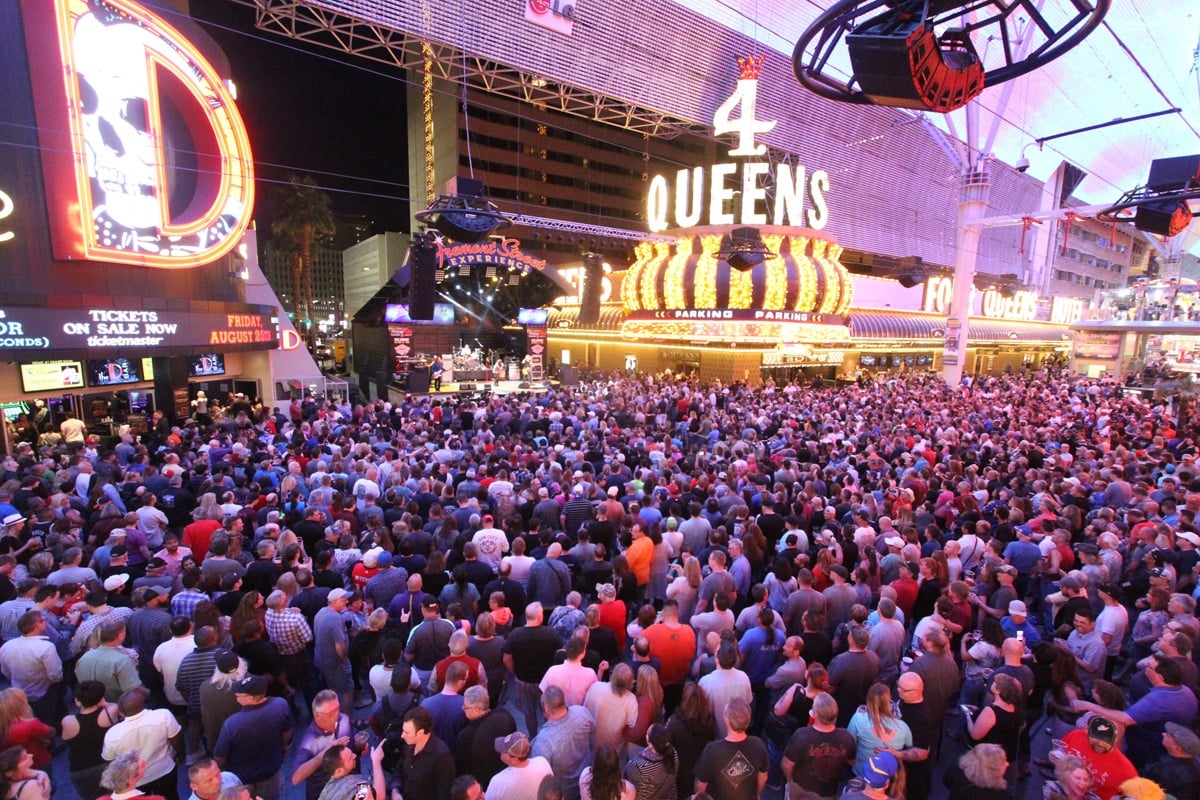 When the free concert schedule was initially announced, many music fans kvetched about the gaping chasm of sadness that was June (zero concerts). Fremont Street Experience filled that gap with a show on June 25, featuring 10,000 Maniacs, Dishwalla and The Calling.
We worried Fremont Street Experience might cut corners and get fewer maniacs, but nope, it's all 10,000.
We've heard another free June concert is being finalized, but it won't be part of the Downtown Rocks series. Hey, free is free.
Also added were a few groups who have previously performed in the free concert series downtown—Dishwalla, Theory of a Deadman and Saliva (as part of Muddfest 2019).
Here's a handy graphic to save on your phone or whatever the kids are doing now.

Here's the complete, updated 2022 schedule for the Downtown Rocks free concert series on Fremont Street. In words, for the search engines.

April 23: Parmalee (3rd St. Stage, 9:00 p.m.)


May 28: X Ambassadors (3rd St. Stage, 9:00 p.m.)


May 29: Starship featuring Micky Thomas (1st St. Stage, 9:00 p.m.)


June 25: 10,000 Maniacs, Dishwalla, The Calling (1st St. Stage, starts at 7:00 p.m.)


July 4: Molly Hatchet, Nitty Gritty Dirt Band, Mackenzie Porter (3rd and 1st St. Stages, time TBD)


July 23: Sebastian Bach (1st St. Stage, 9:00 p.m.)


July 30: Hoobastank, Soul Asylum, Alien Ant Farm (1st St. Stage, time TBD)


August 13: Theory of a Deadman, Saliva (3rd St. Stage, starts at 8:00 p.m.)


August 20: Simple Plan (3rd St. Stage, 9:00 p.m.)


September 3: Rick Springfield, Men at Work, John Waite (3rd St. Stage, time TBD)


September 10: The Pretty Reckless (3rd St. Stage, 9:00 p.m.)


October 15: Jelly Roll (3rd St. Stage, 9:00 p.m.)


October 22: Slaughter, Vixen, The Sweet (3rd St. Stage, time TBD)


November 19: Stone Temple Pilots (3rd St. Stage, 9:00 p.m.)
That brings the total number of concert nights to a girthy 14. Thank you, casino members of Fremont Street Experience, for paying for these shows that are free to the public but definitely not free of cost.
A surprising number of Las Vegas visitors schedule their trips around these concerts. Many are very entertaining, despite the fact there are often bands where there's one original member, and sometimes it's not the lead singer, so that's weird.
As we feel obligated to say in every story about the free concerts on Fremont, yes, there are VIP passes. We have a stack of these lanyards taller than The Strat. (We used to work at Fremont Street Experience and attended every concert. We also added the "Your Mom" to that poster, above, during our tenure. Obviously.) The best and only way to get VIP passes for the free concerts is through your casino host.

If you'd like to sit and have a cocktail server during a concert, your best bets are Binion's and Four Queens. They have reserved patio areas during concerts, for a fee.
Parking fees tend to bump up to "event" levels during concerts, but again, the concerts are free. The fees tend to be a flat $20 in most of the surrounding garages.
Due to never-ending construction, traffic congestion can cause delays on concert nights downtown, so arrive early. There's a lot to do and see.
The usual security policies apply for Fremont Street concerts, within the concert footprint. That means metal detectors and the like, so additional patience is required.
Common sense concert rules apply, even on Fremont Street: No strollers, coolers, chairs, backpacks, luggage, masks (the Halloween kind), glass, aluminum or bottles.
Oh, and no weapons. Which is why we're not allowed to bring our hands to concerts on Fremont Street.
During the summer months, concerts can get toasty, made worse because the Viva Vision canopy traps all that body heat. Fremont Street Experience sometimes provides bottled water, but don't count on it. Hydrate before, during and after the shows.
That's it for now, but if there are any further additions to the free concert series schedule, you know we'll be all over it. And by that, of course, we mean we'll probably drunk Tweet it.