Binion's Boosts Downtown's Already Strong Pizza Offerings
Downtown's robust pizza scene continues to get better and better.
Whiskey Licker Up at Binion's just rolled out a new pizza menu, and the list of must-try pizzas downtown just got longer.
It goes without saying we love pizza, and we love downtown. It's funny how whenever someone says "it goes without saying" they inevitably say the thing that goes without saying.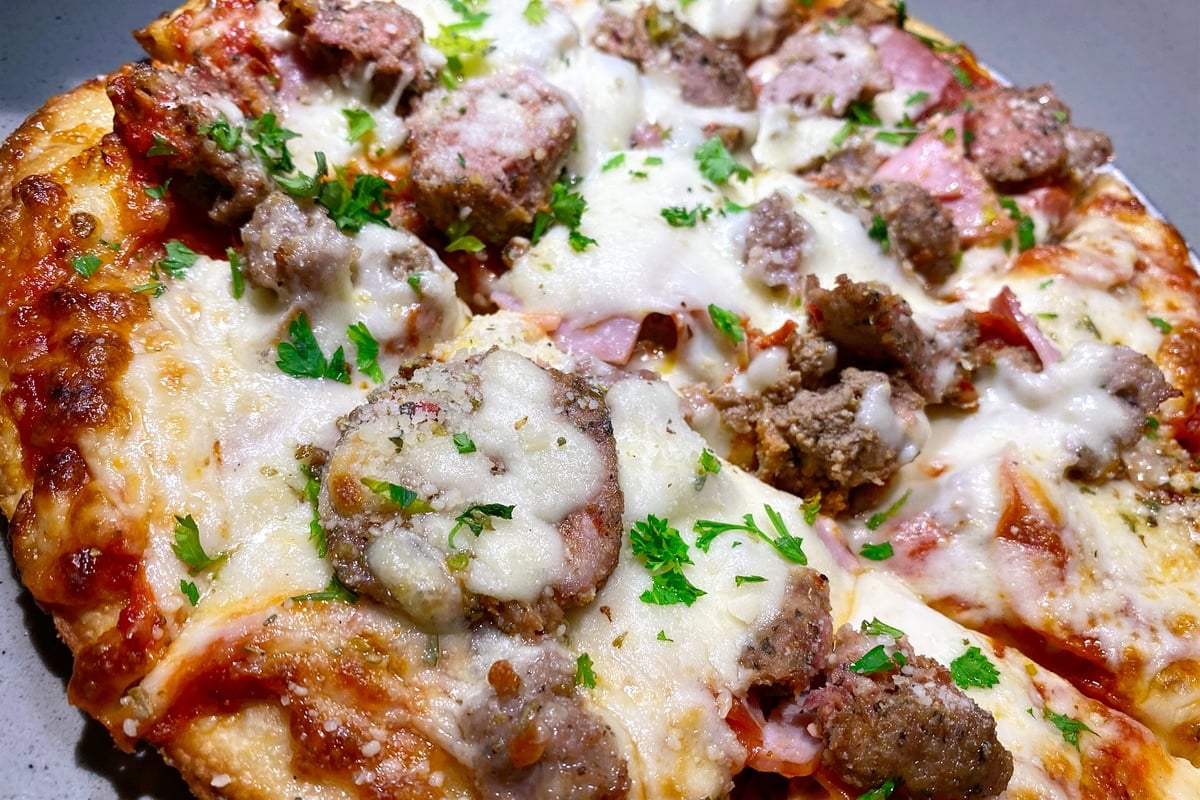 Whiskey Licker Up has lots of great food, including its world-renowned chicken tenders. We should know, as we made them world-renowned.
The new pizza menu at Whiskey Licker Up builds on the restaurant's strengths⁠—crowd-pleasing food at reasonable prices.
The menu includes six specialty pizzas, plus a "build your own" option.
There are also stromboli. Specifically, the Meat Head Stromboli and Veg Head Stromboli. So, two stromboli. We are only 15% sure "stromboli" is the plural of stromboli, moving on.
We tried the Butcher Shop specialty pizza and it was awesome.
Typically, we order cheese so there's a common baseline we can use to compare various pizzas, but we were feeling wild. It's Vegas.
The Butcher Shop is a meat lovers wet dream, with Italian sausage, pepperoni, Canadian bacon, meatballs, pepper bacon and ground beef.
Worth noting, the pizza sauce is made in-house. Mostly, though, it's about the meat.
The specialty thin crust pizzas run $16 for the 10-inch, $21 for the 16-inch. The build-your-own pizzas cost $12 for a 10-inch (plus $2 each per topping) and $16 for the 16-inch (add $3 each per topping).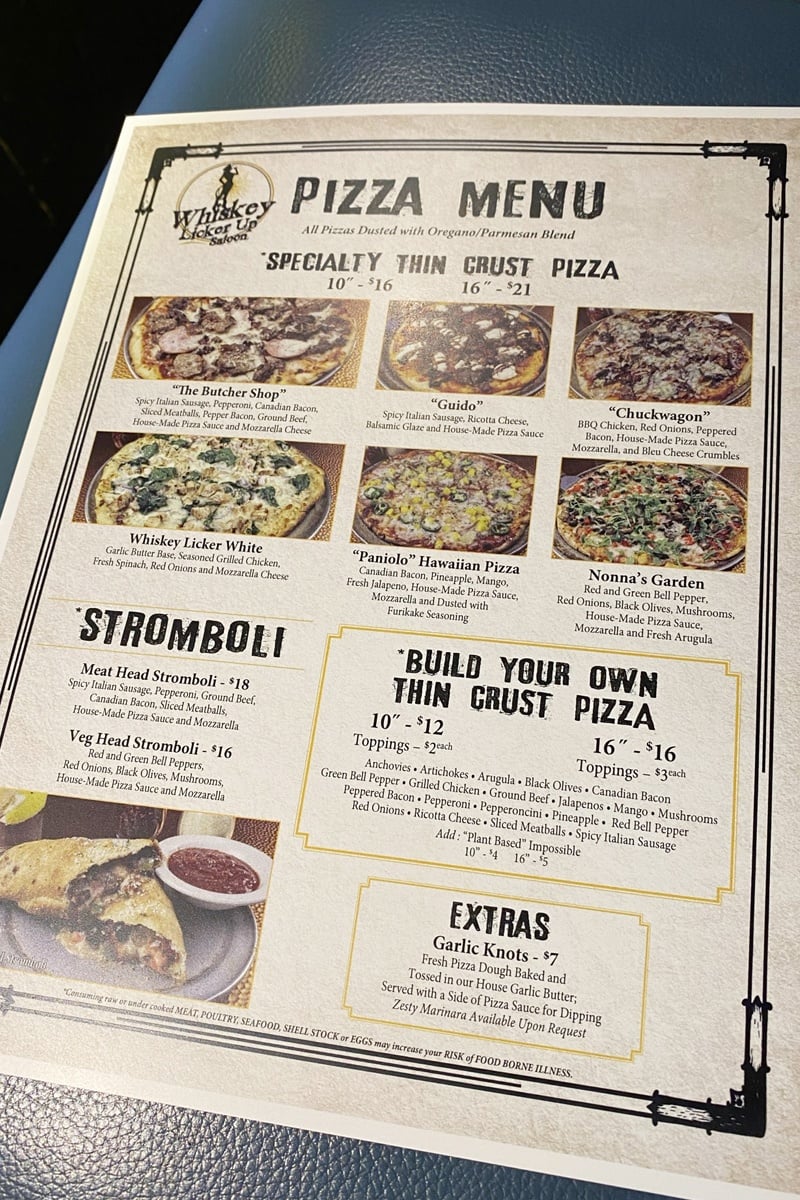 The pizza is very filling and we couldn't finish our pizza. The comely and helpful bartender said, "We can't finish a 10-inch, either."
At which point our head nearly exploded as we struggled to keep our joke inside, because maturity.
The other specialty pizzas looked tempting, too, although the Paniolo Hawaiian Pizza has pineapple on it, which is blaspheme and there should be a City ordinance preventing such culinary atrocities.
Other noteworthy features of Whiskey Licker Up include a revolving bar overlooking the circus that is Fremont Street and several video poker machines at an indoor bar.
These machines are, to use gaming industry jargon, loose AF. During our recent visit, our video poker machine paid and paid, and we actually started feeling guilty because it's not really "gambling" if you're just winning the whole time.
We got over it, though.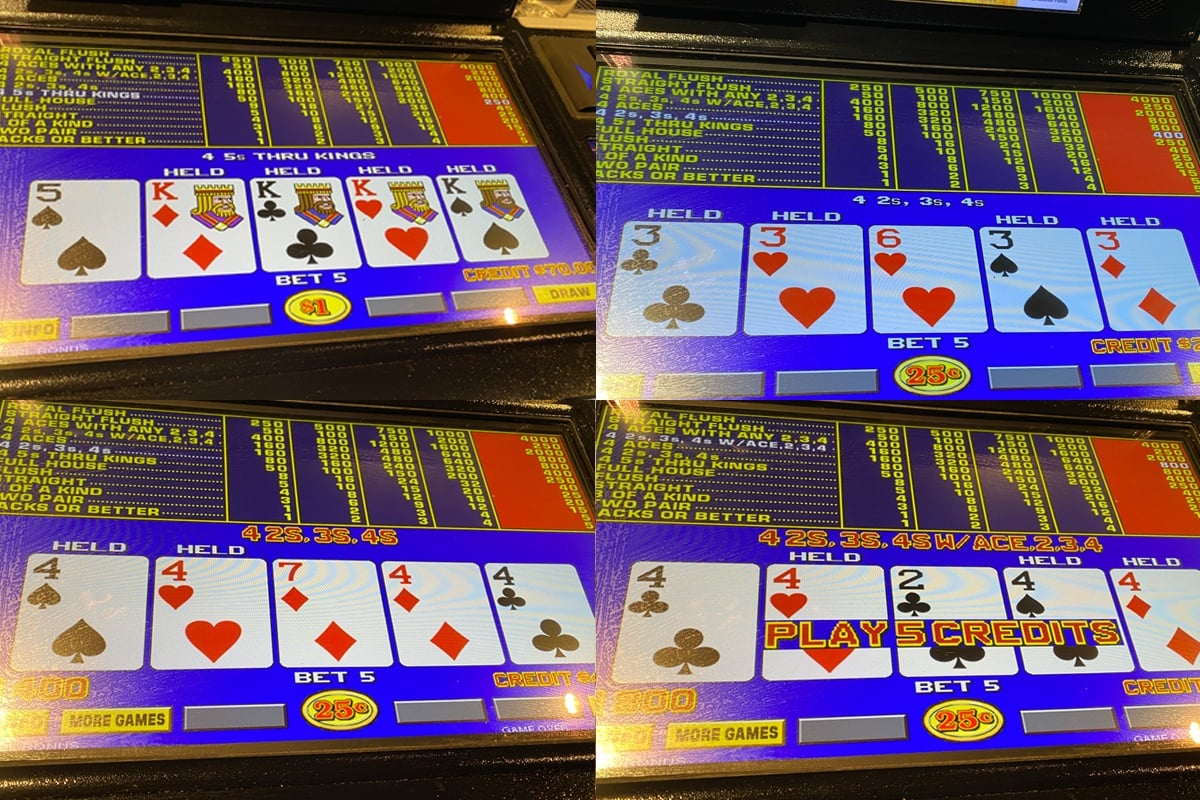 Binion's nails it again with reliable food and friendly service. It's nothing fancy, but hits the spot when one requires nourishment while participating in the shenanigans on Fremont Street.
As mentioned, downtown is overflowing with great pizza.
We'd also recommend the pizza being served at Sand Dollar Downtown, a new live music venue at Plaza. Sand Dollar gets its pizza from the nearby Pop-Up Pizza, but award-winning Chef Michael Vakneen has come up with varieties unique to Sand Dollar. They're fantastic, and delivered to the bar wherein reside even more loose video poker machines.
Here's the menu.
Pizza at Sand Dollar from Pop-Up Pizza @PlazaLasVegas is outstanding. Didn't try the weird veggie one, but it got good reviews from others in our party. Bonus: Free delivery to your video poker machine. pic.twitter.com/uUOBRqItDO

— Vital Vegas (@VitalVegas) July 9, 2022
But the pizza gloriousness doesn't stop there.
Downtown is also home to Pizza Rock at Downtown Grand (a block north of Fremont Street Experience), arguably the best pizza in our current galaxy.
Try the Detroit Red Top. It will change your life. If you like that style of pizza, with crispy cheese edges ("frico" in Italian, hence the name Superfrico at Cosmo) you'll love the pizzas at Sand Dollar, as they also have this heavenly characteristic.
Farther east is Evel Pie, another outstanding pizza place in the Fremont East district.
In the Arts District, don't miss the unbelievable pizza at Esther's Kitchen. This is the pizza most likely to have toppings you don't recognize, but somehow it works.
Good Pie gets a lot of good buzz on Main Street. Not our favorite, if you try it, stick to the Sicilian.
The sister casino of Binion's, Four Queens, has some tasty pizza in its Chicago Brewing Company restaurant. Although, we don't often manage to make it past the garlic knots.
We haven't had it in awhile, but we have fond memories of the hand-made pizza at Main Street Station's Triple 7 Restaurant and Microbrewery as well.
The point is there's exceptional pizza everywhere you turn in downtown Las Vegas.
The new pizza menu at Binion's is well worth checking out if you're working your way through the cavalcade of carbs that is downtown's pizza milieu.
We aren't sure that's correct usage of "milieu," but we didn't want to say "scene" again as it makes us sound like we haven't added any words to our vocabulary since 1974.