A Quick Check-In at Lucky Dragon Las Vegas
Against all odds, Lucky Dragon is nearing completion and is set to open on December 3, 2016.
We thought it might be a good time to pop by and see what's up at this new Asian-themed casino at the north end of The Strip.

It appears the construction elves have been very busy, as Lucky Dragon now has lots of exterior signage and lights.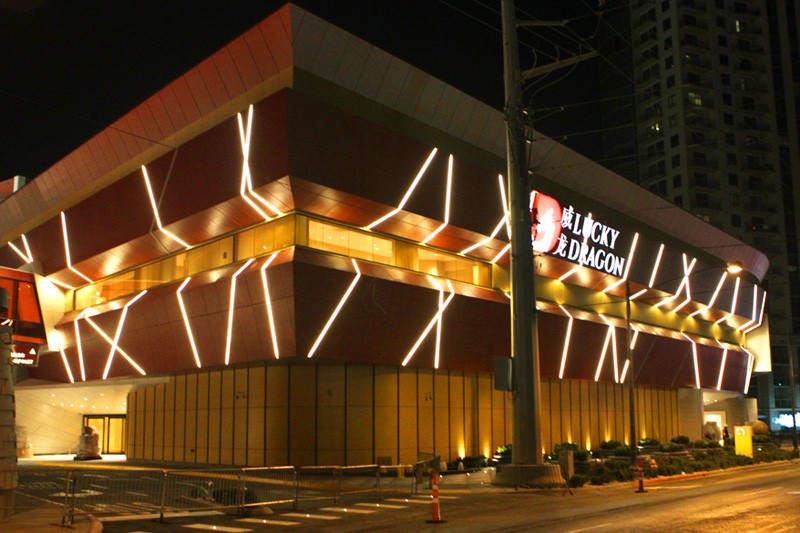 Can't say we're a fan of the blinking exterior lights, as it seems Lucky Dragon decided to skimp on that feature. You decide.
Despite the questionable decision about those exterior lights, we love the fountain with the spinning ball thingy.

Inside, one can see the casino taking shape.

It's been reported Lucky Dragon recently installed a massive, 1.25-ton dragon chandelier, and it's so gorgeous, it more than makes up for the faulty fuse outside. Who goes outside, anyway? There's gambling inside!
Thanks to Lucky Dragon for the chandelier photo.

There are Asian appointments, and we got a peek at a distinctive piece of decorative art fashioned from bicycles.

We get downright giddy when a new Las Vegas casino opens, so we're anxious to get inside Lucky Dragon and see what surprises are in store. The gambling. The authentic Chinese food. The Captain Morgan, poured from the bottle. Hey, some things transcend language and culture.
There's still a lot of work to be done, but Lucky Dragon seems to be on schedule for its December 2016 opening. During our visit, furniture was being delivered, and this DIY sign was being used to identify the casino's address.

Kudos to Lucky Dragon for staying the course and giving us something new and exciting to finish off 2016. As the Chinese say, "All things are difficult before they are easy." We'd say that in Mandarin, but we don't want to show off.