Madison Square Garden Crew Hoists Huge-Ass Sphere Topper
It's time we got around to a Sphere update.
Construction crews at MSG Sphere (that probably won't end up being the name, as a naming rights deal is anticipated) recently lifted a 170-ton compression ring into place.
Our friends at Maverick Helicopter passed along some sweet shots of the Sphere.

The Las Vegas Sphere (we like that a lot better than Miller Lite Sphere or whatever it's going to be called) is an entertainment venue likely to cost more than $1.66 billion.
Yes, that's a lot of money. It's best not to ask too many questions.
Here's a better look at the compression ring. The ring is 100 feet across and is 285 feet up.

To lift the huge-ass compression ring (340,000 pounds) onto the huge-ass temporary support tower, crews used a huge-ass crane, the DEMAG CC-8800.
Yes, there are crane nerds who actually care about that kind of thing. It's possible we are one of them.
The Sphere sits behind (just east of) Venetian resort.

It's expected the Sphere will be completed in 2023, but trust us, given the project's bumpy ride to-date (exacerbated by the pandemic), everyone's fingers are crossed it will open period.
The Sphere was originally slated to open in 2020. Not so much.
Here's one more look at the Sphere. Thanks, Maverick.

The Sphere project has faced a series of challenges, much of it glossed over, of course, because Vegas is always gonna Vegas.
The budget for the project has ballooned. In Feb. 2020, it was announced the cost of the Sphere would be nearly 40 percent more than initially announced. It was one of many "Nothing to see here!" moments related to the Sphere.
Construction on the Sphere was temporarily halted in April 2020.
In August 2020, MSG was hit by $3.3 million in subcontractor liens. Not a ton of money given the total budget for the project. Unless you're one of the subcontractors, of course.
Back in December 2020, MSG took over construction of the Sphere from its general contractor, AECOM. Awkward.
Still, our bulbous entertainment auditorium continues to take shape. Here's what it will look like when it's done.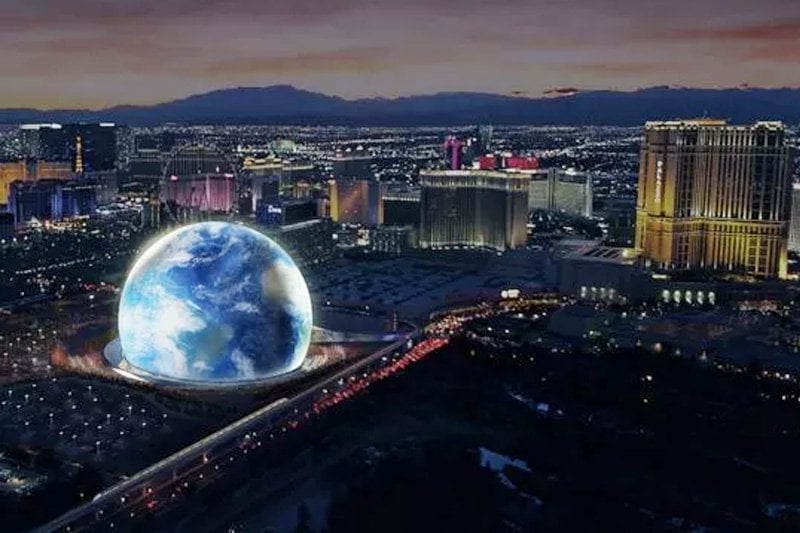 Setting aside one's opinions about the potential financial success of the MSG Sphere (so much supply, so many questions about demand), it's a wonderful and weird venture.
The Sphere will seat 18,000 people and its exterior dome will have 190,000 feet of LED lighting.
The interior will boast a 360-degree IMAX experience with four acres of high resolution video across the dome's roof.

The space will have 157,000 speakers and some kind of acoustics technology that uses planar audio waves to direct sound to specific locations. For example, two people sitting next to each other could hear different audio without one sound bleeding into the other. Crazy talk.
It's wild stuff and this project needs to reach completion, if you get our drift. Read more about the Sphere.
More to come!