Downtown's La Comida Will Thrill, and Numb, Your Face
Downtown Las Vegas is brimming with tasty new offerings, including one of the best Mexican joints in the city, La Comida. And we're not even really a Mexican food person.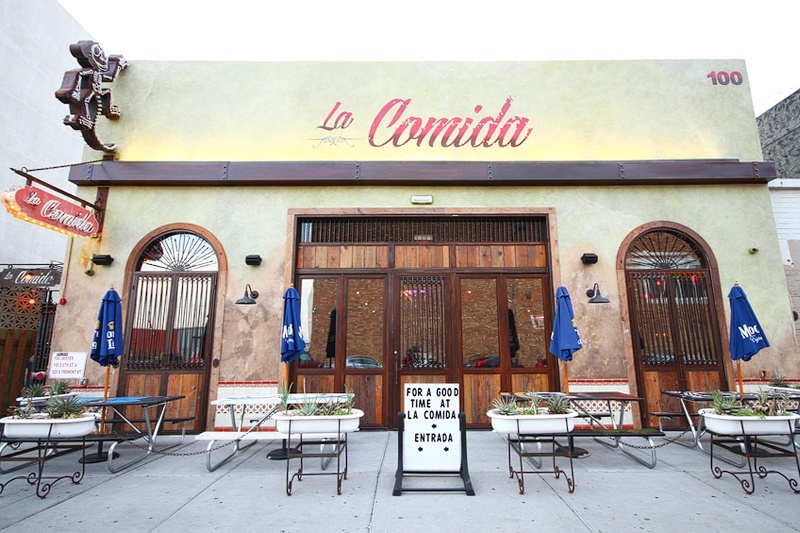 La Comida is a block or two away from the Fremont Street Experience, near the intersection of Fremont Street and Sixth Street. Sixth Street used to be 14th Street, but that was before it visited a Las Vegas casino. (We slay ourselves.)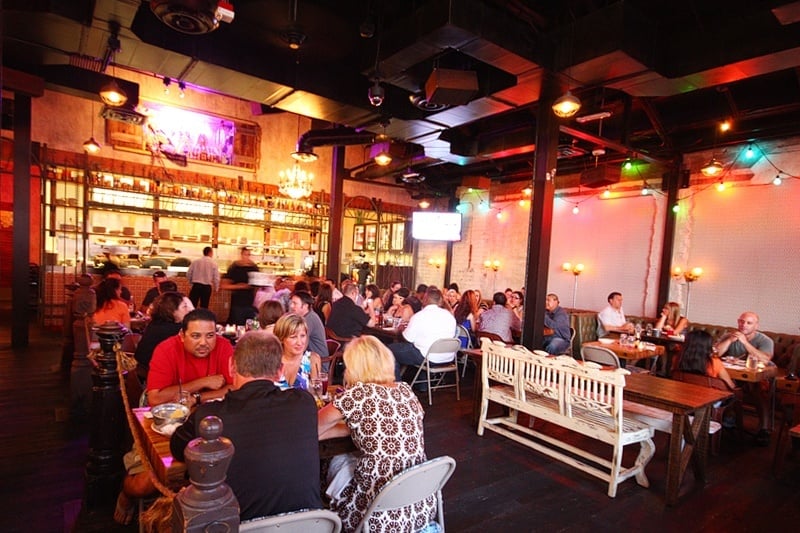 La Comida has a unique atmosphere, specifically, it's loud as hell. Don't expect to be able to hold a conversation unless you bring along semaphore flags.
Beyond that annoyance, the food is wonderful, and you're sure to find something new to love.
Whatever you do, don't miss the Mexican-style street corn. Yes, it's just corn, but that's a little like saying Las Vegas showgirls are just dancers.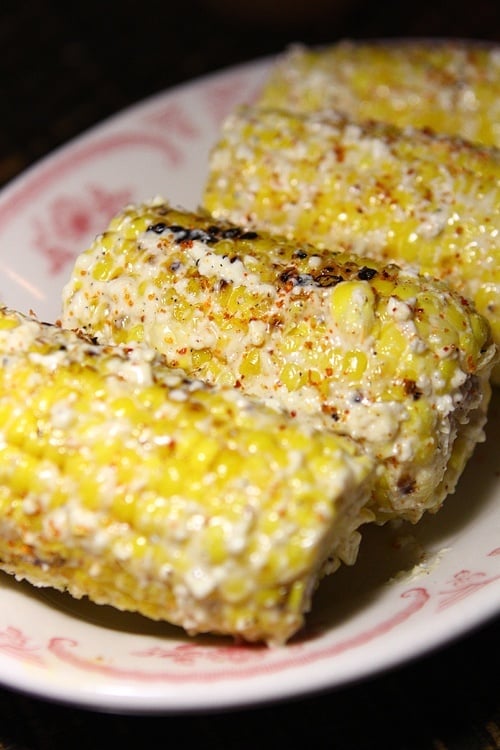 La Comida is brought to downtown by Michael and Jenna Morton. Who are they? Well, Michael Morton is the co-founder of N9NE Group, a company which obviously didn't take the time to do a spellcheck, but which nevertheless has had a string of successes, including restaurants and nightclubs in Vegas (like Rain Nightclub, Ghostbar, N9NE Steakhouse and Skin Pool Lounge, all at The Palms). Morton also opened La Cave at Wynn Las Vegas.

The Morton pedigree shows at La Comida. The restaurant's name means "The Food," but gets its name from the staff meals served in restaurants before service begins.
Every meal begins with complimentary chips, salsa and a side of "Did we mention how loud it is?" Beyond that, there are appetizers and soups ($6-13), salads ($8-13), ceviches (whatever those might be), tacos and a slew of can't-miss entrees.
Don't miss the Puerco Ahumado (Mesquite-smoked pork shoulder, $15, pictured below) or the Carne de Res a la Parrilla (marinated beef skirt steak, $18), but you're going to like whatever you order.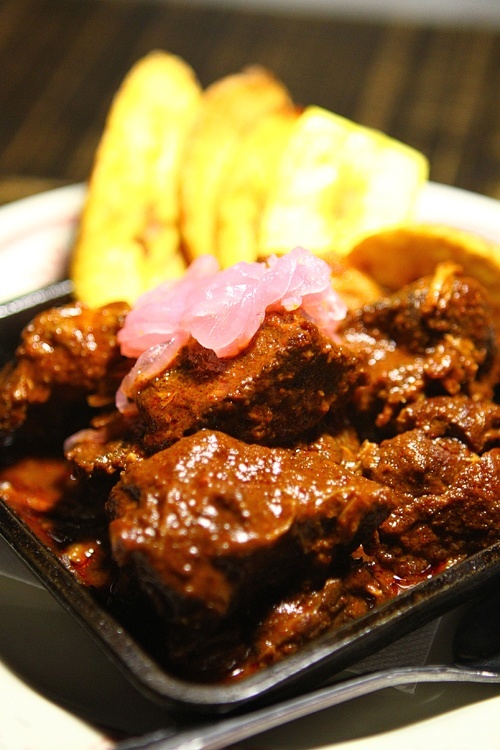 We're pleased to say the cocktail selection at La Comida keeps pace with the excellence of the food, with about 100 tequilas on-hand. The signature cocktail menu is a homerun, and includes scrumptious prickly pear and passion fruit margaritas, among other winning ways to acquire a world-class hangover.
Worth noting is the fact La Comida has a happy hour, from 3:00 p.m. to 5:00 p.m., Monday through Friday. Specialty margaritas (like the one pictured below, usually $9), are just $5 during happy hour.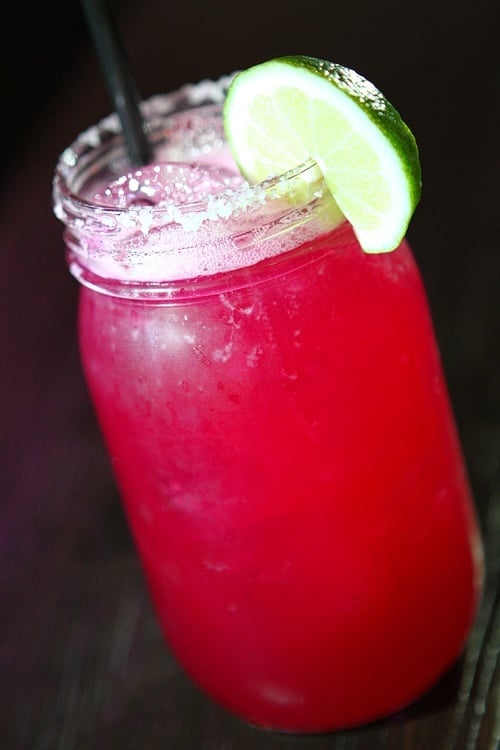 Before you get too tanked, make sure to check out some of the quirkier aspects of La Comida's interior design. The decor includes "reclaimed" tiles from Mexico, as well as pews and stained glass from old churches.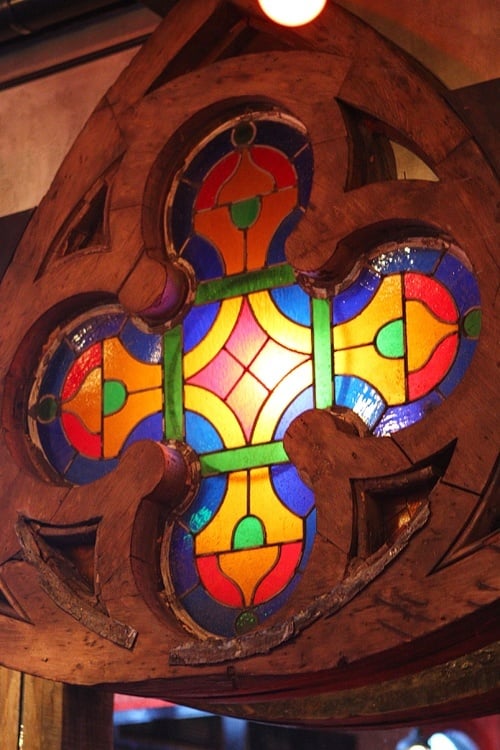 Overall, aside from potential of long-term hearing loss, La Comida has definitely added itself to our list of favorite downtown restaurants.
Find La Comida on Facebook here, and enjoy a virtual fiesta of fotos in our galería exclusivo, below. Or something.