Chef Dominique Ansel's Bake Shop Opens at Caesars Palace
James Beard Award-winning pastry chef Dominique Ansel has opened his bake shop at Caesars Palace.
The new shop sits next to Gordon Ramsay's Pub & Grill, and the opening was accompanied by all the requisite hoopla and caloric consumption, largely via Cronut.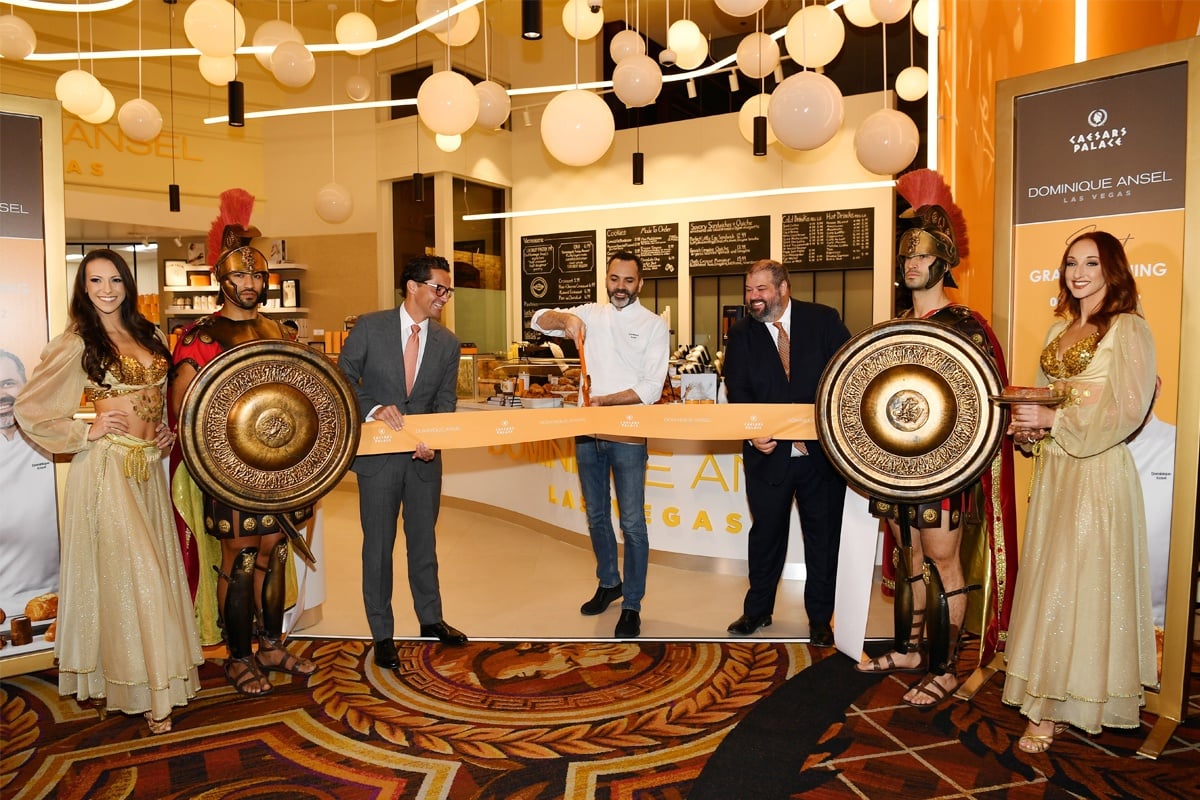 This is the part of our blog post where we traditionally take a moment to point out we shared news (July 2, 2022) of this shop coming to Caesars Palace months before it was officially announced (Sep. 28, 2022), because if we can't make something about us, is it even news?™
Fun fact: The first four customers in line at the opening drove to Las Vegas overnight from Southern California. They lined up at 6:00 a.m.
The line was long, even by Las Vegas standards.
Breaking: Dominique Ansel's Cronut place opening @CaesarsPalace stretches to approximately Pahrump. pic.twitter.com/WgHLOw6K33

— Vital Vegas (@VitalVegas) October 21, 2022
Chef Dominique Ansel made a big splash with his aforementioned Cronut (a combination of "croissant" and "doughnut"). The Cronus was introduced at Ansel's shop in New York on May 10, 2013. Within a short time, hundreds of people lined up for the treat. We've heard it's so popular, guests can only purchase two at a time. That's not the case in Las Vegas, so have at it.
Ansel created signature pastries exclusively for Caesars Palace, including a Cronut flavor that changes each month and never repeats. The first featured Cronut flavor is Lucky Cherry Chambord and Caramelia. The flavor is available through Nov. 30 and is filled with cherry Chambord jam and Valrhona Caramelia (caramelized milk chocolate) ganache.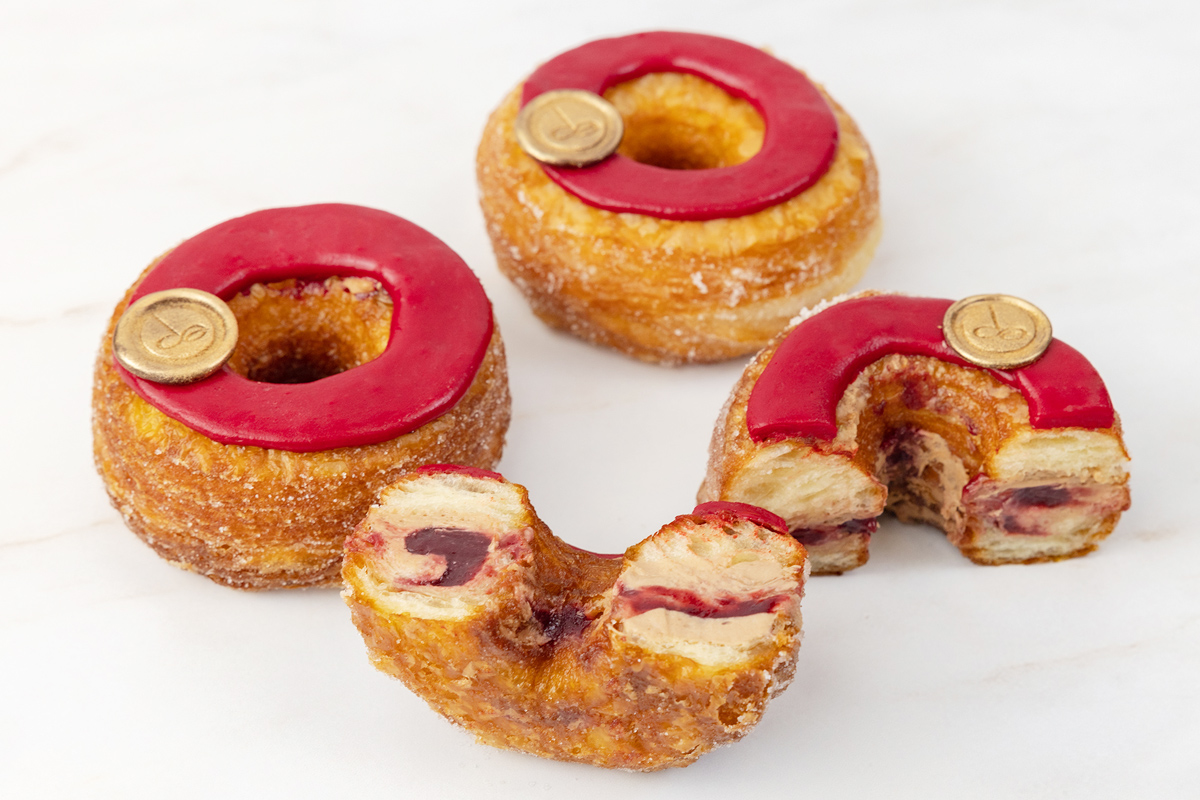 The Madeleines caught our eye, too, possibly because they are covered with powdered sugar.

According to a news release, Ansel has created items exclusively available at Dominique Ansel Las Vegas.
For example, there's Ansel's "Lucky 7" collection, intended to symbolize good fortune (except to craps players after a point has been established):

Ladybug. Elderflower mascarpone mousse, fresh strawberry compote, strawberry gelee, fluffy chiffon cake and a lychee meringue make up a mini garden watering can, which is finished with a tiny chocolate ladybug.

Goldfish. Tropical flavors of calamansi coconut mousse, fresh diced mango, mango passion fruit gelee and coconut dacquoise make up a goldfish, complete with hand-painted white chocolate fins.

Lucky Penny Pig. Milk chocolate cremeux, homemade raspberry jam and salted peanut feuilletine are sandwiched between vanilla sable cookies to create a pig, which is topped with a lucky gilded chocolate penny.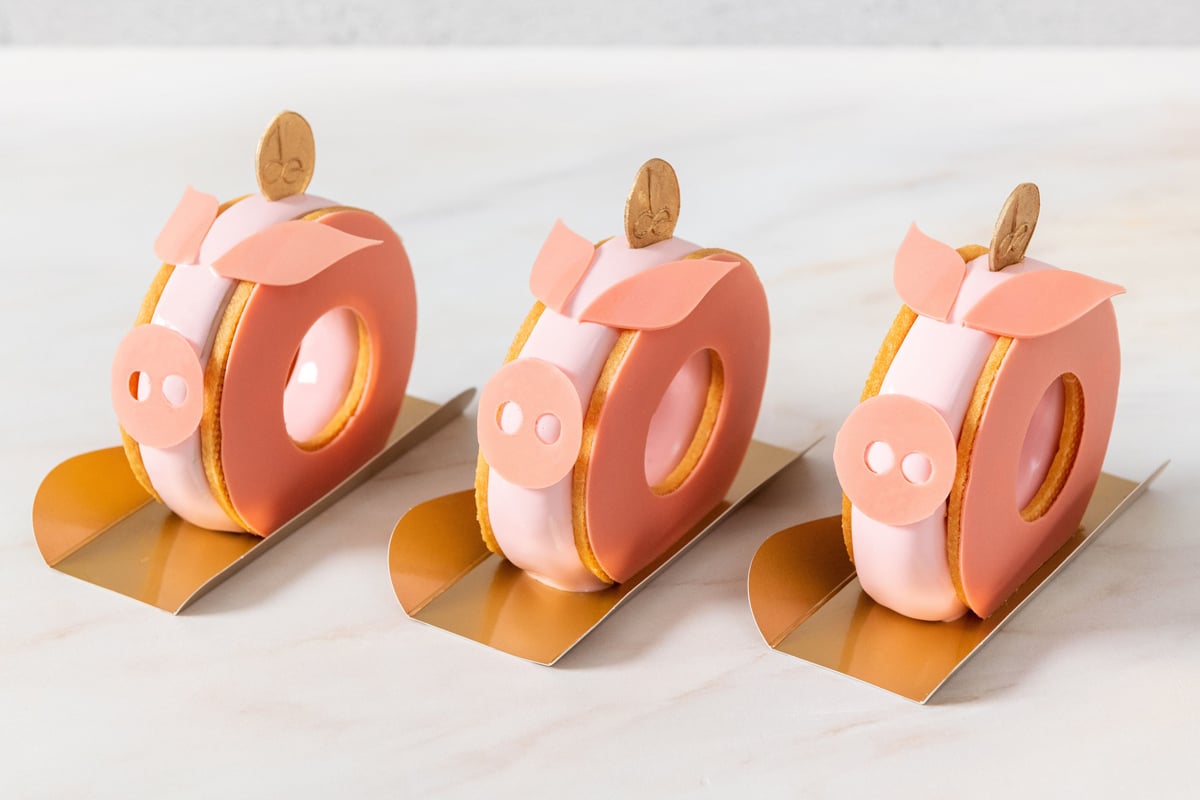 Four-Leaf Clover. Coffee mousse topped with hazelnut dacquoise, dark chocolate cremeux and crispy feuilletine create a four-leaf clover.

Fortune Cookie. A sable Breton base is topped with jasmine tea cremeux and lemon curd. A white chocolate "fortune" sticks out of the cookie, wishing luck in Las Vegas.

Feather. A vanilla sable cookie is topped with chestnut mousse, banana jam, orange marmalade and banana cake and is garnished with a white chocolate feather.

Evil Eye Eclair. A classic French eclair is filled with cassis jam and Valrhona Caramelia whipped ganache.
We recognized approximately four of those words, most of them prepositions. If we could just get a glazed doughnut, that'd be great.
Oh, and the Frozen S'mores. With ice cream inside. Take a moment.
Meet the Frozen S'mores 🍦 🔥 An ice cream version of a s'more, with a center of Madagascan vanilla ice cream covered in crispy chocolate feuilletine, wrapped in honey marshmallow that's torched to order. One of many delicious confections coming to #DominiqueAnselLV pic.twitter.com/oKDgGxDbR7

— Caesars Palace (@CaesarsPalace) October 8, 2022
The new bake shop is open from 7:00 a.m. to 9:00 p.m. daily.
We haven't been by yet, but it's at the top of our list of places to try when we're in the neighborhood.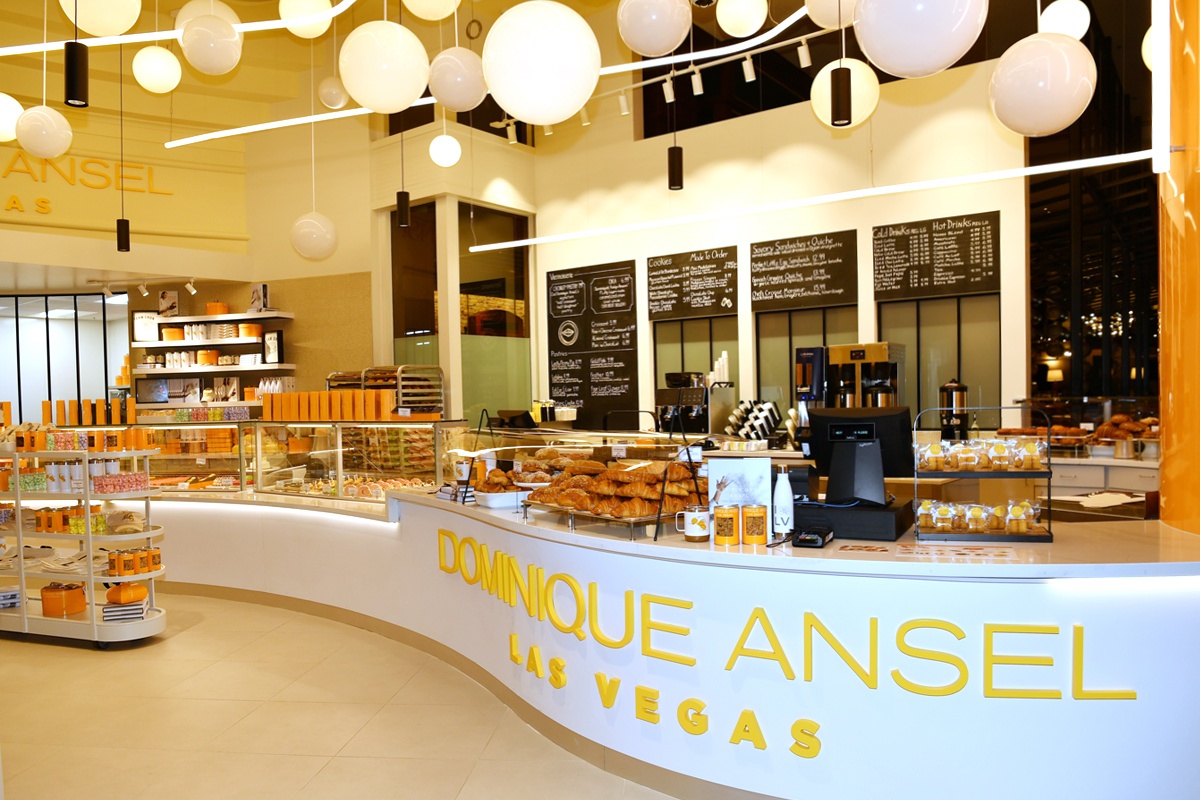 In the past, the heavy lifting for sweets at Caesars Palace was handled by Payard Patisserie & Bistro, but it closed in November 2017. Which reminds us of another shuttered place for carbs, Max Brenner, in the Forum Shops. Max Brenner closed in March 2014.
Chef Dominique Ansel clearly knows what he's doing, and we'll be diving face-first into the tempting offerings at Dominique Ansel Las Vegas soon.