10 Things to Love at Table 10 Inside Palazzo Las Vegas
There are Las Vegas discoveries, then there are Las Vegas revelations. We only recently discovered Table 10 inside the Palazzo, and the restaurant's prix fixe menu certainly qualifies as a revelation.

We're big fans of prix fixe ("fixed price") menus, mainly because we're not especially decisive, and prix fixe menus do much of the decision-making for us. An added bonus is that one can enjoy a fine dining experience without the fine dining price tag.
At Table 10, a restaurant from celebrity chef Emeril Lagasse, the seasonal prix fixe menu is four irresistible courses for $45. On the Las Vegas Strip, $45 is the typical cost of an entree alone, so the price is definitely right, especially when you get a look at some of the dishes in store.
No, the cocktails aren't included in the prix fixe menu, but it's Vegas, so let's splurge a little. Here, then, are 10 things to love at Table 10.
1. NOLA Mule
We'll say up front, we don't know anything about bourbon. Chef Lagasse, however, does, and the NOLA Mule (a take on a Moscow Mule) boasts bourbon from the chef's "first privately hand-selected bourbon barrel." NOLA, of course, stands for New Orleans, Louisiana, the city where the chef opened his first restaurant in 1990.

2. Lady Apple Salad
Let the first course begin. This zippy salad has sweet apple sticks, arugula, Humboldt Fog cheese, almonds and red vinaigrette.

Other first course options include a Boston Lettuce Salad, a Chicken and Andouille Sausage Gumbo or soup of the day.
3. New Orleans BBQ Shrimp
Things really get "kicked up a notch" in the second course. The BBQ shrimp is seasoned and glazed perfectly. We get the feeling Emeril Lagasse and his team know a little something about seasoning. Just a hunch.

4. Split King Crab Legs
We're not even sure we're a seafood person, but man, these are tasty. It certainly doesn't hurt that the crab is topped with avocado, hearts of palm and citrus.

5. Cactus Rose
Good luck resisting the Cactus Rose when you see it on a nearby table. Please order your own, though. There are rules. The Cactus Rose is orange and passion fruit, Grey Goose L'Orange vodka, X-Rated fusion liqueur, cactus pear and lime juice.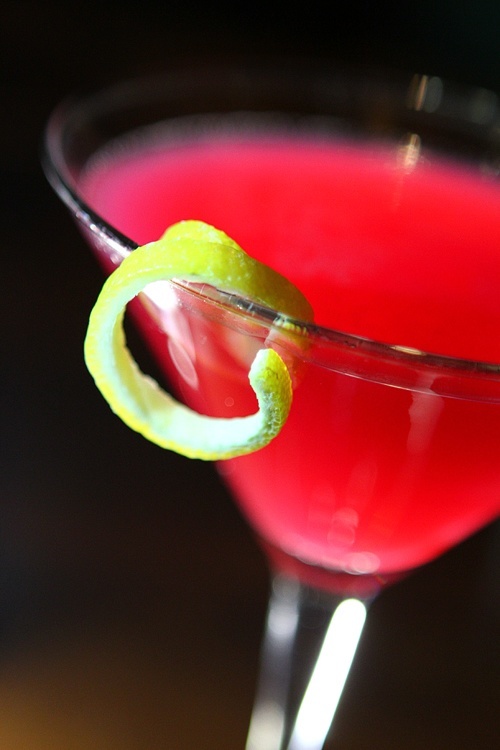 6. Mushroom Ravioli
Another of the second course options, the mushroom ravioli features handmade pasta, asparagus, leeks, arugula leaves and a mushroom and mascarpone filling. Just the right quantity, too. We like the prospect of leaving a restaurant without having to be squeezed through the door.

The fourth option in the second course is Candied North Country Farm Bacon. Unforgettable! Just keep your Cactus Rose nearby to cool the heat, another Emeril specialty.
7. Seared Sea Scallops
The third course is upon us. There's Bolognese Pasta or Colorado Filet Mignon, or these perfectly-prepared scallops, with grapes, Marcona almonds, capers, parsnip puree and chervil.

8. Boneless Angus Shortribs
Our favorite of the third course options, this shortrib dish has charred cauliflower, red wine sauce and Tuscan kale. Yes, kale. Which we ate voluntarily, making it the first healthy thing we have consumed since college. The shortrib itself was a taste of Heaven, and easily the best we've had in Las Vegas.

The remaining option in the third course was a chicken dish with caramelized lemon, a honey and thyme sauce, Brussels sprouts and pee wee potatoes. (Check the photo gallery for a pic.) Yes, it's "Brussels sprouts." We're going to pretend we knew that all along, if you don't mind.
9. Crescent City Punch
Yet another winning signature cocktail, the Crescent City Punch has Old New Orleans Cajun spiced rum (sorry, we cheated on you Captain Morgan, just this once), Cruzan Black Cherry rum and Southern Comfort mixed with passion fruit and cranberry juice. Yes, we took notes this time! We won't make a habit of it.

Bonus cocktail: The Ginger Peach Nectar. It has Tanqueray gin, simple syrup, lemon juice, grapefruit bitters, peach puree and ginger beer.

10. Banana Cream Pie
Sadly, our fourth and final course. Guests get to choose a dessert from among several tempting items, including a gluten-free Milk Chocolate Mousee Cake, Vero's Lemon Bar, Berry Cobbler, tiramisu and others. The white chocolate malassadas are highly recommended, too (see the photo gallery), but Emeril's Banana Cream Pie wins the day.

The only thing left to do is thank Executive Chef Tim Doolittle and his Table 10 team for giving us an unforgettable experience.

You'll find Table 10 up the escalators at The Shoppes at the Palazzo. Read more, and take advantage of Table 10's happy hour, 3:00 p.m. to 6:00 p.m. each day. Details here.
Table 10 at Palazzo Las Vegas