Legislators Vote to Make Nevada the Daddy Issues State
In a rare bipartisan collaboration, Nevada lawmakers have approved changing the state's official nickname from the Silver State to the Daddy Issues State.
The change is expected to pass overwhelmingly when the Senate and Assembly convene in Carson City at 11:00 a.m. on Apr. 1, 2015. Nevada Governor Brian Sandoval has vowed to sign the Daddy Issues State bill into law.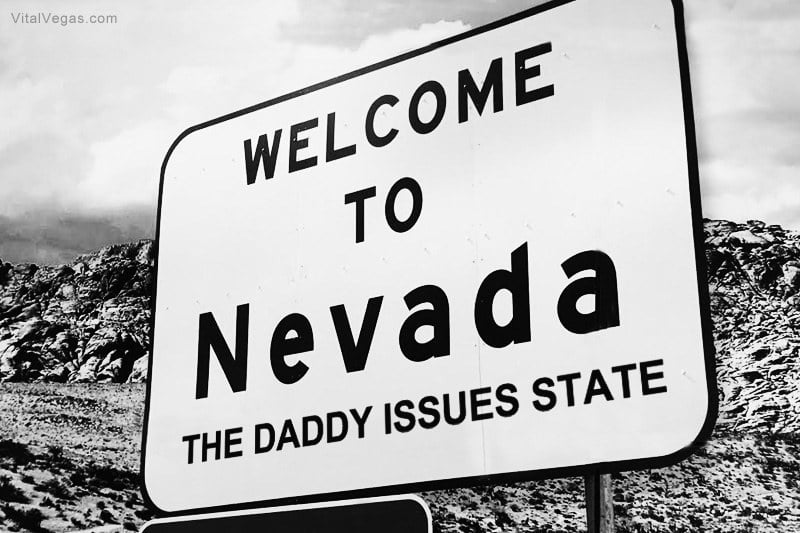 At a news conference held outside Sheri's Ranch, a legal brothel near Las Vegas, Governor Sandoval stated, "We felt it was time to update a state nickname that has served our purposes for some time, but which does not accurately reflect the true driving force behind Nevada's robust economy. Specifically, women seeking validation through their sexuality due to a toxic paternal relationship."
Other unofficial Nevada nicknames include Sagebrush State and Battle Born State, but an exhaustive, three-year study showed Daddy Issues State was a more appropriate state nickname given the tens of thousands of exotic dancers and sex trade workers who make their living in Nevada, especially in Las Vegas, known as "Sin City."
The owner of Sapphire gentleman's club, employing 6,600 dancers, commented, "Look, sagebrush doesn't pay my bills. In all my years as a club manager I have never once had a bachelor party come in looking for a 'hot piece of sagebrush.' Girls who never got enough attention from daddy pay my bills. And my taxes. Our politicians finally got a clue."

Reactions to the new legislative proposal have been mixed at best, with some critics claiming "daddy issues" is pejorative, sexist and insulting. Others point out that "daddy issues" overlooks the contributions of mothers to the diminished self-esteem which forces so many women to become strippers, go-go dancers, "bevertainers" and even call girls.
Still, the Governor and state legislators are confident changing the state's official nickname will provide new marketing opportunities while cementing Nevada's position as the world's most popular destinations for adult-themed diversions.

It's interesting to note the other state nicknames which didn't make the cut. Also in the running were the Persistent Rash State, Whack-Job Cattle Rancher State and the Dammit, I Blew Through My Bankroll State.
The new Daddy Issues State moniker will appear on the official Nevada state seal, governmental stationary and those little inspection decals on gas pumps.