Wynn-Win with Possible Atlantic Club Casino Purchase for Gaming Mogul
Posted on: September 13, 2013, 05:30h.
Last updated on: September 17, 2014, 01:54h.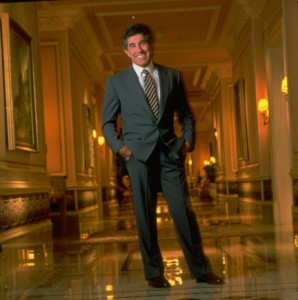 Steve Wynn has been oddly sidelined as other land casino moguls scramble to be first in line for what's perceived to be the potentially billion dollar plus online gambling market in America.  While major operators like Caesars wait to pass muster with regulatory powers-that-be, Wynn has remained oddly silent about the whole situation. While he hasn't ever come out with the virulent anti-online position of say, a Sheldon Adelson (CEO of Las Vegas Sands Corp.), some speculate his personal feelings may, in fact, veer more in that direction.
Or do they?
Wynn to (Re)Purchase Atlantic Club?
Rumors are flying that Steve Wynn – the man who virtually reinvented Las Vegas singlehandedly – is now eyeing an older property in Atlantic City, with the idea of buying it in order to get in line for a New Jersey online gambling casino license.
But wait, the plot thickens; the casino he is eyeing is one he originally built himself: none other than the oft-in-the-news of late Atlantic Club.
Turns out Wynn was the actual developer-builder of the Atlantic Club in its earliest incarnation: as the Golden Nugget Atlantic City, way back in 1980. Seven years later, he sold it, and since that time, it's undergone six different owners and accompanying name changes. And that would have been seven had PokerStars bid for the 800-room casino-hotel gone through, but that deal fell apart for a variety of reasons last spring.
Wants NJ Interactive Gaming License
Now it appears that a Wynn subsidiary has applied for a New Jersey interactive gaming license after all, albeit somewhat on the QT. The company refuses to comment, and the New Jersey Gaming Enforcement division that reviews these applications has told the media that these petitions for "casino service license" are kept confidential.
The obvious reasoning – given that Atlantic City's land casinos have been, overall, on a sad and continuous downward revenue spiral for years – would be that Wynn wants in on New Jersey's beckoning Internet gambling market, which is supposed to set sail in November.  In order to partake, he would need an operational Atlantic City casino-resort to call his own; that's a state regulatory requirement for all online gaming operators-to-be. As of now, only two of the twelve operational casinos remain without an announced online partner, and guess which one is one of those? That's right, none other than Wynn's own runaway child: the Atlantic Club.
Potentially, business-wise, it certainly all makes sense; analysts are saying that with some 9 million residents in New Jersey, along with offering a full panoply of casino games, not just poker, that the Garden State's Internet gaming potential could easily reach between $500 million to $1 billion annually.
Credit Suisse gaming analyst Joel Simkins is cautiously optimistic about it. "There could be some initial fits-and-starts," Simkins told investors recently. "How well New Jersey goes initially could serve as a potential catalyst or roadblock to other well-populated states following its path with online gaming."
Stay tuned to see if Steve Wynn gets on board this gravy train.
Similar Guides On This Topic