Wynn Las Vegas Ready for Tonight's First Democratic Debate
Posted on: October 13, 2015, 09:31h.
Last updated on: October 13, 2015, 09:40h.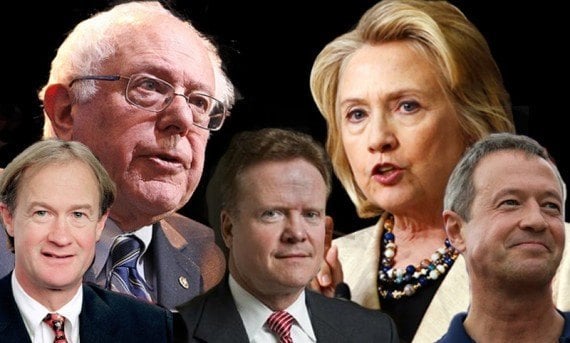 Wynn Las Vegas will host a different kind of game tonight, as the bets will be all about who can outhink, outalk, and outsmart each other in the bid for the Democratic nomination for president of the United States.
The first democratic debate will take place in just a matter of hours, when at 5:30 pm Pacific Time (8:30 pm Eastern), Hillary Clinton and her four challengers convene in the Encore Theater at Wynn Las Vegas to make their case to American liberals on which candidate is best qualified to lead the party into the 2016 presidential election. CNN is airing the debate live.
Sen. Bernie Sanders (I-Vermont), the second-highest polling candidate, will stand directly to the former Secretary of State and First Lady's right. Former governors Martin O'Malley (Maryland) and Lincoln Chafee (Rhode Island), along with former Virginia Senator Jim Webb, round out the five podiums.
Should Vice President Joe Biden decide to enter the fray last minute, a sixth spot will be added.
While guns and gun control, Planned Parenthood, the economy, Donald Trump's spectacle, and Hillary's emails are all probable topics of discussion, gambling laws, especially how they relate to the growing popularity of daily fantasy sports (DFS), could be brought up as well, considering the event's location.
Longtime CNN host Anderson Cooper will serve as moderator.
Where They Stand
Advocates for the freedom to gamble whether online or at land-based venues want to know where each candidate stands. While some of tonight's debaters haven't explicitly stated their gambling views, here's what we know:
Clinton: In 2006, then-Senator Hillary Clinton voted in favor of the Unlawful Internet Gambling Enforcement Act (UIGEA), a bill that effectively made online gaming illegal. However, she did support a study in 2008 to investigate how Internet wagering might be properly regulated, and it would be extremely doubtful Hillary would support the Restoration of America's Wire Act (RAWA).
Sanders: The longest-serving Independent in US congressional history, Sanders also voted for UIGEA. The democratic socialist responded to queries regarding iPoker in 2011 by saying that his "mind is not yet made up."
O'Malley: The 61st governor of Maryland adamantly opposes online gambling and poker, saying the market takes revenues away from brick-and-mortar establishments and hurts state-run lotteries (No gambling there, Governor. What?)
Webb: Since he served in the US Senate from 2007 to 2013, Webb wasn't forced to vote on any federal gambling statutes. He has largely kept his opinions on gambling to himself.
Chafee: Perhaps the most supportive gambling candidate on the democratic ticket. Chafee pushed for casino expansion in Rhode Island while he served as governor, and also skipped the UIGEA vote in 2006 when he was a US senator.
It's Showtime
For the past few months, the GOP candidates, primarily Donald Trump, have essentially overshadowed the Democratic campaign trail. That wasn't necessarily unwelcomed, as Hillary has defended questions relating to her handling of Benghazi, but tonight the party finally takes center stage.
Although it may seem a tad ironic that the debate will be held at Steve Wynn's property, considering the billionaire is serving as an unofficial advisor to Trump, the mogul explained his decision to host the event as being just a patriotic thing to do.
"The staff of Wynn Resorts … is a team of great diversity representing every race, gender, sexual orientation and political philosophy," Wynn said in a statement. "To have the privilege of being intimately involved in the American political process by hosting this debate is a moment of great pride."
Of course, it also can't be bad publicity for his kingpin Las Vegas property, considering the enormous global viewing audience expected for tonight's premiere Democratic debate.
Much is on the line for the five candidates, four of whom are trying to gain ground, while the fifth, or more accurately the first, is vying to maintain her standing atop the race. It will certainly be a no-holds-barred contest.
We will have a complete rundown on how all the candidates performed in tomorrow's edition of Casino.org.