Would-Be Trump Assassin Arrested at Las Vegas Rally Had No Gun
Posted on: June 21, 2016, 12:59h.
Last updated on: June 21, 2016, 02:44h.
A British man arrested at Donald Trump's Las Vegas rally at the Treasure Island Hotel and Casino on Saturday claims he was trying to kill the presumptive Republican nominee and would attempt to do so again, if given the chance. This, despite not having brought a gun with him.
Michael Steven Sandford, 20, is a UK citizen who had been living in his car with an expired visa. He was detained by authorities as he attempted to grab a police officer's weapon from its holster while the rally was in progress.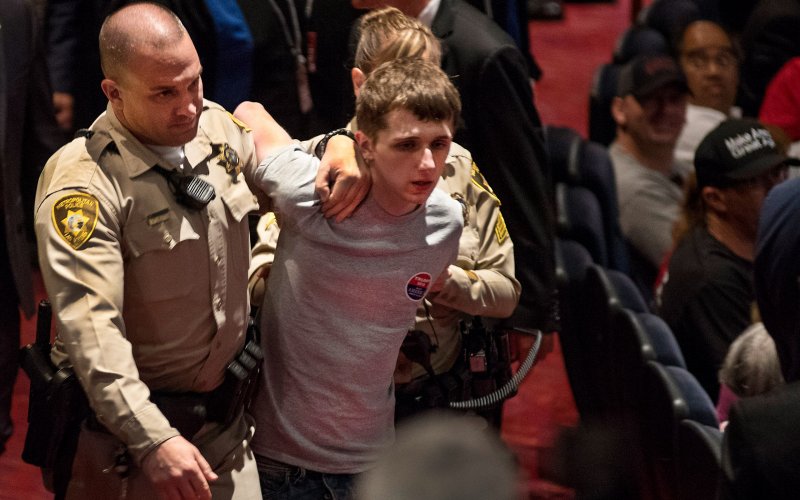 A US Magistrate yesterday ordered Sandford to be held without bail on a charge of committing an act of violence on restricted grounds. The judge branded him "a danger to the community and a risk of non-appearance."
Grabbing for Heat
Sandford, who reportedly has a form of autism, told authorities that he had driven to Las Vegas from California with the express purpose of assassinating Trump. He said it was an act he had been planning for around a year. He had in his possession tickets for the Trump rally in Phoenix later that day, in case he failed in his objective in Las Vegas, Sandford added.
The court heard that Sandford had visited a gun range located near Circus Circus the day before the rally, where he practiced using a 9 mm Glock pistol. It was apparently the first time he had ever used a firearm.
After his arrest, Sandford told a Secret Service agent that he had approached the police officer on the pretense of asking whether he could get Trump's autograph. He then dove with both hands on the officer's gun, which he said he thought had been in an unlocked position at the time.
When asked why he had done this, he allegedly told the agent that it was "to shoot and kill Trump."
Mental Health Issues
In court, Assistant US Attorney Jared Grimmer said that Sandford had been in the country for around a year and a half, initially living in Hoboken, New Jersey. More recently, he moved to Southern California. The unemployed Brit was being supported financially by his mother while in the States, said Grimmer.
His mother told authorities that as well as Asperger's Syndrome, he had other mental health issues, including obsessive compulsive disorder (OCD) and anorexia. She claimed her son had tried to kill himself in the past. However, the court has deemed Sandford fit to stand trial.
Sandford has no previous criminal record, and could face up to ten years in prison, if convicted. A preliminary hearing has been set for July.
Gun Control Debate Fueled
The case should add more fodder to the heated arguments about gun control on all fronts. Several hastily created measures were shot down yesterday in the Senate.
This was amid the reality that the recent Orlando massacres were committed by someone who had been cleared by the FBI of any terrorism suspicions and who was therefore able to legally purchase a gun.
Along with this latest case involving no firearms buy at all, the angry rhetoric on both sides of the debate will no doubt continue to escalate.