Whose Casino Is It Anyway? Boston and Everett, Mass. Duke It Out
Posted on: August 9, 2013, 05:30h.
Last updated on: August 6, 2013, 10:23h.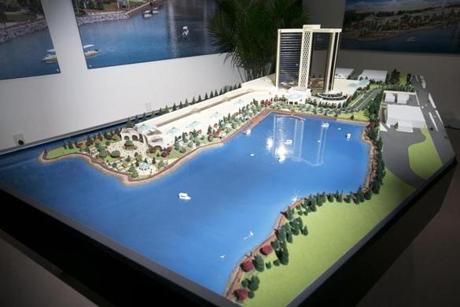 While each of the three licensing battles for casino resort projects in Massachusetts has had its share of drama, none has proven more contentious than the fight over the casino slated to be located in the greater Boston area. Now, one Boston mayoral candidate is threatening a lawsuit over one such proposal that would put a casino in the neighboring town of Everett.
Voting Rights
The legal option is related to the idea that neighboring communities would be affected by casino projects, but won't have a chance to vote on whether those casinos should be opened in the first place. Suffolk District Attorney Daniel F. Conley, a candidate for mayor of Boston, has been one of a handful of candidates who have suggested that all of Boston should be able to vote on a casino that would be located in East Boston, for instance.
When it comes to the proposed Wynn casino project in Everett, Conley says that allowing only Everett residents to vote on it is unfair to the surrounding communities. Should the East Boston proposal fail, then, he would file suit to stop the Everett casino based on the impact it would have on many Boston neighborhoods.
"The Wynn proposal was voted…on in just one community," Conley said during a press conference at City Hall Plaza, "while residents and businesses from Charlestown to Somerville and beyond will bear its traffic, economic, and social burdens but receive none of the proposed benefits."
According to the state laws that produced the opportunity for three new casinos in Massachusetts, only communities hosting casinos actually get a vote on whether or not to allow the projects to be built. However, casino developers are required to negotiate compensation, with arbitration required if the casinos and local governments can't come to a resolution on their own.
Conley has proposed taking a path that is not actually outlined in the 2011 casino law when it comes to the East Boston casino proposal, one that is being developed by Caesars Entertainment and Suffolk Downs. He would have the entire city of Boston vote on whether to approve the proposal, while still granting East Boston veto power over the entire vote. In other words, the casino would have to pass votes in both East Boston alone and across the entire city in order to be approved.
Yay or Nay?
While Conley has not specified whether or not he supports the East Boston casino proposal, a Boston Globe survey found that six of the eight mayoral candidates who answered that question were in favor of it, with just two coming out against it (with Conley and one other candidate not answering the question). Meanwhile, four of ten candidates supported allowing the entire city to vote on the casino, while six favored limiting the vote to just East Boston. Another poll of Boston residents found that 44% were in favor of the casino, while 37% opposed it.
Even if voters back these proposals, only one will ultimately be chosen by the state as the future site of a casino in the Boston area. Along with the Everett and East Boston casino plans, there is also a competing proposal from Crossroads Massachusetts to place a casino in Milford.
Similar Guides On This Topic